Discover more from Tourist Trapp
Weekly dispatches on fashion design and buying.
TT Vol. 12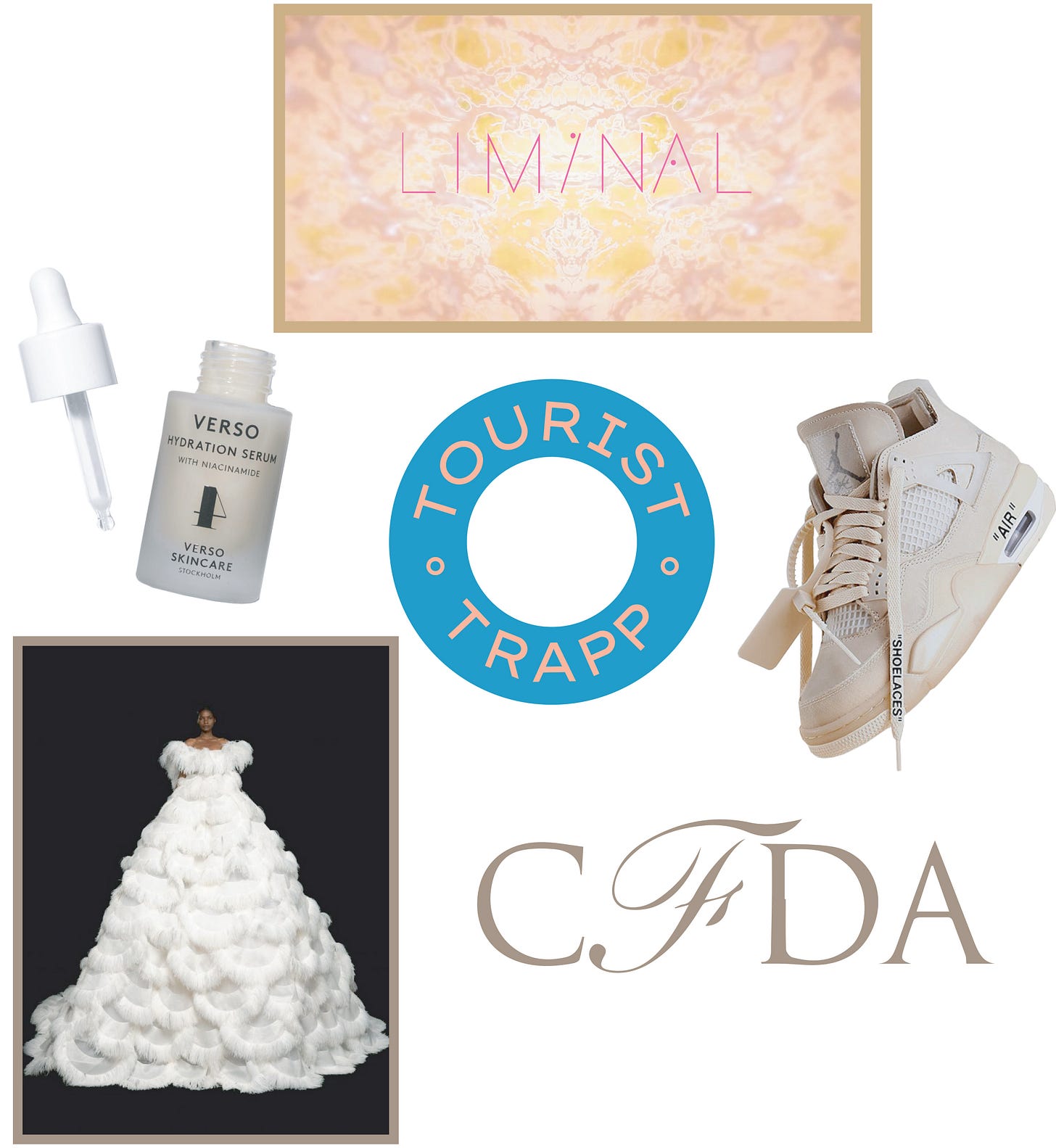 Clockwise from Top.
Sigur Rós is one of the few bands that Raquel and I both agree on. We started listening to the post-rock nordic group a lot more when Raquel discovered Svefn-G-Englar, one of the standouts from their second studio album Ágætis byrjun. The song has since become known as the "chiawooo" song in our household, because we don't speak Icelandic but like to pretend we do. Lately we've been listening to a series they recently finished called Liminal Sleep. The music is meant to mimic a sleep cycle, and the group describes the music connoting both work done and work to come (this statement feels both literal and conceptual at this moment). As Khruangbin is our cocktail hour music, Liminal Sleep has become our go to for decompressing, winding down and clearing our minds. We definitely recommend a listen to Song 4, a perfect 15 minute meditation - it's on YouTube here.
Air Jordan 4 x Off-White Women's Sneaker.
One consistent complaint in the sneaker world has been the tendency for the big sneaker brands to market heavily towards their male customers, to the exclusion of their female customers. Frequently, size scales for super exclusive sneaker releases start at a men's size 7, which tends to exclude most women from purchasing. And even when a sneaker releases in full unisex sizing, brands like Nike or Jordan often don't produce many units in the women's sizes, with most production reserved for the men's sizes. Yesterday's Air Jordan x Off-White release is the rare example a highly desirable silhouette that is positioned more as a women's style than men's. Last I checked these were already starting to sell on stockx.com for $1,555! This proves that the appetite for creating more unisex sneaker releases can be hugely successful. As a couple that often match our sneakers, we hope to see more of this in the footwear world.
The Council for Fashion Designers of America (CFDA) was founded in 1962 as a non-profit to band together American designers as they compete against more established European counterparts. (Basically, the equivalent of the Oscar's Academy of Motion Pictures.) Its board is chaired by Tom Ford, the former longtime creative director of Gucci who turned the brand into the global superpower that it is today. The CFDA recently released its nominees for American Womenswear, Menswear and Accessories Designer of the Year. The CFDA nominees have attracted some criticism for celebrating the same individuals year after year. For example, The Row (founded by Mary-Kate & Ashley Olsen, also reported to be in dire financial straits per WWD) has won the award four times, Thom Browne has won the Menswear award three times, and Tom Ford, despite being a previous winner and chairman of the CFDA board, was nominated for both Womenswear and Menswear awards. While there is an Emerging Designer award for younger nominees, the lack of first time nominees to the three headline awards points to a lack of imagination on the part of the CFDA board whose mission is to promote American designers. While the absence of new talent recognition is a given, what is most disquieting is the lack of POC representation among the nominees. (The comment section on this CFDA's instagram post is worth a deep scroll). To counter and hold accountable this type of behavior, Lindsay Peoples Wagner (Editor-in-Chief of Teen Vogue) and publicist Sandrine Charles recently founded Black in Fashion Council (follow here). What Raquel and I are most looking forward to are the "Quality Index Scores" that will be made available in June 2021 on a company by company basis. This report will be a yearly comprehensive overview of the industry's progress (or lack of progress) on POC representation. While there has been much emphasis placed on cancel culture as of late, this is a prime example of a solution oriented group that is working to actually hold the fashion industry accountable. (Check out the BOF article on The Black in Fashion Council.)
Valentino Fall 2020 Couture Show.
Pierpaolo Piccioli staged Valentino's Fall 2020 couture show in Rome on the famous Cinecitta movie lot. Described by the creative director as a response to the pandemic lockdown, the show consisted of 16 looks with floating models and exaggerated hemlines. Ten minute video here with music by FKA Twigs. Although couture is known for its unrealistic dreamscapes and for preserving hand work as a lost art form, these shows have at times felt dated. While Raquel and I both agree the Valentino gowns are stunning, the literal act of putting models on elongated pedestals feels regressive and objectifying. (Speaking of elongation, this Balenciaga photo from Instagram seems to be signaling a trend to lengthen women's silhouettes in this manner. But back to Valentino..) Piccioli's shows in the past have typically been more progressive. Nothing was more refreshing than his infamous Spring 2019 couture show (seen here). It was a breathtaking display of color and modernity and was also a champion of diversity in its casting of a number of Black models. We are optimistically awaiting a sequel to this unparalleled show that was truly one of his masterpiece productions.
I've started to use hydration serums rather than moisturizers this summer. Being that I'm in the sun more (loving my bike rides) serums are generally more concentrated and can help reduce fine lines and pore size (who isn't a fan of that?). I've been wanting to try this Aesop serum but Raquel still maintains that all my Aesop products smell too geriatric. (Her fave comment "Did you put on Eau de Grandpa again?") I just ran out of this Verso Hydration Serum that was gifted to me, and was Raquel-approved. It comes in a great mini bottle with minimal branding and a fun little eye dropper. A less expensive version I am trying is this serum from Circumference which is infused with Vitamin C and has a great citrus scent. So far similar results. Other options out there range from Glossier to Dr. Barbara Sturm's Glow Drops.
Links.
Joe Biden and Barack Obama had a 15 minute socially distanced conversation last week.
The collapse of the Museum of Ice Cream.
The story behind Jide Zeitlin's resignation from CEO of Tapestry, the parent company of Coach.
Trying to describe the Gen Z aesthetic (a lot of great photo examples here).
Everyone seemed to be freaking out over this photo of Martha Stewart in her pool in East Hampton.
What buyers thought of this season's largely digital fashion week.
Been wanting to try this bottle of Monte Rio Cellars after reading up on piquette (essentially a watered down champagne that Raquel and I can pretend is healthier with its lower ABV content).
The elusive designer behind Cactus Plant Flea Market.
Loic Gouzer's new app Fair Warning is bringing art auctions to mobile devices in competition with Sotheby's and Christie's.
Alison Roman's tribute to Keen's Steakhouse in her latest newsletter.
<3
Chris & Raquel