Discover more from Tourist Trapp
Weekly dispatches on fashion design and buying.
TT Vol. 15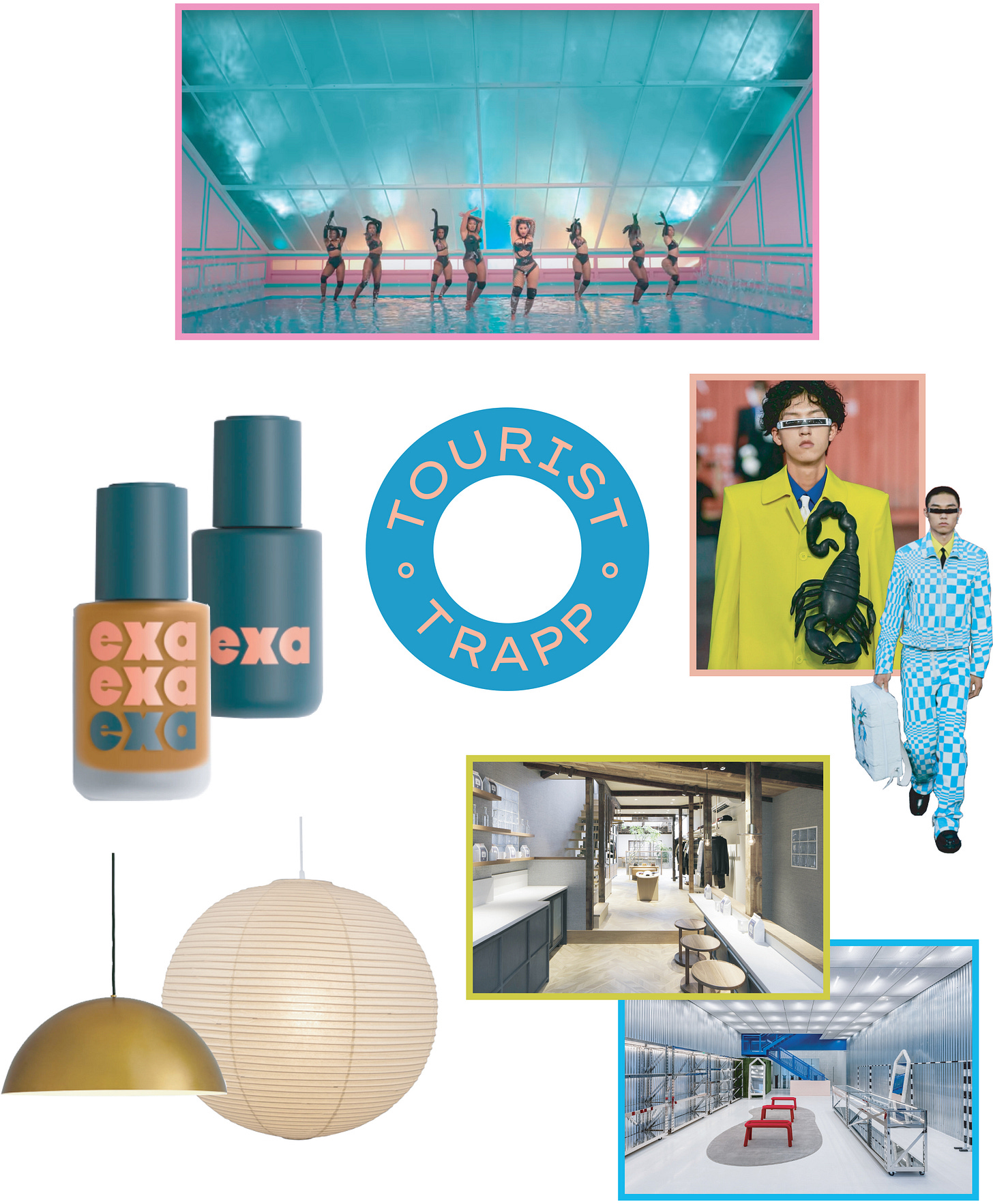 Clockwise from Top.
I'm ready to call it: Cardi B and Megan Thee Stallion's WAP is the 2020 Song of the Summer. (Heads up: the lyrics are purposely explicit. The censored version is called "Wet and Gushy" which we find hilarious.) Not only is the song good, but the video feels like a 90's throwback to the David Lachapelle/Hype Williams era of music videos. Back then, production values were closer to film than a run of the mill 4 minute music video, and were teased on MTV like movie premieres. (Think Hypnotize by The Notorious B.I.G.) The WAP video is full of cameos: Kylie Jenner, Rosalía (a breakout contemporary flamenco star - highly recommend her debut album El Mal Querer), and other female hip hop stars that admittedly I was not familiar with. The video is full of excess: lots of animals, animal prints, and it wraps up in a pool that looks like it was inspired by the Met's Temple of Dendur (our favorite scene). Cardi B reportedly spent $100K on COVID tests for everyone that had to be on set. Meanwhile, conservatives are outraged. A Republican Congressional candidate, who claims to have seen the video "accidentally," said the song made him "want to pour holy water in his ears." Our take: amazing lyrics, creative beat, entertaining video, and Cardi B and Megan Thee Stallion should be free to talk about their sexuality without being lectured.
Louis Vuitton staged its Spring 2021 Menswear show in Shanghai last week. With creative lightning rod Virgil Abloh in charge of Louis Vuitton's menswear design (in addition to his responsibilities at Off-White and other various projects he's involved in), and one of the few Black creative directors in the luxury business, controversy is never far off. He was immediately attacked by Walter Van Beirendonck for allegedly ripping off his earlier designs (Virgil responded that the shows inspiration was a Louis Vuitton show from 2005 when Marc Jacobs was the head designer). While one see the reference to WDB's work (see side by side images here), it looks like more of an homage and less like blatant plagiarism to us. The show was staged in Shanghai, and the collection seemed to be geared towards the Chinese consumer, with plenty of maximalist looks (check the last look here) and loud ensembles. All of the models were local, a welcome change of pace from the typical runway show that mostly has white European models. In other news, Farfetch crushed their Q2 earnings that were released on Thursday. Q2 revenue surged 74% to $365M, showing that slowly but surely luxury fashion is making its way online. This trend will only accelerate as we wait for a vaccine to come to market. We've long been intrigued by Farfetch's business model where they own minimal inventory and instead ship product owned by luxury boutiques scattered around the world (known as drop shipping). This allows them to generate significant sales without owning any inventory, while still maintaining a strong relationship with luxury fashion customers. Most importantly, they don't have to make significant outlays to buy inventory each season the way a traditional retailer does, which allows them to invest in their technology platform. Their most recent results show that they are improving their profitability rapidly. BOF's 2018 interview of Farfetch founder José Neves included a lot of interesting information on his diverse engineering and fashion background (link to podcast here). We highly recommend a listen as both Raquel and I have been starved for good founder stories as of late.
The New Multi Hyphenate Retail Landscape.
We've been asking ourselves what stores will look like post-pandemic. Small stores have been closing at a rapid clip, and national chains are retreating from New York City. There will be a void, but what comes next? Off-White's new Miami store is one recent response. It is designed by OMA (worth a click to see the unique way their team is displayed in a black box grid form on their website), the design firm Off-White usually favors. The store is built to be much more than just a typical retail space. It's designed to be multi modal: it can be repurposed into a variety of functions as needs arise. It can house a runway show, or a dinner party. It can function as a store, or as a fulfillment center, or both. Certainly retail stores have been used for special events, or have included a cafe or food component before. What's different here is that obsolesce of the retail store is being factored in starting with the initial design phase, with maximum flexibility providing a resilience against future changes in the industry. One of the cooler elements of Virgil's stores that we found interesting are the movable walls that can convert the store into a large outdoor space (talk about planning for current and future pandemics). Noah, an influential streetwear brand based in NYC, just opened an Osaka, Japan location that also is very forward looking. The store took over a traditional 2-story Japanese home that had a noodle shop operating on the ground floor for over 100 years. To preserve the spirit of the noodle shop, Noah co-founder Estelle Bailey-Babenzien (her instagram account is worth a follow; Raquel loves this chair Estelle designed for the Osaka store), had a counter built where locals can enjoy gourmet "pot noodles," a prepackaged snack that only needs hot water (see amazing images of the new store here). Hybrid spaces like the Miami Off-White and the Noah outpost in Osaka seem to be smart hedges against an uncertain future for physical retail spaces.
When we first moved into our apartment, we barely had any lamps and it felt really dark as soon as the sun went down. It was a sharp contrast to the overpowering daylight streaming in through our lovely casement windows, which for too long didn't have any blinds on them. Over the kitchen counter, we added some Room & Board Brass Aurora Dome Pendants. The kitchen is extremely bright, which makes it easier to cook and plate our food, and Raquel loves that they remind her of the bell found in hotels to summon a bellhop (great vintage image here). For the living room and our bedroom, we splurged on some Noguchi Akari pendant lamps. I wanted to get the giant 120A size (almost 4 feet in diameter!) but Raquel vetoed that idea. I had a connection at the Noguchi museum who was able to get me a really good discount, which helped since we wanted two! I was really proud of myself for doing all of the wiring for the Aurora pendants in our kitchen just using a Youtube video. No electrical fires yet! For bulbs, we aim for a warm light around 1800 kelvin (which measure how warm or cold light looks when emitted from a source). Raquel has been reading up on Hygge, the Danish concept of coziness, and the Danes say that matching the warmth of a log fire or candle around 1800 kelvin is ideal for light fixtures. Our research indicates Asp Holmblad candles are best for maximizing Hygge. If you can read Danish, you can use their website here, otherwise they are somewhat hard to find (a few are on Etsy). We would recommend buying these Christmas tree candles just for the packaging alone.
Raquel has been buying all of her makeup from Credo Beauty for some time now, which has helped her eliminate using a makeup brush from her routine. They specialize in stocking sustainable and ethical makeup brands. (Raquel uses W3ll People Blush Nudist Multi Use Cream in Nude Berry and W3ll People Concealer SPF Tinted Moisturizer in Medium.) In a big change of direction, they announced last week that they are launching their own private label beauty brand called Exa. The branding is very clean and millennial friendly, somewhat like a more approachable version of Glossier. It is of course being marketed as "clean" beauty: cruelty free, vegan and dermatologist approved, with heavy emphasis on recyclable materials in the packaging. The makeup also comes in a variety of shades, making their products inclusive. The launch of Exa is smart from a business perspective too. Credo will be capturing the full margin on its Exa line, likely approaching 70%. For the third party brands carried at Credo, margin is much lower, likely around 50%. It is much more profitable to be in the direct to consumer business rather than a multi brand retailer because the margins are so much bigger. We would expect Exa to do well for Credo, and could see Credo begin to shift away from carrying brands like W3ll People.
Links.
How digital showrooms and virtual appointments are changing the buying processes for merchants and brands.
Speaking with the COO of Gagosian, one of the largest players in the art market, on the digital future of the art world.
Apple is rumored to be launching an on demand fitness class service to compete with Peloton and Nike, as well as bundling its Music, News, TV, Arcade and other offerings into a service called Apple One.
Why it is in the national security interest of the US to begin bringing critical manufacturing and supply chain operations back home to create a "Strategic Manufacturing Reserve" similar to the Strategic Petroleum Reserve created in the 1970's in response OPEC's oil embargo.
The New York Times proclaims Reels, the TikTok clone created by Instagram, to be a complete dud.
The graphic design of Instagram social justice campaigns.
From the Archive: a behind the scenes look at the life of Brad Kroenig, one of Karl Lagerfeld's "Karl's Boys" as he travels from Wycoff, NJ to Dubai for Chanel's 2015 resort presentation.
Season 3 of Succession is likely to begin filming towards the end of 2020.
W Magazine is back, with a new owner (a syndicate of Bustle Media Group, Kaia Gerber and others), with Megan Thee Stallion on the cover and Sara Moonves remaining as EIC.
20% of Harvard's incoming freshman class has deferred; imagining even higher attrition rates elsewhere.
From concert merch to food merch, the hot new merch is public sector merch. I want this NHS x Nike tee which seems to be sold out everywhere.
Vote.org uses technology to increase voter turnout and strengthen democracy; you can buy some merch to support their efforts.
<3
Raquel & Chris