Discover more from Tourist Trapp
Weekly dispatches on fashion design and buying.
TT Vol. 16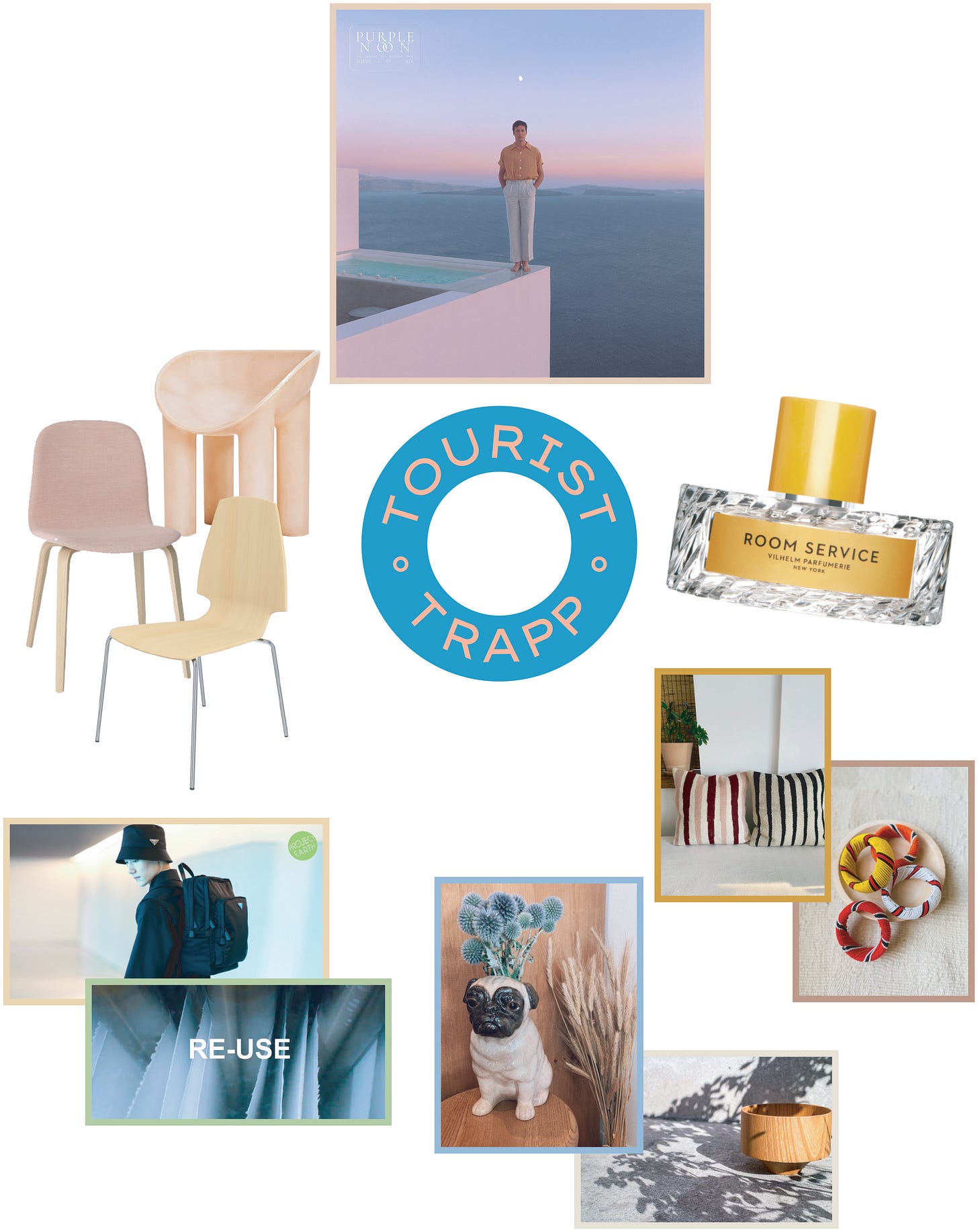 Clockwise from Top.
We've added Washed Out's new album Purple Noon to our end of day rotation. In trashing the album with a low 5.8 out of 10 rating, Pitchfork called the album lush but empty Balearic jams. In our case, that is just what we are looking for right now. Whenever I hear Washed Out, I think of their Life of Leisure EP that fueled my last year of grad school. Purple Noon feels similar but with a retro feel: think a steamy 1980's movie scene love montage.
Whenever we have been at the duty free section of the airport, I've tried to get Raquel to like Chanel No. 5 but she always thought the scent was too masculine. She has never worn perfume, and despite claims that she never would, I took a risk and bought her some when we got engaged. I gifted her some of Vilhelm's Room Service perfume and she absolutely loved it. It has citrus top notes with earthy sandalwood undertones, and comes in a beautiful bottle that looks great on her jewelry tray. Our next perfume to try: Ormaie, a new French fragrance house from a mother/son team with amazing wood stoppers. Raquel loves the Papier Carbone bottle. Other scents that we keep on hand at all times in our household: Mrs. Meyer's Geranium dish soap (Raquel will never let me buy anything else ever), and our decorative and functional Marseille Fig hand soap which come in great recyclable glass bottles and are easy to refill and clean.
We wanted to highlight a few home and accessory retailers that have easy to shop e-commerce sites and stylish authentic products. Chiara Cortez opened Now Begins as a pop up shop on the Lower East Side. She carries handmade home goods sourced from Latin America, and has forged meaningful relationships with the artisans making the amazing product she carries. We really like her Palma Baskets and Hand Towels, both from Oaxaca, Mexico, a favorite childhood destination of Raquel's when she lived in Mexico with her family. Clark Chung, a colleague of Raquel's from J.Crew, started the home goods shop November 19 in 2016. It was initially in Canal Street Market, and we got to visit the pop up a few times as it was close to my office. He's since moved to midtown and started his own private label called Mr. Chung. I love these Lucky Cat Jars (sadly sold out!) and Raquel likes this great beach bandana bag. Now Begins and November 19 are on Instagram here and here, and websites are here and here.
The fashion world has long dealt with issues around environmental degradation embedded in the industry's supply chains. This has only been exacerbated in recent years with consumers flocking towards low cost fast fashion that is often worn a few times or less and then disposed of. With younger customers demanding better, more sustainable design and sourcing, brands have begun to change. However, changes have largely eluded multi brand retailers (e.g., Nordstrom) who buy their inventory from other companies and don't have much control over how green a product is. Selfridges, one of the world's leading department stores with stores around the UK, launched an initiative called Project Earth last week that is the most comprehensive attempt by a multi brand retailer to present sustainable fashion to its customers. The concept consists of (1) environmentally friendly capsule collections from leading designers (e.g., launching Prada's new recycled nylon collection dubbed Re-Nylon: link here for interesting video on how recycled carpets are turned into Prada bags) (2) the creation of a clothing rental program (think Rent the Runway) in tandem with Hurr Collective (3) a resale service called "Resellfridges" where vintage collectors (and later customers) can sell used clothing in stores (4) providing clothing repair services and refilling empty beauty bottles and (5) many other standards around their own and supplier plastic use, greenhouse gas emissions and other sustainability metrics. When added up, we see this as the most meaningful sustainability initiative launched by a third party retailer. We hope it is successful and becomes a permanent part of Selfridges, and will inspire their competitors to step up their game. Check it out here.
One of the earliest activities I did after meeting Raquel was helping her put together these Ikea chairs (since discontinued - image here). I've always assumed it was a test, and, 6 years later, I guess I passed. As our relationship has expanded, so has our chair collection. We added these Muuto chairs at a heavy discount through a connection, some Ikea benches (the shorter version we bought seems to have been discontinued, but the longer version is here) and Target stools (link to purchase here. Target's updated version is here). When we first moved to our current apartment, we didn't have a couch yet so the only comfortable place to lounge was on this West Elm chair that Raquel has had for a few years now. We have some good photos of us sharing that chair for a few weeks while we waited for our Blu Dot couch to arrive. The couch does pill a bit, but Raquel bought an amazing depiller that she has converted many of her friends and fam to use. Our next adult chair purchase is scheduled to be a Faye Toogood Roly Poly chair, likely via 1st Dibs. Raquel favors the flesh color while I like milk.
Links.
Google is now providing early earthquake detection using motion sensors found in cell phones.
The story from an Apple engineer on the top secret iPod created for the federal government, and speculation on what it may have been used for.
Loving the branding/story behind Rose Los Angeles, one of the leading independent edible CBD companies, and its embrace of local agriculture and leading chefs.
The demise of Thomas Keller's restaurant TAK Room, and why it should not have existed in the first place.
The week streaming services took over Hollywood.
What it's like running a vintage store during the pandemic.
People flipped out this week when Stüssy and Our Legacy Workshop announced an upcoming collaboration.
From the archives: a 2016 profile of Doubles, a wonderfully garish club in New York City located in the basement of the Sherry-Netherland Hotel on Fifth Avenue.
Ruminations on the death of fashion week.
An interview with the new editors of New York Magazine's Approval Matrix.
The Wirecutter is starting a subscription product.
East Fork Pottery talks about taking traditional craft ceramics into the digital e-commerce market.
Telfar's bag security program, where customers could pre-order their desired color/silhouette, was successful and helped reduce price gouging on secondary markets like Grailed.
Maya Hawke, daughter of Ethan Hawke and Uma Thurman, released her debut album Blush.
Highlights from this week's Democratic National Convention:
<3
Chris & Raquel