Discover more from Tourist Trapp
Weekly dispatches on fashion design and buying.
TT Vol. 17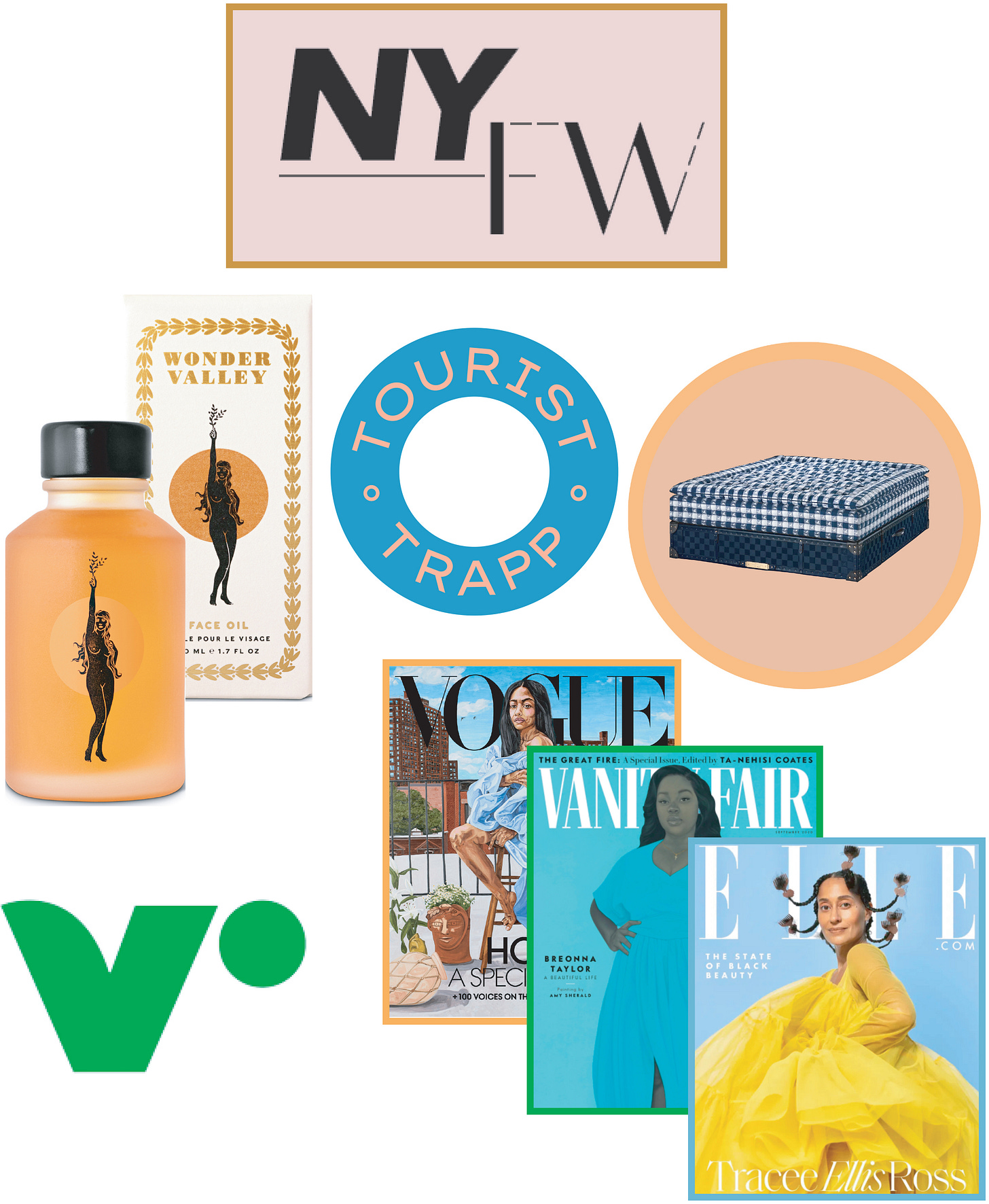 Clockwise from Top.
The CFDA released the schedule for September's New York Fashion Week, which was notable for the lack of the usual shows. As Vanessa Friedman noted, many designers associated with NYFW will not be showing: Marc Jacobs, Ralph Lauren, Pyer Moss, Michael Kors, Oscar de la Renta, Proenza Schouler, Telfar and The Row are all not on the schedule. NYFW has been shrinking for years, and with Raf Simons gone from Calvin Klein and now helming Prada, combined with the recent decimation of the American fashion industry, it's not surprising to see the September shows shrink. Many of the "shows" will really be digital activations: Tom Ford, Collina Strada, Carolina Herrera, Sandy Liang and Eckhaus Latta will all be doing digital presentations. The biggest runway show looks to be Jason Wu, though it's unclear what attendance will look like. The decision for Wu to have a full runway show was likely influenced by his collaboration with Lowe's, a significant sponsor of this September's NYFW. Lowe's is providing low cost props and other pieces for the runway show, which will be available for sale immediately on Lowe's platform, further blurring the line between the apparel and home design industries.
We're approaching 10 years on our Sealy Posturepedic pillow top mattress (our aluminum anniversary!), and in typical form began researching what the new mattress trends are. We quickly learned that people have A LOT of opinions about mattresses. One particular brand that held our interest was Hästens, an ultra luxe option favored by celebrities. Their mattress are made by hand with Swedish horsehair, come with customer service agents that will make a house call to rotate and reshape (i.e., provide a Swedish massage!) the mattress three times a year, and range from $10K to $400K for the extravagantly named Grand Vividus. I used to walk by their showroom in Soho all the time, and never knew their mattresses were such a status symbol. When Drake's (hideous - sorry Drake) Toronto home was featured in Arch Digest with a Grand Vividus, Hästens quickly sold 10 at $400K each! We couldn't help but notice that the box spring resembles the Louis Vuitton Trunk Bag (see here) and the pillow top has resemblance to the Burberry galloping horse logo (see here). Coincidence? Or does Hästens know that their luxury customer likes to sleep on a bed that matches back to their accessories? Outside of NYC and LA status mattresses, the other trend is the tech enabled mattress. Eight Sleep makes a connected mattress with sleep fitness technology: personalized microclimates for you and your partner, sensors paired with an app that track the quality of your sleep, and the ability to set an alarm for the mattress to gently nudge you awake each morning. The downside to all this connectivity? A $2000+ price tag, and an unsightly water pump that manages the mattress temperature. In reality, we'll probably end up with a direct to consumer product with competitive pricing like a Casper or Purple.
Soon, mailboxes will be filling with the September issues of the leading fashion magazines. Raquel has a collection of Vogue magazines going back at least 10 years, and I almost threw out my back getting them organized when we moved to Brooklyn. The September issue is Vogue's marquee product, chock full of expensive advertisements, lavish editorial features and covers that the industry scrutinizes. (Slideshow of prior September covers here.) Tyler Mitchell, the first African American to shoot a Vogue cover, debuted with Beyoncé in September 2018. So it's a big deal Vogue chose to put Jordan Casteel's painting of Aurora James in a Pyer Moss dress on one of its two covers. (The second cover is by Kerry James Marshall and features a fictional subject in an Off-White dress.) The only parameter Vogue provided to the two artists was that the subjects had to wear apparel from a list of pre-approved designers. (It is unclear who was on the list of designers, but likely houses led by Black creative directors.) Mirroring Vogue, Vanity Fair has an arresting portrait of Breonna Taylor by Amy Sherrald on its cover. Guest edited by Ta-Nehisi Coates, we're looking forward to getting this one in our inbox. Not to be left out, Elle has the sublime Tracee Ellis Ross on the cover of its State of Black Beauty issue. She was styled and photographed by an all Black team, and talks with Kerry Washington about her new hair care company Pattern. In a stranger take on the September cover, Vogue Italia has Kaia Gerber in her underwear next to a wall with writing in crayon.
Former NYFW sponsor Amazon continues to plow ahead with its luxury fashion ambitions. It will be a concession model, where the brands (and not Amazon's merchandisers) get to control pricing and product assortment, and Amazon will provide their leading logistics and fulfillment prowess to get the orders out to customers. This will put Amazon into direct competition with Farfetch, which uses the same concession model at the same luxury price point. (Still unclear to us: what brands Amazon will launch this initiative with, and will this live on Amazon.com? Or VRSNL, its Zappos subsidiary? See Instagram account for VRSNL, pronounced Versional, here.) Going forward, we see this concession business model as being more financially sustainable than the traditional third party retail model (think Net-A-Porter or Nordstrom) where the retailer buys huge amounts of inventory each season, and the designers have little say in pricing or product assortment. Amazon may falter with its initial foray into the luxury market, as we think customers associate Amazon with rock bottom prices and not elite designer houses like Dior, Chanel or Prada. Longer term, Amazon may be able to put together a winning value proposition by pairing its best-in-class back of house fulfillment operation with a digital shop-in-shop where designers can control pricing, product assortment and promotions.
Wonder Valley Olive Oil Products.
With frequent beach trips (and beach naps!) this summer, we have been using the Wonder Valley Face Oil as it is a hydrating and restorative lifesaver after a day in the salt and sun. We've noticed that it doesn't leave you shiny, and Raquel loves the way it makes that hard earned sun-kissed look last. The Face Oil uses olive oil as its base, and has an amazing citrus scent that works well with the smoky undertones of the myrrh and frankincense. Raquel and I have recently been using more and more organic skin care, and Wonder Valley's Face Oil fits the bill. The Joshua Tree based brand (run by husband/wife team Alison and Jay Carroll) uses Northern California grown olives to create both olive oil and olive oil based skincare products. They are a busy couple: in addition to running a small storefront and e-commerce business for Wonder Valley, they own Al's Big Deal and run El Rey Court in their spare time. (Definitely check out their Instagram accounts here and here). They also sell Olive Oil that we have been using on the reg in our habitual pre dinner snack of hummus with paprika and olive oil (see here). The Olive Oil comes in a unique matte black bottle with a wood stopper, and has a beautiful crisp flavor that you don't find in blended olive oils. Wonder Valley harvests young green olives, giving the oil an almost spicy flavor packed with healthy polyphenols. Because their olive oil is almost single origin in nature, you get lovely highs and lows in the flavor, and exudes terroir. We are considering joining their Oil Club (details here) so we can always have on hand.
Links.
Silicon Valley's Young Billionaires: A profile of the founders of Robinhood, an app offering commission fee stock trading, that has skyrocketed in popularity during quarantine.
Amazon Logistics Independence: Amazon is now shipping up to two thirds of its orders on its own delivery network, cutting out market leaders like Fedex, UPS and the USPS.
Why Amazon No Longer Sends Customers Itemized Email Receipts: It's to protect its data, with implications for augmented reality glasses that tech giants will be launching in the next 2 years.
This Week in Telfar: The Bushwick Birkin is now in Congress, with AOC recently spotted using an Oxblood Medium Shopping Bag to haul her briefing materials around.
The iPhone Lock Pick: Malware installed on a phone is now sophisticated enough to record the audio of a key turning in a doorknob and generate a 3D rendering that could be used to make a key replica.
Where is Nunivak Island, And What Is Qiviut? A summer spent hiking a remote island in Alaska in search of the world's softest wool, rumored to be worth its weight in gold.
A Legend Talking To A Legend: Zadie Smith on Toyin Ojih Odutola.
Our Family Fave Gets Its Due: NYC's The Hungarian Pastry Shop with its very deserved T Magazine debut.
Small Is Beautiful: Evan Kinori's menswear line remains successful because it has shunned rapid growth in favor of a smaller, sustainable business model.
Nobu Malibu's Celebrity Quarantine Bubble: The outdoor terrace at the LA sushi spot has become the hardest reservation in the city to get.
The Death of the Expat Contract: Companies no longer send executives from their HQ to manage businesses abroad, instead depending on local talent to run their local market.
Topanga Canyon Wellness: A group fitness class that involves deep breathing, underwater weight lifting, and swimming laps in a stunning Malibu infinity pool.
Not To Be Confused with JIL SANDER+: Uniqlo is collaborating with luxury brand Jil Sander on a collection called J+, hitting stores soon.
Athleisure's Momentum Continues: COS, the British label owned by H&M, just launched COS Active, a smart looking sustainable activewear line featuring organic cotton and recycled nylons and polyesters.
<3
Raquel & Chris