Discover more from Tourist Trapp
Weekly dispatches on fashion design and buying.
TT Vol. 18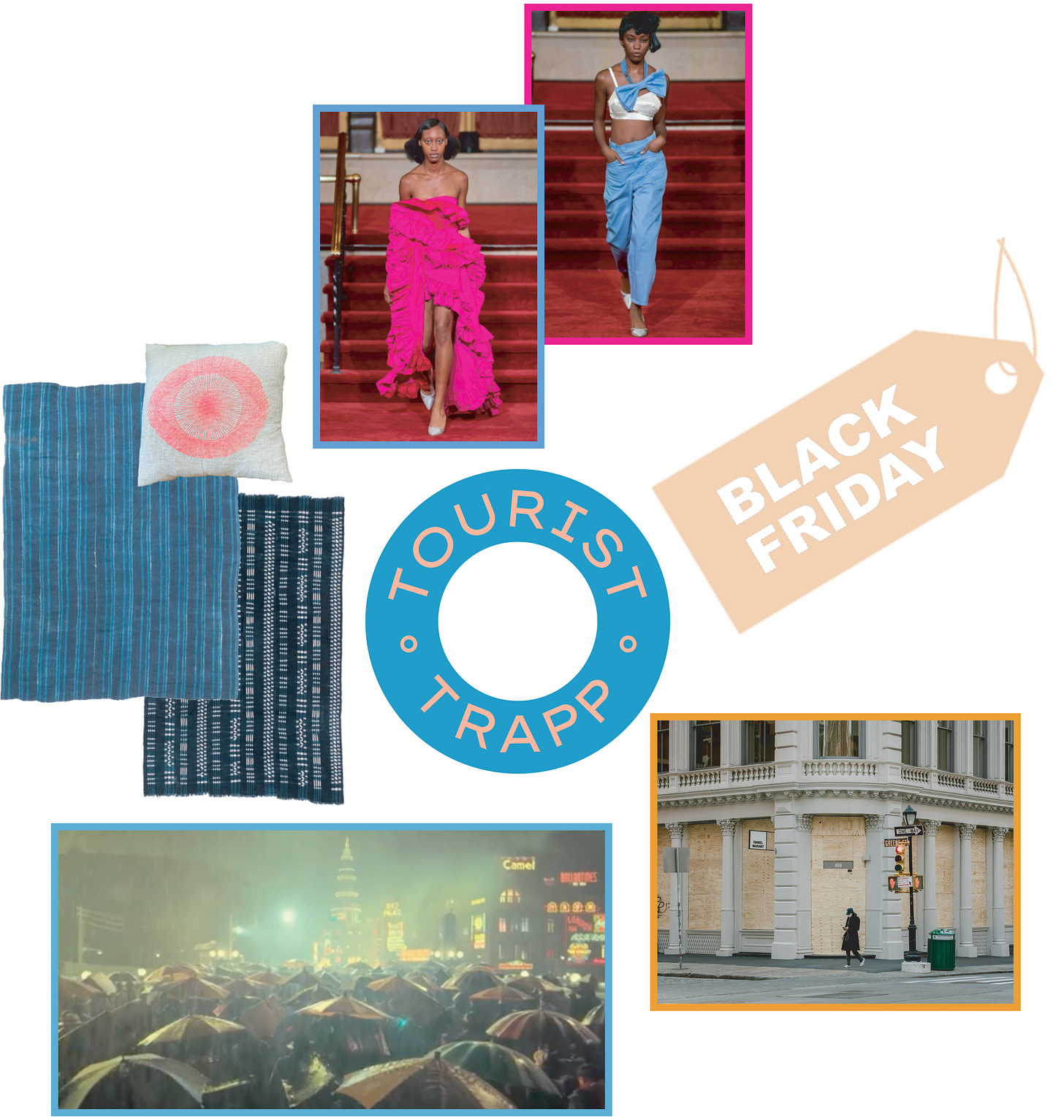 Clockwise from Top.
Dover Street Market, the multi brand retail concept from Rei Kawakubo and Adrian Joffe of Comme Des Garçons, started in Mayfair in 2004 and has since expanded globally to NYC, LA, Paris, Tokyo, Beijing and Singapore. DSM is a very influential independent retailer, and its reach has only extended as the pandemic has decimated its competitors around the world. For the past few seasons, they have provided production and distribution services to a number of emerging designers, including Paccbet and Honey Fucking Dijon, and this week signed Vaquera to its growing umbrella of brands. Why does CDG take this approach? Generating more than $300M per year in revenue, it's hard to imagine the deals with these small brands make much of a difference to their bottom line. In speaking to WWD, Adrian Joffe emphasized that the biggest benefit he expects from signing Vaquera and his emerging brands is not the fees they pay to DSM, but the inspiration they will provide: "Creativity is becoming even more important. I want to work with great people with a lot of talent." In a time when you only really need a digital marketing budget to launch a brand, creativity is a true differentiator. I've always been surprised that CDG has not been more interested in buying some Japanese luxury brands to rival the likes of LVMH and Kering. Acquiring Issey Miyake, Sacai, Yohji Yamamoto and Undercover and bundling them together with CDG's existing brands would make for a pretty powerful machine that could pool talent and back office functions to create a Japanese counterweight to the European luxury conglomerates.
Today is September 6th, and that means Black Friday is only 82 days away! It is safe to say that this year's holiday season will be much different. There are a lot of factors that may influence what sales may look like: inventory levels, consumer confidence, and progress in battling the coronavirus are three important unknowns. We are expecting trends that surfaced in early spring during the pandemic to accelerate for this holiday season: (1) Expect customers to shop online in record numbers, significantly more so than last year as shoppers will be tentative to shop in person during flu season; (2) Retailers, like Wal Mart, Amazon, Target and Costco, will take a large percentage of sales this season given their competitive price point and ability to bundle essential items with gifting, continuing this year's trend; (3) fashion retailers may be hit hard, as customers allocate their spending elsewhere and don't have holiday parties to attend, and have spent the last months cancelling orders to reduce inventory levels. WWD reported that Saks is expecting sales to be down 20% vs last year during Q4. With so much in flux, flexibility around Black Friday promotions and marketing initiatives will be key.
I had to pop into downtown Manhattan to run some errands last week. Our SodaStream canister was empty, and we exclusively drink sparkling water. I walked around Soho a bit on the way to the Tribeca Bed Bath & Beyond to see what the neighborhood was looking like as COVID summer winds down. On a beautiful day, Howard Street was surprisingly empty. It's usually full of energy, with a line out the door at the Smile, people drinking iced coffee on the steps in front of Maison Margiela and kids taking photos in front of Opening Ceremony. Instead, the 11 Howard Hotel is completely boarded up and covered in graffiti (the internet says it is temporarily closed but looks completely out of business), the Smile is (supposedly) temporarily closed, and Opening Ceremony is gone. Rick Owens and Maison Margiela were open but quiet. The restaurants bookending the street, La Mercerie and Le Coucou, look like they are struggling. Le Coucou is temporarily shuttered, while La Mercerie has moved seating outside to Mercer Street. It's great that they are open, but you can't really move their refined dining experience out to the corner of Canal and Mercer where trucks queue up for the Manhattan Bridge. Thankfully commercial rents seem to be dropping, with rates on Prince Street reportedly falling almost 40% year over year. This will certainly help new businesses that want to rent space in the neighborhood, though it's hard to imagine foot traffic coming back anytime soon with tourists staying home. Perhaps neighborhoods should be embracing leases with co-tenancy and anchor tenancy clauses more commonly found in shopping mall lease agreements. Neiman Marcus' bankruptcy and termination of its Hudson Yards lease will allow other tenants in the building to break their leases. Pre-COVID, Soho was essentially one big outdoor mall, and many walkable neighborhoods in NYC had a similar feel. Retailers could consider adding co-tenancy clauses to their leases so that if a big neighborhood destination disappears (say, Dean & Deluca), retail stores would be able to reduce their rent to make up for the lost foot traffic. Working in fashion, we think it is important for brick and mortar retail stores to be set up for success, and it's always a fun topic of conversation for Raquel and I as we dream up our own concept store.
It's been a tough year for Hollywood. Cinemas have been closed most of the year, and there wasn't much of a summer blockbuster season to speak of. Studios have had to choose between releasing their biggest investments straight to streaming, or wait for quarantine to lift to show in theaters (and hope that the public will show up). Christopher Nolan's Tenet, one of the summer's biggest features, was pushed back to an international release starting August 26, and hit theaters in the US this weekend. It made $53M internationally, exceeding expectations, but it has a long way to go to break even (rumored to be $800M!). With a budget like that, it's not surprising Warner Brothers decided not to release directly to streaming services, like Disney is doing for Mulan, their big feature for the summer. The live action remake is now available on Disney+ for $30. This is a bargain for a family that may have wanted to see this in theaters, and Disney's decision to forgo box office revenue and release this straight to streaming seems like a way to minimize its losses and start to recoup some of the costs to make and market the film (it is reported that Disney needs to make $400M in Disney+ sales to break even on Mulan). As Hollywood continues to move faster and faster to a streaming future, the old studio world is crumbling. A federal court recently overturned the Paramount Consent Decrees, established in 1948 to prevent film studios from owning theaters for fear of stifling competition. The truth is that studios will need theaters less and less as customers become accustomed to streaming new releases. And it's not just the theater owners that are in trouble: studio budgets are going to get pinched as box office revenues decline, and that means less money for marketing and fewer jobs to go around. Contrast to China's return to (relative) normalcy, where all theaters are now open and the epic The Eight Hundred is approaching $300M in revenue over its first two weekends.
I don't think I have ever purchased a decorative pillow, but Raquel has plenty for both of us. Her #1 is the neon magenta New Eye that she got at ABC Carpet a long long time ago. The graphic was designed by MQuan Studio and printed by Lucky Fish. (Although the pillow is no longer for sale, the artist still makes beautiful plates with her motif.) Raquel has been wanting to expand our pillow collection, and we both really like these Injiri pillows that are handmade in India using organic cotton. When it comes to pillows, more really is better. And of course, it's also important to accessorize with your throws. Almost every chair or stool in our apartment is draped with some kind of throw. I bought one in Cuzco when I was hiking down there, and we've slowly been acquiring more at flea markets in NYC. There is a vendor at the Chelsea Flea Market (re-opening September 12!) that sells beautiful indigo throws sourced from West Africa. They are also available on 1st Dibs (here) but are much cheaper if you buy at a flea market. We also have a Best Made Co. x Pendleton blanket that we will soon be bringing out for the holidays.
Links.
Brooklyn Slumlords: How did the couple behind a chain of yoga studios and brownstone AirBnB rentals end up homeless and moving in with their tenants?
This Week's Tech Rumor: Is Apple building a search engine to compete with Google?
Too Good To Be True?: The Celera 500L is a revolutionary jet tipped to drastically reduce the cost of flying private, with operating costs and fuel efficiency 10X better than current private jets.
Instagram On Your Coffee Table: Simon Jacquemus released a monograph of his photos he's taken on his phone over the past few years.
STFU: In public spaces, staying quiet is just as effective in stopping the spread of COVID as mask wearing.
Update Your iPhones: With the newest update installed, users can now opt in to the joint Apple/Google contract tracing tool that can notify you if you have been near someone diagnosed with COVID.
This Week In TikTok: Sales of TikTok's U.S. operations are delayed as the bidders fight with China over the crown jewel of the app— the addictive algorithm fueling Gen Z's attention may be excluded from the purchase agreement.
Hotel California: The joy of leaving your apartment and riding out the pandemic in a hotel.
ICYMI: Raquel and I drove out to Southampton mid-week and spent the day lounging on an absolutely deserted beach.
Campaign Finance News: Joe Biden is partnering with Cameo, the app that connects you with a favorite star to pay for a personalized message, to bring celebrities like Andy Cohen to the platform with proceeds benefitting the campaign.
Still Working Through This: Refinery29 put together a really great (and long) multi piece package on the State of Fashion.
Weirdly Mesmerizing: Worth 10 minutes of your time to watch Jacques Pepin deboning a chicken.
China Leading the Way: The livestream of Louis Vuitton's Shanghai runway show was watched by 68M viewers on Weibo, vs only 84K viewers on its own platform.
Athleisure For Motherhood: Nike is releasing a maternity line on September 17th called Nike (M), with support from its athletes like soccer star Alex Morgan.
Runner's High: This badass cross country runner spent the night in a tree after climbing up there to escape a bear that chased her down while on a training run near the Adirondacks.
NYFW Watch: On making the shows more about your community and customers, and less about the editors and buyers.
FW20 Picks: The Bottega Veneta Rubber Puddle Boots are finally out, I like them in Rubber Band but they also come in Lollipop.
Graphic Tee Of The Week: With the US Open returning to Queens, missing seeing and playing tennis and loving this tee from Racquet Mag and the Racket Doctor tennis shop in Glendale.
Bodak Jaune: Cardi B is the face of Balenciaga's new campaign, and is now hanging on the outside of the Louvre.
What Comes Next: Miuccia Prada on BLM, Raf Simons, and what the future holds (and more from excellent series The Lost Season here).
<3
Chris & Raquel