Discover more from Tourist Trapp
Weekly dispatches on fashion design and buying.
TT Vol. 19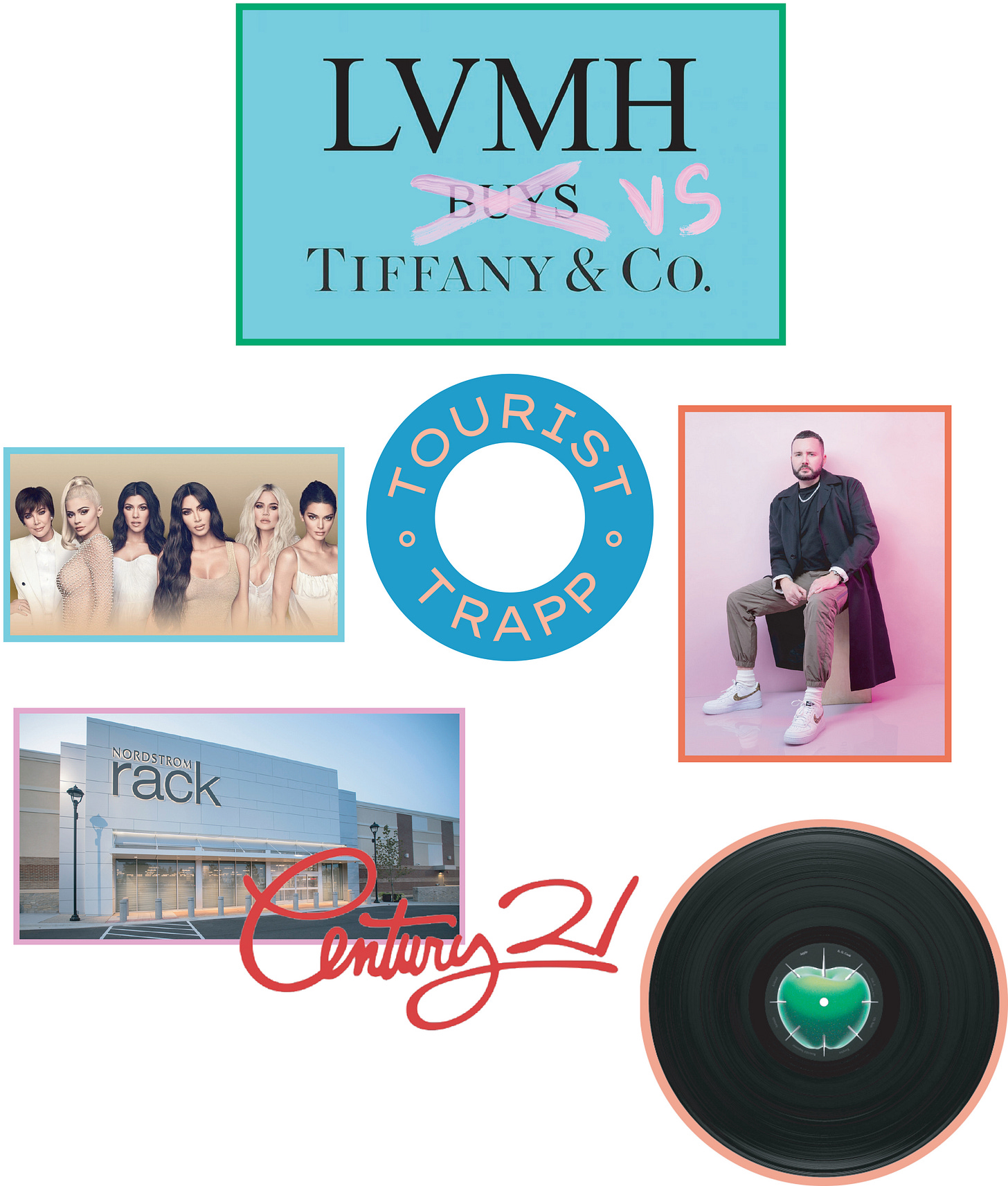 Clockwise from Top.
LVMH, the European luxury colossus, had blockbuster news this week with the spectacular collapse of its acquisition of Tiffany's. The details sound fairly benign: due to the ongoing US-France trade war over luxury goods, the French government requested that the deal closing be delayed until January 2021. LVMH claims that this qualifies as a MAE (Material Adverse Effect) under the purchase agreement, which allows a party to back out of the deal before closing in certain circumstances. Tiffany's shareholders are incensed, and countersued to try and consummate the deal. Reading between the lines, we have to assume that LVMH was unhappy with the deal struck to buy Tiffany's at $135/share way back in November 2019. It's currently trading at about 20% below the purchase price, and LVMH may be looking for leverage to get a discount on the original $16B deal. We would also not be surprised if Bernard Arnault, the chairman of LVMH, may have used his connections in the French government for assistance in delaying things. LVMH also threw some shade at Tiffany's, complaining that its performance during the pandemic is "significantly inferior to those of comparable brands of the LVMH Group." Despite the lingering acrimony, we wouldn't be surprised if some sort of agreement is eventually worked out. LVMH has been chasing Tiffany's for years, and are looking to shore up its hard line luxury business (i.e., jewelry and watches, currently only 9% of its revenues). It's one area where LVMH underperforms compared to Richemont (which owns Cartier and Van Cleef & Arpels).
I've been writing this week's newsletter listening to A. G. Cook's wild album 7G. It's a 2 hour and 40 minute, 49 song assault on your ears, and it's either genius or an unlistenable MFA project. Or maybe both? He and his musical collective PC Music were recently profiled, which is how I came across 7G and Cook's upcoming album Apple. The music deftly spans both experimental and pop to create a really strong genre-defying hybrid of both forms. And I've always had a soft spot for ridiculously long musical pieces like Disintegration Loops or more preposterously, John Cage's 639 year performance of As Slow As Possible. This particular song reminded Raquel of Ross' "wordless sound poems" on Friends (clip here). It also made us think of this article on how TikTok is bringing back late aughts Girl Talk style mashups, often in extremely short bursts. From a 3 hour album to 15 second mashups: time certainly seems to be fading as a constraint for younger artists, perhaps a natural outgrowth of our collective state of purgatory we are in.
Buried in this Nordstrom article there was an announcement that the Seattle retail powerhouse is going to turn on omnichannel for its Nordstrom Rack business soon. Rack is currently live with plenty of inventory available (almost 3,000 SKUs of men's shoes alone!), but once this business is converted to omnichannel, all of the inventory in Rack stores will be shoppable on the website. This should help Rack, already the fastest growing portion of Nordstrom's business, to consolidate market share. Most of its off price competitors do not even offer an online store, eschewing e-commerce in favor of an in store "treasure hunt" experience. Only TJ Maxx really offers a digital shop for its customers, and even then selection is very limited (only 1,000 men's clothing SKUs available vs. almost 7,000 SKUs for the same category at Rack). As a result of the pandemic, there's an avalanche of unsold spring inventory out there, which presents opportunistic buyers like TJ Maxx and Rack the ability to stock up on merchandise at a huge discount. It's a shame, then, that Century 21, the venerable king of NYC's off price, will shutter after blaming its insurers for refusing to make a payout under their business interruption insurance. Like many other retailers, they won't make it to the other side of the pandemic.
Changing Channels With the Kardashians.
News broke this week that Keeping Up With the Kardashians, the long running reality show on NBCUniversal's E! cable network, is ending its 20 season run next year. We've never really watched much of the show, but it certainly had an outsized cultural impact. It's impossible to deny that the Kardashians and their extended clan have become an entertainment and business juggernaut over the past 10 years. Thus, it was pretty surprising to hear that they would be leaving television. It was reported that the family makes about $5M per episode (Damn!), but that they were unhappy with how payments related to their "ancient" contract were being applied in the brand new world of streaming television. We had assumed that the Kardashians would take their family to a competing network or streaming platform, but interestingly, the same report states that they may have signed away the rights to star in a similar show elsewhere. That said, the Kardashians have the financial ability to buy themselves out of that old contract if they need to. Though with each family member at 100M+ followers on Instagram, it may be more lucrative to focus their efforts on other revenue streams and away from linear television.
Links.
Raquel's Purchases This Week: She bought some stuff from Zara (this and this) because the Khaite versions are $1K! (Fit pic here) (Katie Holmes inspiration here) (backup options here and here).
But Will He Get Swole: A profile of Andy Jassy, the head of AWS and the leading candidate to replace Jeff Bezos as CEO of Amazon in the future.
Modernist Architecture For Sale: This Richard Neutra home in Los Feliz is selling for $11.5M.
The GEL KIRIL Is Back: Asics is releasing their newest Kiko Kostadinov collaboration in three colors soon.
What Is The Value Of A USC Diploma: The story behind the Qatari prince that lived at the Beverly Wilshire while "enrolled" at USC.
The Future Of Food: Whole Foods opened its first "dark store" in Sunset Park, Brooklyn that looks like a normal grocery store but is only used to fulfill online grocery orders.
#OscarsSoWhite Update: The Academy of Motion Picture Arts & Sciences released sweeping guidelines around what films may be considered for upcoming Best Picture awards that will mandate participation of underrepresented groups on screen, behind the camera and in the studios.
She Has a Point: Stitch Fix CEO Katrina Lake is not happy that Sephora hired a man to run LVMH's beauty juggernaut.
Another ALD Collab: Aimé Leon Dore partnered with director Mathieu Kassovitz on a capsule collection inspired by the film La Haine, and got the streaming rights from Criterion Collection to show the film on its website.
Why Everything Looks The Same: A breakdown of the branding aesthetic used by direct to consumer stalwarts like Warby Parker, Allbirds, Quip and many, many others.
TBH Still Trying to Figure Out What This Actually Is: Pyer Moss and Kering announced a platform called "Your Friends in New York" to bring together fashion, wellness, music, art and philanthropy.
After 200 Years, Wall Street Gets Its First Female CEO: In February, Jane Frazier will become the first female leader of a major US financial institution when she becomes CEO of Citi; a working mother, she jokes that she has two teenagers plus a 59 year old husband who is her third child. She also cited overcoming a pervasive sense of self doubt as her biggest career challenge, stating "I always feel unless I'm 120 percent qualified for a new opportunity or challenge that I shouldn't really be taking it on."
Better Things On Netflix? The NFL opening game saw a big decline in viewership compared to last season's kick off, though they were still bigger than 2018.
Some Good BTS Gossip: André Leon Talley on what Fashion Weeks used to be like.
<3
Raquel & Chris