Discover more from Tourist Trapp
Weekly dispatches on fashion design and buying.
TT Vol. 2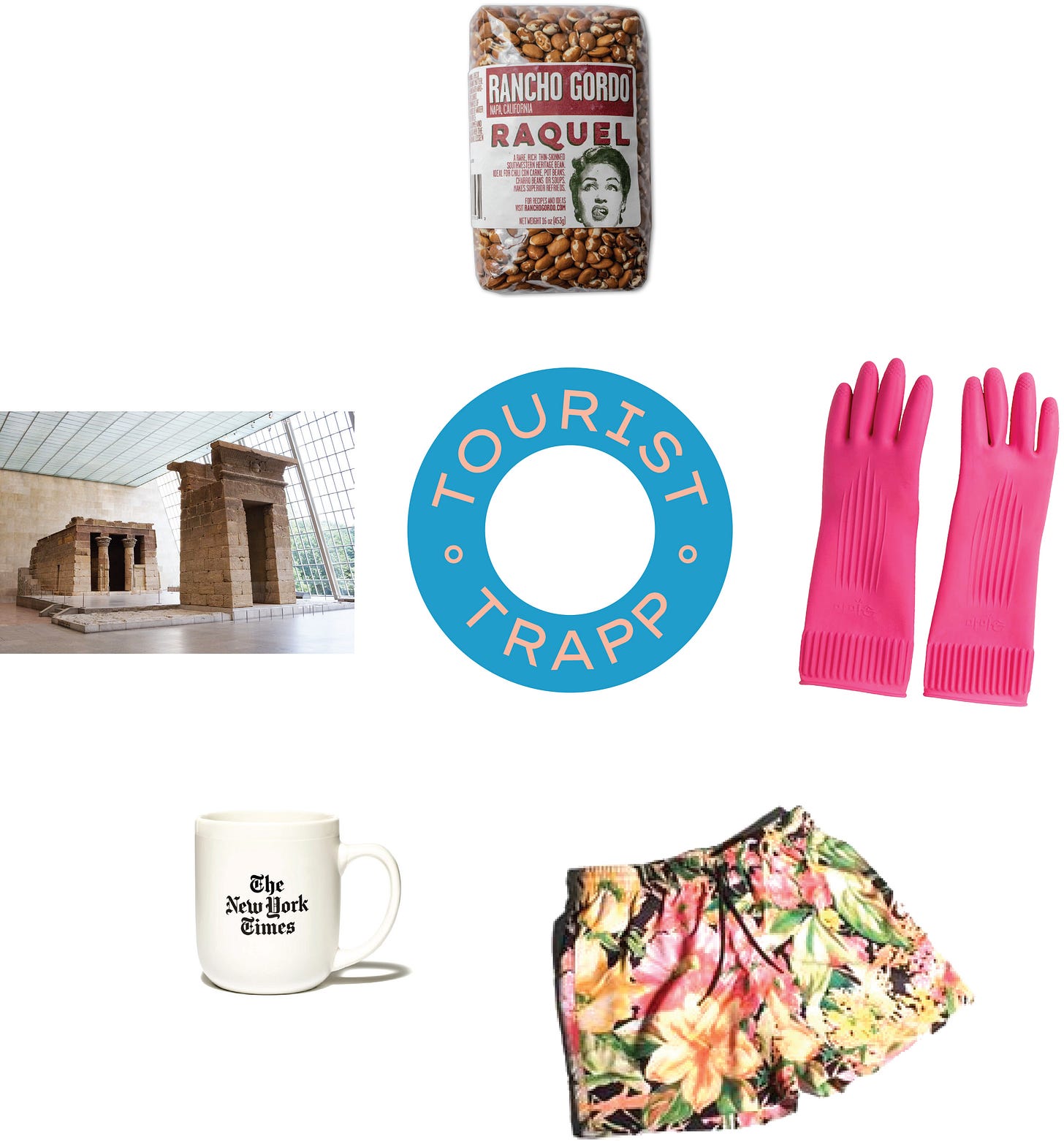 Clockwise from top.
Way back in March, I placed a bulk order for Rancho Gordo beans. Their heirloom beans taste better than canned beans, last forever and look great in the pantry! Boil in salt water and they taste great with any rice, salad or pasta.
Our last meal out was on February 29th. That means roughly 50 consecutive dinners at home with over 50 dish washes! We've been disappointed in the cheap store bought gloves we were using, so we upgraded to a pair of Mamison gloves. We love how our hands don't smell like rubber after washing the dishes, and they come in sizes small through extra large. The only caveat is they only come in hot pink- which I don't mind since we all know real men wear pink.
Dries Van Noten Floral Swim Suit. 
I'm getting tired of wearing the same sweatpants day after day. With all of our future travel plans on hold, I started to wear my Dries Van Noten swim suit around the house to change things up. Same end use as sweatpants but feeling more put together.
We upped our New York Times subscription from just Sundays to 4 days a week: Thursday through Sunday. I have been attempting (and occasionally finishing!) the crossword every day, and Raquel is excited to get both the Thursday AND Sunday Style section every week. 
Museums are starting to offer virtual tours to home-bound art enthusiasts. The Met has 360 tours on Youtube, and Google has a huge collection of institutions offering their catalogs on line. 
What we read this week:
Kering Q1 results indicating they will be substantially cutting back on their wholesale business
The Strategist's run down of quarantine snacks.
A not very rosy picture of the current retail environment.
Brother Vellies has created a really unique subscription program.
Facial massaging your way into youth.
A meandering walk through the architecture of Park Avenue.
Major Lazer's Earth Day meets quarantine video for Lay Your Head On Me.
Gabrielle Hamilton is one of the best writers on food out there.
<3
Chris & Raquel