Discover more from Tourist Trapp
Weekly dispatches on fashion design and buying.
TT Vol. 20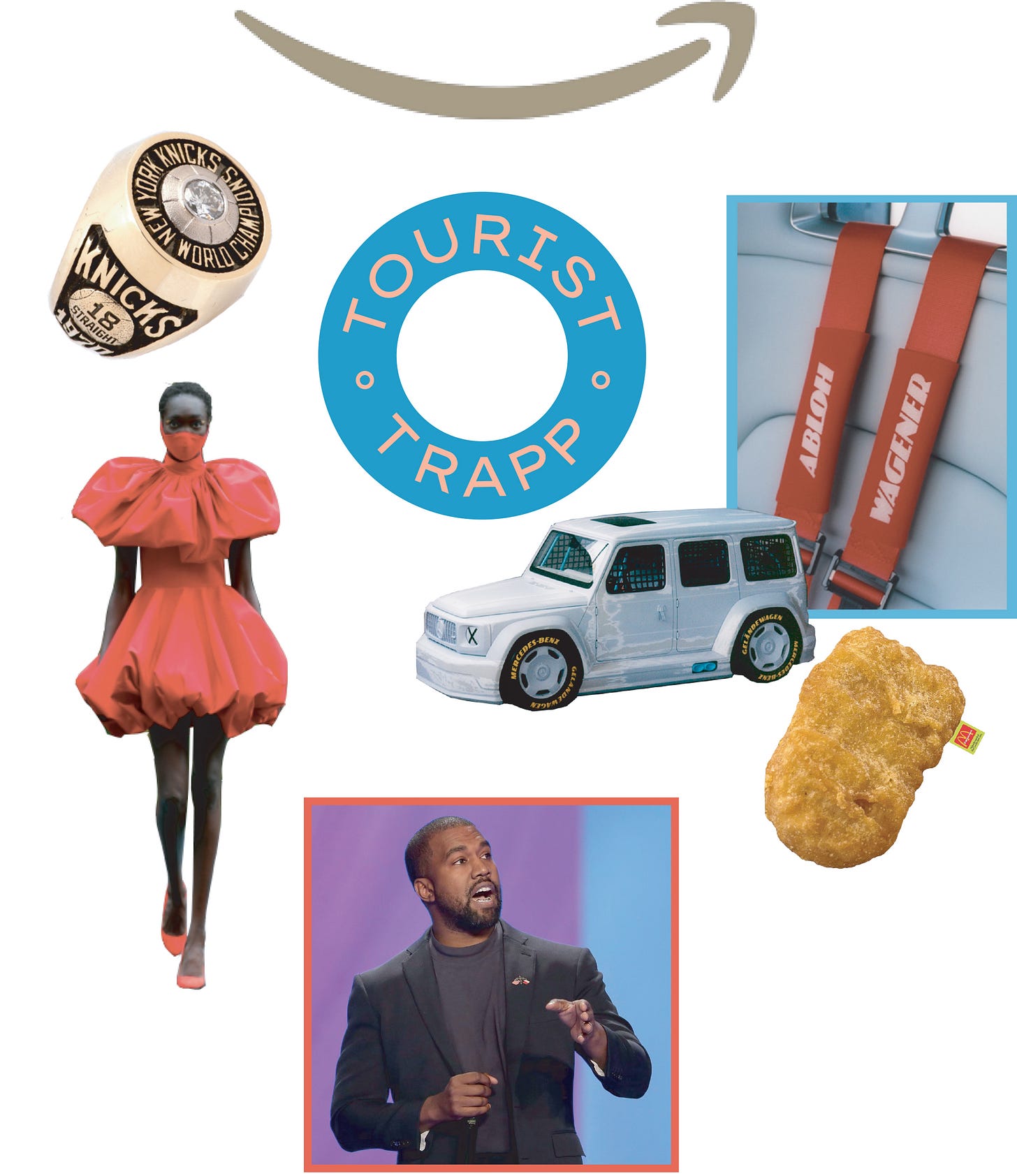 Clockwise from Top.
Amazon launched Luxury Stores, its long awaited luxury shopping platform, with Oscar de la Renta as its first designer partner. It has since added Roland Mouret, with more to come. We had predicted a separate stand alone platform, perhaps utilizing VRSNL, but instead Luxury Stores will live inside the Amazon app (it doesn't seem that you can buy through Amazon.com yet). The branding is differentiated from the standard Amazon brand through its use of a gold color scheme, though the icons do tie back. In fact, Luxury Stores does not shy away from the Amazon connection: there is a huge gold smile logo at the top of the app. Each brand seems to be launching with their own marketing campaign, likely partially paid for by the brands via a co-op agreement. The Roland Mouret campaign caught our eye due to the similarity of its No Show feature to the widely-praised Hanifa campaign (see side by side video in our Tourist Trapp Reels). As others have noted, Luxury Stores does not seem like something established players in the luxury market will sign up for. Gucci and Dior, for example, have a huge brick and mortar footprint backstopped by solid e-commerce options. Where Luxury Stores could be successful is in providing logistics and warehousing to smaller luxury brands (like Oscar de la Renta) or younger luxury brands (Craig Green?) that remain independent and don't have the capital to invest in a world class e-commerce site. FarFetch is probably feeling a bit nervous with a power player like Amazon taking aim at their concession business. FarFetch is now in direct competition with Luxury Stores: in the long term, it's hard to imagine that luxury brands will want to work with two retail partners operating the same business model. Eventually luxury designers will likely choose one platform over the other.
A quick word on brand collaborations: there have been some truly non sensical co-branded product released over the past few months. Travis Scott and McDonald's teamed up to release an absolute deluge of product - almost 100 SKUs! The chicken nugget body pillow is currently reselling on Ebay for over $400. The rationale behind collaborations has always been simple: a link up between two brands is a way to meet new customers. This has been the template behind many successful sneaker releases, artist licensing agreements and the basis for many streetwear drops. While brands still see collaborations as a new customer acquisition tool, the execution of these campaigns continue to get weirder and less obvious. Serial collaborator Virgil Abloh is working with Mercedes to create a ridiculous looking G-Wagon. Travis Scott's recent work is in some ways a more honest approach: it's really just about making as much money as possible. He seems more interested in transcending the music world to becoming a living and breathing collaboration machine that will exclusively work with Fortune 500 companies like Nike and McDonalds. We look forward to sipping a Cactus Jack Bud Light Lime-A-Rita and visiting a Disney Astroworld theme park next year.
Kanye West had quite a week. In addition to sharing the personal information of a Forbes executive, and urinating on a Grammy, he posted hundreds of pages from his music industry contracts signed over the past few years. I tried reading some of it, but it's a lot to try and take in via Twitter screenshots. That wasn't something I covered in law school! Thankfully, other have done the hard work. The general thrust seems to be that Kanye is unhappy with the record contracts he signed. As the Fashion Law notes, the most recent 2012 contract is extremely favorable to Kanye, allowing for an $11M up front payment, very favorable profit sharing on future albums and eventual transfer of all copyright masters to him from Universal. His real issue may be with the power dynamics of the record industry in general, where the large players take on the risk of signing new artists but in exchange also take the lion share of record sales (if there are any). This isn't likely to change any time soon, though with Kanye's following, he probably has the ability to go independent if wants to pay to get out of his contract with Universal. And as always, we hope that Kanye is working with a trusted mental health professional. He's had a rough time as of late.
Fashion week returned to New York last week, with most of the "shows" consisting of digital presentations rather than the traditional runway spectacles. The absence of many brands that would traditionally show in New York left holes that were filled by younger brands like Stan, a Bode-esque upcycled surf brand, and brands supported by the Black In Fashion Council like Apotts and Theophilio. 4S Designs, a new brand from Angelo Urrutia from the Nepenthes family, showed its second collection with its Chanel-but-for-men boucle. Tom Ford was the same usual Tom Ford. Khaite looks amazing but is very kidnapped-and-trapped-in-a-dungeon. And while we are fans of Gabriela Hearst's clothing and ethos, this particular photo seems to be the butt of a joke. Eckhaus Latta had some great ribbed pieces (like this one) plus joggers hilariously crashing the show. One of our faves was Christian Siriano's show at his home in Westport, Connecticut (nice write up of it here; check out his house here). All of the models were masked, and VOTING was clearly a sub theme. Christian Siriano seemed to want to inject some fun and frivolity into this season, and there were some beautiful pieces that walked the runway around his pool that anticipate a world where we are able to dress up, take photos and see friends again.
I finally watched Uncut Gems, the mesmerizing and stress inducing film from the Safdie brothers that follows Howard Ratner (played by Adam Sandler), a gambling addict and jeweler as he tries to sell a rare stone to pay off his debts. Obsessed with basketball, he at one point uses a 1973 New York Knicks championship ring as collateral. I quickly went down a rabbit hole looking up vintage championship rings to see what they were selling for. I had wanted to buy a championship ring for my wedding ring, but Raquel vetoed that idea. I discovered there are actually very cheap replicas out there: this Etsy seller makes all sorts of gold plated replicas for around $30 each. Compare to auction prices for some of the originals: an authentic 1970 New York Knicks championship ring sold for $100K last year! And if you're not sporty, Comme des Garçons makes their own championship rings for less than $1K. Crown Awards make some delightfully campy championship rings. We have always had a soft spot for New York's diamond district, the seedy underside of which was captured in Uncut Gems. With so much of retail moving online, we love that something so old world can still exist in midtown Manhattan. We still go to our guy Mike the Jeweler to get Raquel's jewelry cleaned, repaired, altered and for custom pieces every now and then.
Links.
Jonathan Leder Sounds Like A Terrible Person: An intimate essay by Emily Ratajkowski on how women can unjustly lose complete control over their personal image.
A Lesson for Tiffany's: The story behind LVMH failure to acquire Hermès.
Paging Carl Sagan: Scientists identified signs of life in the clouds of Venus.
The Simple Life Redux: Paris Hilton has a new documentary out that details a horrific experience at a boarding school that she has never publicized before.
Day One: How Amazon eliminated time consuming repetitive work done by the merchants on its retail team, freeing them to dream up new projects like Amazon Go.
Like CDO's for Carbon Offsets: California requires companies to mitigate the climate change emissions they generate by purchasing carbon offsets, often from large forest land owners, but the permanence of these offsets are being called into question as wildfires rage through the state's forests.
What To Wear On Your Group Rides: A round up of the best biking brands, including (new to us) Team Dream; ; meanwhile I'm still waiting for someone to create the Satisfy of biking.
The Newspaper Of Record Stays Young: We like this fun interactive piece on modern celebrity and wish they would pair more stuff like this with their great reporting.
An Oral History Of A Classic: The 25th anniversary of the 1990's classic Kids starring Chloë Sevigny and Rosario Dawson.
For When The Mandalorian Returns: Disney+ is launching a party watch feature called "Group Watch."
Keeping The Doctor Away: Apple launched a watch with a blood oxygen monitoring feature that may be able to detect COVID before symptoms appear; I still don't like the look of the Watch on wrist, and continue to hope Apple will create a simple band to house all of its health tracking sensors. I prefer something less obtrusive like this one from Whoop or the Amazon Halo.
On The Hunt: Raquel wants to know - where is Marc Jacobs FW20? Is it for sale anywhere yet?
Don't Waste A Crisis: With the right imagination, we can emerge post-COVID with universal health care, redesigned streets that prioritize pedestrians, outdoor seating and biking, and cleaner, healthier, better ventilated buildings.
<3
Chris & Raquel