Discover more from Tourist Trapp
Weekly dispatches on fashion design and buying.
TT Vol. 21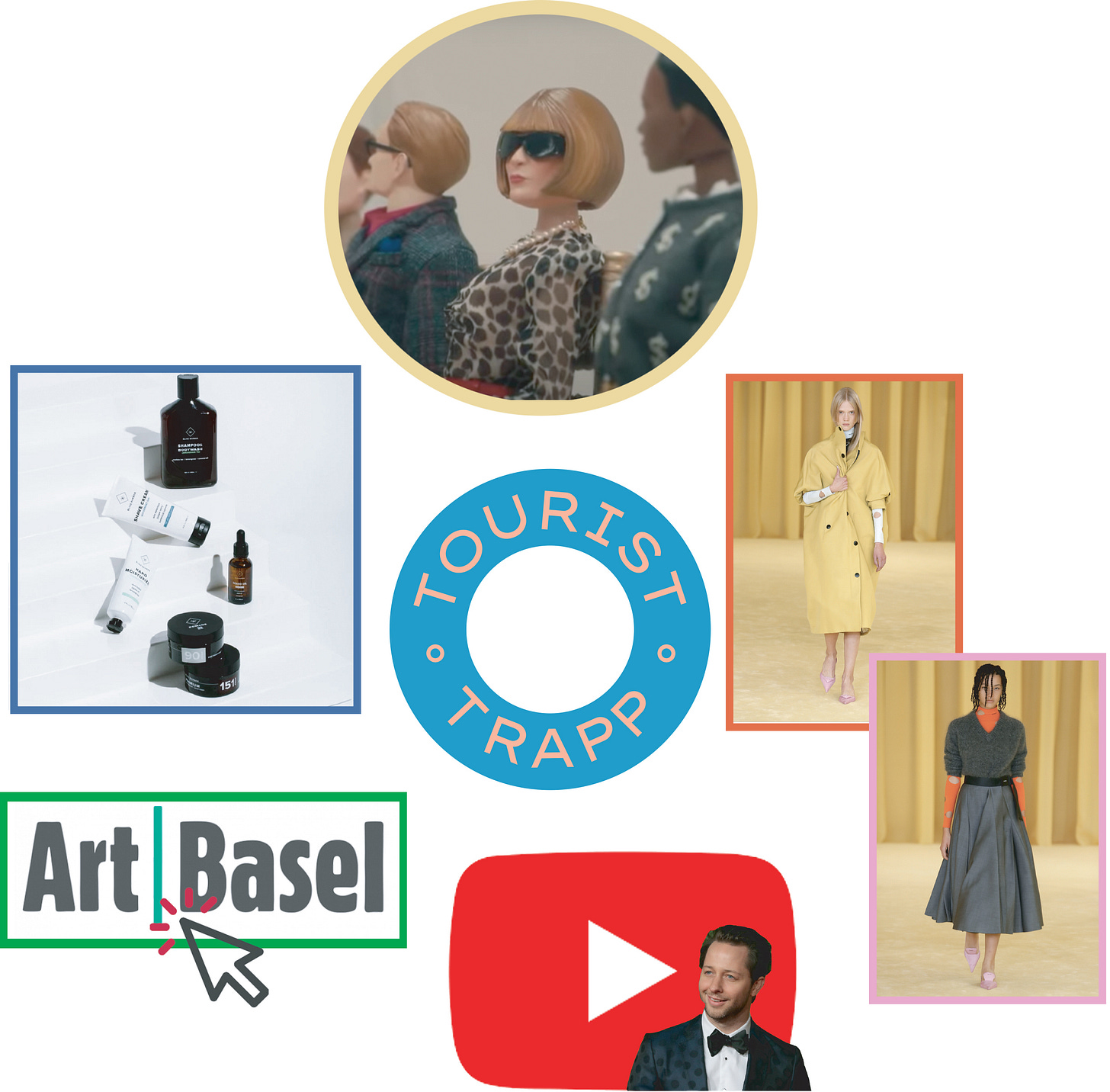 Clockwise from Top.
Prada may have been the blockbuster show of the season (see below), but there were plenty of other designers showing last week. Our favorite was Moschino's show, which was really a puppet show, created in collaboration with Jim Henson's studio, and complete with front row avatars including Anna Wintour and Hamish Bowles. Worth a click if you haven't seen, it's like watching a cute stop motion barbie show. They should really sell an Anna doll (we would buy)! It reminded us of this scene from The Sound of Music. Funnily enough, we actually thought the puppets looked better than the actual garments: see here for a comparison. But all in all, we feel that this show was quintessentially what people are looking for: escape from our shared purgatory. Elsewhere, Marni was full of graphics, multi colored stripes and this scary clown look. Sunnei, recently purchased by Nanushka, went all in on the tunic. And Martine Rose's collection inspired by and included casting of professional webcam boys. And just yesterday, Matthew M. Williams, the new Givenchy creative director, released his first visuals in advance of his October 4th debut show. It features Playboi Carti, a fax machine and (no surprise for the Alyx founder) lots of locks. And lastly, street style in Milan is back! While the state of COVID continues to fluctuate, it's nice that the fashion calendar is starting to return to normal, though we wouldn't expect a large in-person fashion week in Paris in January.
Prada unveiled their SS21 womenswear collection last week, the first designed jointly by both Miuccia Prada and Raf Simons (full video here). It was held in a beautiful honey hued stage in Milan (photo here), and featured an interesting discussion between Miuccia and Raf on what constitutes Prada-ness, their daily routines (Raf: lots of Coke Zero; Miuccia: lots of hot water), and whether it's possible to design anything new anymore. This first co-collection represented a dialog, as others have noted, between two competing design aesthetics. There were a number of graphic hoodies that walked that did not feel right for a Prada collection (example here), and the ripped polka dot theme felt empty (pun intended, sorry; example here). But there was a lot to like as well: the signature clutch gesture, the kitten heels, the puffy triangle logos, the key chain earrings, and of course, the bags. This first show struck a satisfying balance between Raf's motifs (graphics, artist prints) with Prada's asceticism (pleated skirts, all day pajamas). With the death of Karl Lagerfeld, Ms. Prada is one of the most influential creative directors in Europe, and we hope she continues to stay involved. We're looking forward to seeing their debut menswear collection in January 2021.
Vogue Runway has always been our go-to resource to stay up to date with all the latest shows each season. You can filter by designer and season, and the high quality photos make it easy to screen shot and share as you're trying to decide what you should buy (Raquel for her closet) or what you should note in the showroom (me for work). Recently, YouTube's fashion vertical has been gunning for Runway. It now live streams all the biggest shows, and is sorting videos by designer and season. For example, right now they are spotlighting Milan Fashion Week's SS21 shows. YouTube Fashion also allows you to follow your favorite brands, and has other engaging videos like video bloggers, closet tours, and viral celebrity content like Naomi Campbell's airport routine. Given that it's part of the Google family, YouTube Fashion has figured out the tech aspect of the channel in ways that Vogue has not. The Runway app is buggy and glitchy, especially the advertising, and there isn't much video content to speak of. Derek Blasberg is the colorful lead behind YouTube Fashion. He has enjoyed a rapid rise in fashion media, though not without controversy. This article attempts to summarize his missteps, from allegedly asking to get paid from a brand to cover their marketing event to more recently getting too close to the Trump family. To us, the YouTube Fashion vs. Vogue Runway battle feels similar to the old Hollywood vs Netflix streaming war, and we all know who is winning that one.
Like the fashion world, the international art circuit is on an in-person hiatus. The Frieze Art Fair scheduled to take place in NYC in May was cancelled and converted into a virtual show room, and the other big art shows are following suit. Art Basel, one of the leading international art fairs staged in Switzerland, Miami and Hong Kong each year, closed its Online Viewing Rooms yesterday. This feature allows attendees to create a free login and virtually tour participating galleries and browse artwork available for sale. Typically, day tickets for a show like Frieze or Art Basel cost upwards of $50 per person per day, and it felt quite democratic of Art Basel to make the entire show free. The platform could use some work: this season's Online Viewing Rooms was little more than a slideshow from each gallery, along with a chat dialog box. Like the fashion industry, the art world is still getting used to moving in-person sales appointments into the digital realm. That said, it felt like a small revolution to us to be able to do a virtual walk through of the show. Anyone with a free login can see not just a variety of new and established artists on display, but also transparent prices! No need to inquire with a gallery sales assistant, as one would need to do if perusing a Chelsea gallery on a Saturday. A lot of the prices seem to hover around $30K to $60K: A Jenny Holzer at Hauser & Wirth, for example, was listed at $55K. Contemporary art is still very much out of our price range, but it was still fun to take a digital spin around Art Basel from the couch.
Raquel and I both have been blessed/cursed with curly locks. While Raquel's routine has been almost scientifically curated over the past few years, mine has been much more haphazard. Enter Blind Barber. I've been using their shampoo, conditioner and pomade for the past week or so and have been enjoying the results. And more importantly, Raquel approves. Blind Barber started as a two chair barbershop in NYC's East Village, and has since expanded into a mini empire with shops in LA, Miami and Chicago and a growing hair and skincare product line. One product I really liked was the Lemongrass Tea Shampoo/Body Wash. Most grooming companies create two products that need to be bought separately, but Blind Barber ingeniously combined a shampoo and body wash into one easy to use cleanser. The herbal blend of lemongrass, coconut and tea oil has a great crisp scent and left my skin feeling soft and fresh. My other two favorites were infused with Watermint: the Daily Face Cleanser and Shave Cream. The mint in these products have a real cooling effect, and felt great to use when temperatures were hovering in the high 80s here in NYC. The pomades are all great too, as you would expect for products born from a high end barber shop (I've been using this one). Blind Barber has done a great job putting together a full grooming collection, though my one request would be for some aftershave! As someone who sadly cannot grow a full beard, shaving is always a painful reminder of this, and some Watermint aftershave would be something to look forward to after trimming by patchy facial hair.
Links.
Raquel is trying to recreate this Monica Geller look from Friends. So far she's found this Nike sports bra, this Aerie Offline Bike Short, and this Hollister cropped zip hoodie. She's thinking of buying a vintage Sony Walkman if we can find any cassettes.
Electric Cars Get A Jump: California will ban the sale of new gasoline powered cars beginning in 2035; I would imagine other states will follow their lead.
Behind The Scenes: Chatting backstage with the Eckhaus Latta models, one of the best shows of New York Fashion Week.
Customizable iPhone Home Screens Are Here: People are abandoning sleek and clean in favor of looks inspired by MySpace, teen magazines, and Mean Girls.
Hotels Hit Hard: Luxury hotel properties around the world are starting to shutter, especially in markets where driving is not the norm.
The Shows Must Go On?: Further thoughts on the future of fashion weeks and the state of the luxury fashion industry.
Who Needs A Vaccine? Airlines are starting to roll out rapid 15 minute COVID tests that will help speed a return to normalcy as we wait for a vaccine; expect other industries that rely on large crowds or indoor gatherings to follow suit.
Made In Italy: Profile of Davide De Giglio of New Guards Group, the owner of Off-White, Heron Preston and Palm Angels and the first streetwear conglomerate.
Pan-Asian Boxes: Instagram bakeries that are delivering in NYC, including some delicious Filipino and other French-Asian options.
Mike "Zappy" Zapolin: The psychedelic drug concierge helping celebrities microdose on psilocybin and LSD.
Worth The Wait? The state of Made-To-Order, as it expands out of couture to direct-to-consumer brands, and how on-demand apparel production can reduce wastage in the supply chain.
More Dr. Seuss & Danielle Steel: Profile of Madeline MacIntosh, the head of publishing juggernaut Penguin Random House, and the industry's move away from small independent authors towards bankable best sellers.
Sticky Wicket: Queueing, Marylebone and cricket collide as wealthy Londoners are paying to jump the line to become members at one of cricket's most revered clubs.
Somehow Missed This: Back in May, Nike released their own bike cleat compatible with the major cleat systems.
Full Body Workout: Cold water swimming is gaining in popularity as an endurance activity, and (in news to me) there are electronic shark deterrent devices you can swim with if, for example, you are swimming in False Bay in Cape Town, South Africa.
Emmy's With Cousin Greg: Inside the awards show with Succession's Cousin Greg, as Succession, Zendaya and Schitt's Creek all win big.
Managing Celebrity: Marveling at Brad Pitt and his ability to control his image and fame over 30 years in the spotlight.
Always Low Prices: Walmart is now in the fashion business, with private label lines competing with the likes of Target and Amazon.
DTC Update: Brands outside of the fashion apparel space like Recess, Soulcycle and Cha Cha Matcha are increasingly leaning on merch as a source of new revenue.
<3
Raquel & Chris