Discover more from Tourist Trapp
Weekly dispatches on fashion design and buying.
TT Vol. 22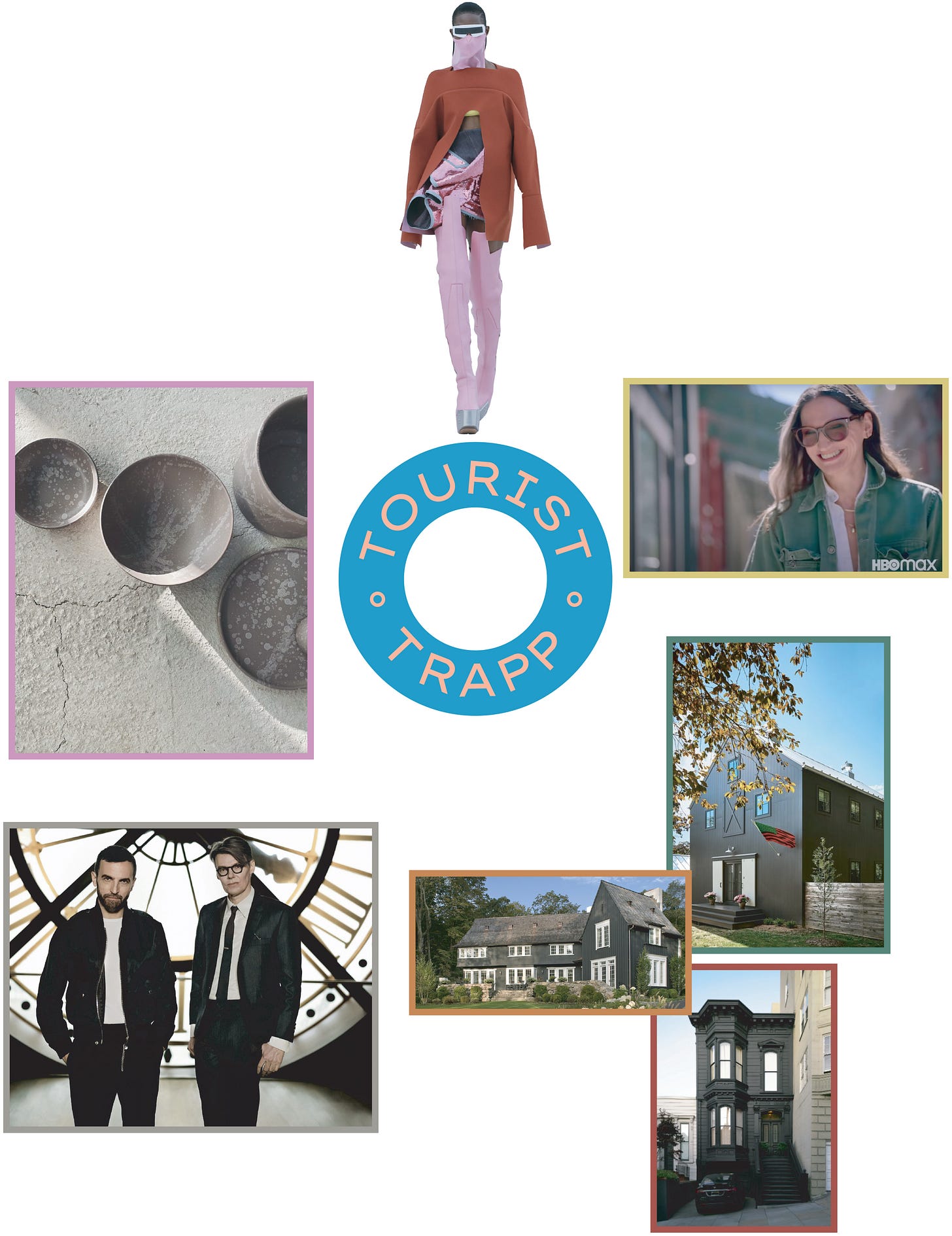 Clockwise from Top.
Last week, the fashion calendar moved from Milan over to Paris. As we saw in Milan, in person shows began to return, which meant more street style! Lots of big shoulders, wide pants, and of course, face masks. In fact, the best face masks (though side note - love these crazy ones) may been at the Rick Owens show. He debuted some really great face mask/sunglass combos in his space goth show in Venice (a change from his usual Palais de Tokyo venue). Dior showed an enormous collection (87 looks!), showing the strength of the LVMH behemoth. We really liked the bra crop tops (like this and this) that they showed and is something Raquel will be eyeing for Spring 21. And we always love the Dries show, and the presentation this season did not disappoint. The designer worked with the foundation of New Zealand light artist Len Lye, and the inspiration comes through in looks like this and this; our favorite was this double breasted blazer paired with a chain mail vest. Last, Dice Kayek, a new-to-us brand from a pair of Turkish sisters, had some strong school marm (as Raquel would say) pieces in their presentation (we liked this and this). We seem to be in a weird point in time where we are acknowledging the pandemic, but not stopping the fashion calendar for it. We're all for life continuing on as long as we can all be safe.
Raquel still clearly remembers her first interview with Jenna Lyons. Raquel, atypically wearing stiletto heels, and wobbly carrying her portfolio books, almost tripped over Jenna's son Beckett at the entrance to her office. He was only elementary school aged at the time and very cutely began showing Raquel all of his Mom's beautiful designer shoes one by one. After Beckett left, Jenna graciously offered Raquel a seat and instead of firing off the typical HR questions, asked about her family and personal life. As opposed to causing alarm, this put Raquel immediately at ease and made the rest of the interview breeze by without too many nerves. When watching the trailer for Jenna's show Stylish coming to HBO Max, one of the scenes reminded Raquel of Jenna's ability to make younger designers feel comfortable in her presence. See preview here. The show is launching November 26th and is based around a team of young designers/entrepreneurs competing to join her team. In addition to the show, she's been working on a number of projects, most prominently her new company LoveSeen. It's a new eyelash company she started after not being satisfied with current products on the market. Jenna astutely noticed a gap between special occasion fake eye lashes and eye lash extensions. See demo here. In her typical self deprecating fashion, she's given many interviews as of late describing her beauty routine and shared a funny story about her not being let into her own house after a botched hair dye! With these two new ventures, it's interesting to us is that Jenna decided not to create her own apparel or accessories line that she would design, produce and market. This pivot seems smart being fashion is very expensive, and the margins can be much better in the beauty world and in media.
Raquel just started a new job as a product designer on Target's Home team, so we've started paying closer attention to Arch Digest and other interior magazines. She's also building up a nice iPhone share album of home and interior tears that I've been enjoying perusing. One thing we noticed is that there a lot of newly designed homes out there painted really deep shades of black. We also can't help notice that our friends seem to be having picturesque cozy weekends in dark hued homes in upstate New York. We are on board. Some homes that stood out to us are here and here (but sans the interior on this one). If you're not in the market to buy, some great rentals are here (for West Coast readers) and here (for East Coast).
Met Gala Is Back Just In Time For Halloween.
This year's Met Gala, traditionally held the first Monday of every May, was moved to October 29th. The theme, "About Time: Fashion and Duration," will explore how the industry has evolved over the past century and a half and explore its future. Andrew Bolton (and husband of superstar designer/iconic short wearer Thom Browne!), the Met's Costume Institute curator, conceptualized the show earlier this year with Nicholas Ghesquière of Louis Vuitton, which is helping underwrite the cost of the show. Given the pandemic, Bolton has decided to make some changes: initially the 120 looks included only 16 by BIPOC designers, and he has since increased the count to 21 (just 18%!) in response to the Black Lives Matters movement. This marginal attempt at "diversifying" the Met Gala (inserting eye roll here) makes us question how relevant it still is. Relatedly, the Palais Galliera, the Paris fashion museum, is re-opening after a long renovation with only 77 of its 200,000 pieces (less than 1%!) by black designers. Collections from institutions like these catalogue only a portion of fashion's past, largely excluding non-white designers, and relegate designs from Africa and indigenous groups to craft or other art departments, outside of the fashion realm. The result with these retrospectives is largely an echo chamber where the white washed past leads to a similar future. If permanent museum collections really are devoid of BIPOC designed pieces, a better approach might be to showcase designers of color, like the Rei Kawakubo show the Met organized a few years ago, rather than a loose, uninclusive theme like "About Time." We felt the theme of this year's Met Gala fell flat even before the pandemic hit, and think the photo in Vogue of Bolton and Ghesquière standing in front of a clock is quite dated (pun intended!) in that the industry is quickly broadening its horizons in terms of representation.
Whenever people visit our apartment (or should I say, back when people visited our apartment), we always got a lot of comments on our drinking glasses. We used to exclusively use these tiny ceramic cups from a now defunct home goods shop in Paris that was right across from Rose Bakery in Le Marais (also sadly closed!). But they are really tiny: only about two inches tall, they look almost like a sake glass. (And yet, despite their size, somehow Raquel always manages to not finish her sparkling water.) They are so tiny that there were complaints that we needed some bigger glasses, so to be good hosts we bought some Toyo Sasaki glasses that have extremely thin lips and are tempered to be nearly indestructible. We also added some ceramic cups from Italy when we were there last October for our wedding. We're not sure if they have a name, but we call them splatterware, and they are fun and vibrant and are still hard to find. You can special order them here if you don't plan on making a trip to Puglia anytime soon! You can also customize colors if they don't have what you are looking for. And if you don't want to deal with importing them from Italy, March has a huge selection that is exclusive to their shop.
Links.
From Instagram: This is Raquel's new instagram dog crush // Love these tabi boots // Season 4 photos from the Crown.
Will They Have The Double C Logo? Chanel is partnering with Sunrun to help finance the installation of solar panels in Southern California.
Fly Like An Eagle: American Eagle's successful year, and the launch of its new, more expensive brand Unsubscribed.
Dyson Award Winner: This device is designed to capture the micro plastics that are emitted from car tires as the driver brakes, accelerates, and turns the vehicle.
On The Hunt: Vintage liquor collectors, known as "dusty hunters," and the purchase of Cecil B. DeMille's stash in Little Tujunga Canyon.
Cutting Through the Noise: Bundling and content curation as a service.
Rising Star: The rapid ascent of art world star Amoako Boafo and the story behind the Lemon Bathing Suit.
Barefoot Contessa Update: Ina Garten is living her best life in East Hampton as she puts the finishing touches on her next cookbook.
Current At Pace Gallery: Trevor Paglen's Bloom, his attempt to visualize how an algorithm reproduces beauty.
<3
Chris & Raquel