Discover more from Tourist Trapp
Weekly dispatches on fashion design and buying.
TT Vol. 23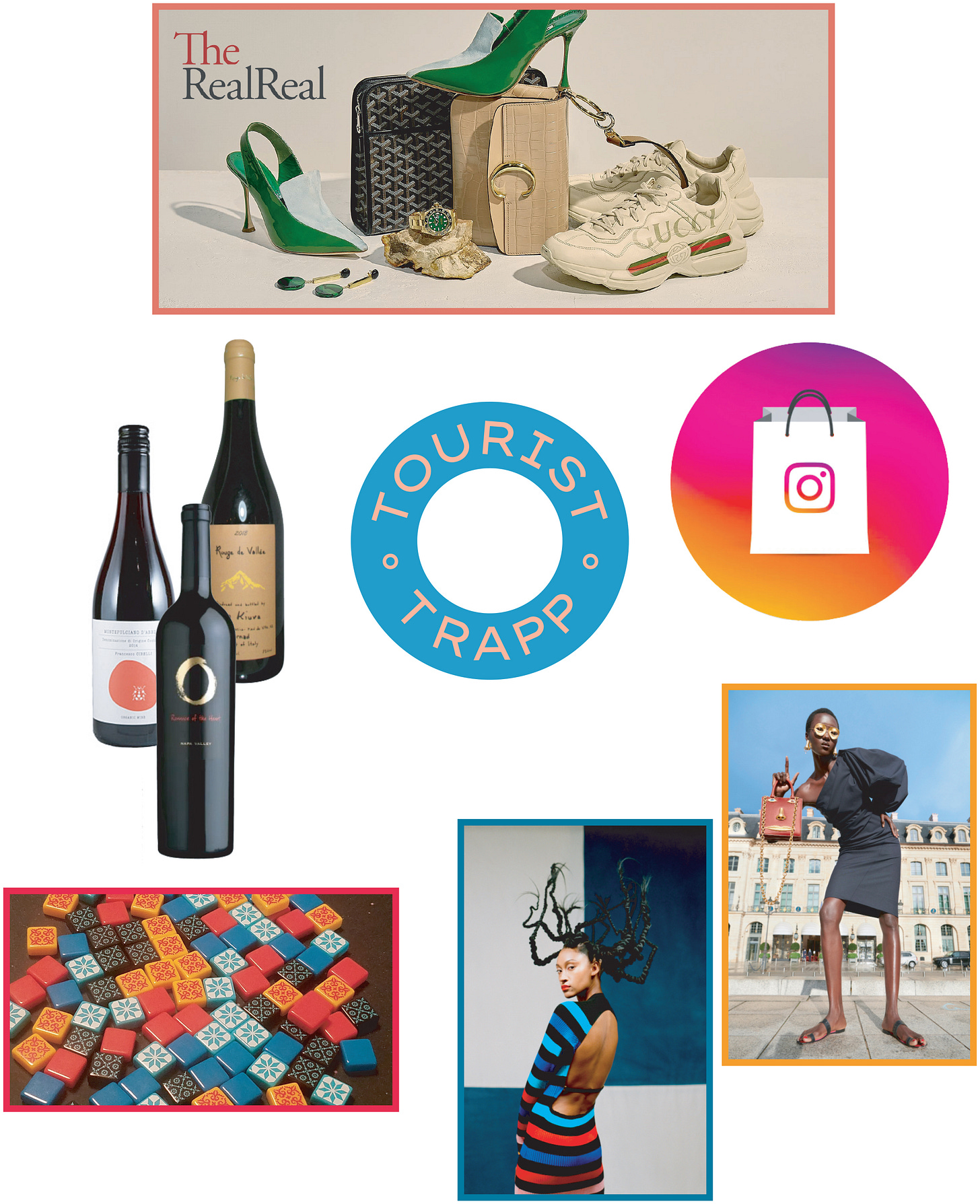 Clockwise from Top.
If you're someone with a closet overflowing with designer shoes that were only worn a few times (*cough* Raquel), The RealReal is an online platform that will buy your clothes, bags and shoes you aren't using and sell them to its customers. Some brands have fought this luxury consignment model (see: Chanel's lawsuit alleging sale of counterfeit bags and use of Chanel's trademark), but last week Gucci announced a big partnership that will see the storied Milanese brand providing new and used product to a Gucci-branded shop in shop on The RealReal. Gucci wants to reach Gen Z consumers, many of whom favor the environmental bonifides (and cheaper price point) of buying product used on resale sites like The RealReal, and it is the most popular men's brand on the site with a resale value that is 2.3X the average. We think the luxury resale market will only continue to expand as younger customers that favor vintage and less waste continue to shop. Here's a free idea: luxury brands have an opportunity to own their resale market, rather than cede market share to the likes of The RealReal, Grailed, Ebay and Poshmark. Brands like Chanel, Prada and Saint Laurent have sophisticated customer relationship management tools, and can quickly authenticate and buy back product from top clients for resale on their own sites. If Apple can sell refurbished iPhones and iPads, why can't Dior sell authenticated, lightly used saddle bags? We would much rather buy used designer products directly authenticated by Louis Vuitton or Balenciaga rather than sifting through the many resale platforms that are out there.
I unfortunately remember watching way too many late night infomercials for terrible looking products back when I was in high school and still watched cable TV. You can even watch some here! I never watched HSN or QVC, but those seemed to be pretty popular back then too. This TV shopping experience is now moving from the television to apps like Instagram and TikTok. The transition has already been underway in China for some time, where "social shopping" is growing quickly on Tabobao Live (owned by Alibaba, the Amazon of China) and Douyin (the Chinese version of TikTok). When I was at Totokaelo, we used to host some Chinese social shopping companies that would livestream a host walking around the store introducing our designer products that would be sold on their platform. It did quite well for us! Instagram is now looking to bring shopping to both IGTV, its YouTube competitor, and Reels, its TikTok competitor. We would expect this to be become very successful. Meanwhile, YouTube is working on bringing shopping to its videos.
Paris Fashion Week came to a close with some of the bigger and older houses holding runway shows. Two heavy hitters got some poor reviews: Louis Vuitton and Chanel. Louis Vuitton walked a bunch of graphic tees down the runway - Skate! Vote! Chanel looked like Chanel always does - though we did like this pearl embroidered sweater. Matthew M. Williams' first Givenchy collection was full of crazy looking hardware, and he released what looks like a Hoka Recovery Slide (comparison here). Hermès is on the mule bandwagon and walked a great looking studded clog down the runway (photo here). People went crazy for the surrealist Schiaparelli collection, especially these eyeball sunglasses (and Raquel is obsessed with these gold finger rings that she is calling "ringers;" she is having me keep an eye on these come January). Meanwhile, Demna Gvasalia at Balenciaga has quietly become one of the leading luxury designers pushing sustainable fashion forward. Balenciaga shared that 93.5% of the fabrics in the collection were either up cycled or sustainable, and all of the print bases were certified sustainable. Also, they did slouch better than The Row. Last but not least, the Christopher John Rogers presentation had optimistic colors, great knits and power suits, and he gets that women don't necessarily want to be in tight dresses any more.
For the first few months of quarantine, we played A LOT of board games. Being that the holidays are around the corner, and we aren't traveling this year, we've been shopping for board games for our cozy local get aways and also to give gifts that a whole family can enjoy. Our go-to's have been (and have been for the past few years) Azul and Splendor. Raquel's family usually does a big game of white elephant every Christmas, and someone always brings a new game for everyone to fight over. Azul and Splendor are both white elephant winnings, and are really easy to play with just two people. This year, we have our eyes on Wingspan, which we've read is great for birders. If you're in the market for a high end, classic board game, or have a few grand in your board game budget this year, Kith makes a few gaming sets, and Louis Vuitton sells a $16K backgammon case (making this $8K Brunello Cucinelli set downright affordable!). The newest game we've played is Patchwork Doodle, which we got last Christmas and have found is really easy to play with family and friends via Zoom. Any takers?
A few years back, on one of our many trips to California, Raquel's family took us to their favorite vineyard O'Brien Estate. We had our first taste of Romance, which quickly became one of our favorite fall reds. It's oaky and full bodied, and O'Brien says that it has a "1990's-flannel shirt- grunge finish." We found it paired well with dark chocolate. The snobs in us like that it is essentially a DTC company, as you have to be a member to purchase their wine and you can't buy through any other website or liquor store. If you live in Northern California, or are taking a trip soon, we recommend checking out their estate and sampling some of their offerings. Some other options if you don't feel like committing to a membership program are this Montepulciano and this La Kiuva, both of which you can order from the amazing wine shop in our neighborhood. These are also great for Julia Childs' boeuf bourguignon, which is one of Raquel's number one requests in the Fall/Winter. York Cellars also carries a lot of Heitz, if you need something heavier like a Cabernet Sauvignon. And they are one of the few wineries in California with a POC as CEO.
Links.
It's our one year wedding anniversary this weekend; we were going to be in Italy, but instead we are living vicariously through our photos.
More collabs: Slack x Cole Haan // Crocs x Bad Bunny // Kith x BMW.
TikTok is now more popular than Instagram for US teens.
The Shaker furniture trend, with a call out of the excellent McCombe Thompson. (McCombe Thompson site here).
Didn't See Graydon: The Waverly Inn, one of the first places I took Raquel on a date, is celebrating its 100th anniversary this year.
Putting That Puig Money To Good Use: Spurning NYC, Dries Van Noten opened its first store in the Americas on La Cienega in Los Angeles, and in a first for the designer will sell vintage pieces.
Cactus Jack Turned Corporate Pitchman: Travis Scott as the brand savior that helped McDonald's return to growth.
Us Too: Everyone is hate watching Netflix's Emily In Paris. (More hate here.)
Bloomberg's Best Writer: A brief profile of Matt Levine, the author of my favorite finance newsletter Money Stuff.
Fragrant Living: Home scents like soap, candles and incense as a new trend during lockdown.
Good News For Parents: Emily Oster says there is no evidence that K-12 school classes are super spreader events.
The Next Kaia? Kate Moss' daughter Lila made her runway debut for Miu Miu last week.
Shows like Thom Browne, Rick Owens and Loewe show that gender lines continue to blur at Paris Fashion Week.
Backstage Pass: Behind the scenes at the Los Angeles Memorial Coliseum for the Thom Browne SS21 show.
TikTok Star Interview: Talking with Dixie D'Amelio, on her newly released song and the upcoming D'Amelio reality TV project that will go behind the scenes of social media stardom. (And TikTok stars are coming together to create a rival to TikTok called Triller.)
Brands Are Cutting Inventory: Fashion brands are cutting down inventory going into holiday season, with both Nordstrom and Ralph Lauren down more than 20% compared to last year.
Filipino bedroom pop star beabadoobee has a new 90's rock inspired album releasing called "Fake It Flowers."
Examples of humans adapting behavior in response to digital algorithms on platforms like YouTube, TikTok and Twitter.
Hiding In Plain Sight: The QAnon believer who was a Citigroup executive.
<3
Raquel & Chris