Discover more from Tourist Trapp
Weekly dispatches on fashion design and buying.
TT Vol. 24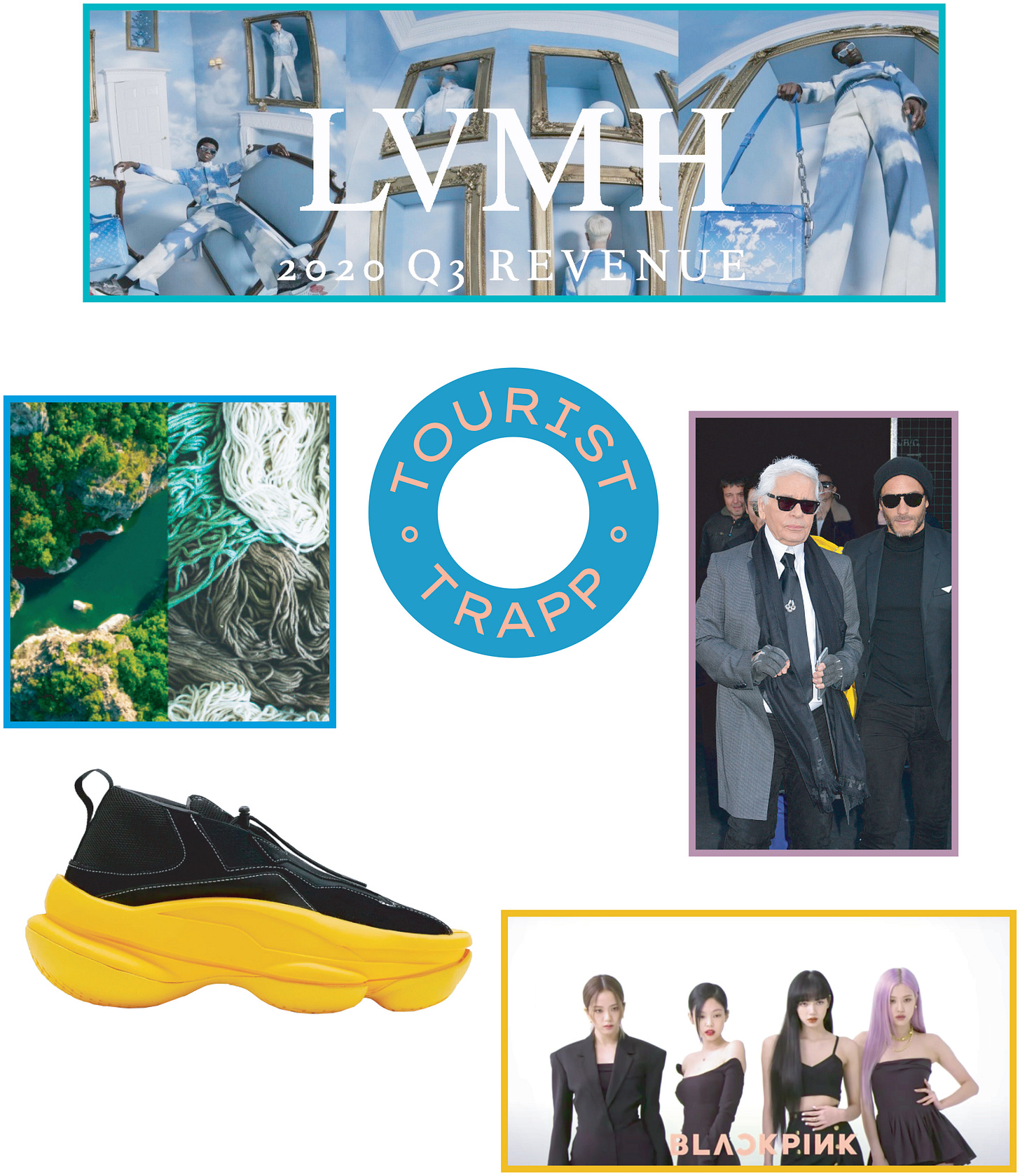 Clockwise from Top.
Companies are beginning to report their third quarter results, and we're starting to see how larger fashion brands are continuing to fare as they face COVID-induced economic headwinds. LVMH reported last week that while year to date sales are still quite down compared to last year, its fashion group saw strong sales growth in the third quarter. Q3 sales were up 12% compared to Q3 last year, providing the luxury conglomerate with some much needed momentum going into the 4th quarter. Within its fashion group, LVMH singled out its Chinese and North American markets, as well as Louis Vuitton and Dior, as its biggest strengths. Given the encouraging signs from LVMH, and the continued success of mass market retailers like Costco, Wal-Mart, Target and Amazon, combined with rebounding consumer spending, it is looking increasingly like luxury and entry price point retailers will have strong holiday seasons. Our concern for the fashion industry is that brands and retailers caught between a designer and entry price point may have trouble differentiating themselves as they compete for sales in Q3 and Q4.
Celebrity Personal Assistants.
Before Raquel moved to NYC, she bumped into Karl Lagerfeld and André Leon Talley outside of the downtown NOBU (back when it was in Tribeca), and was able to briefly say hi to both of them (photo evidence here). To do so, she had to make it past Karl's personal assistant Sebastien Jondeau, a fierce and loyal guardian. We were thinking of this as we read this amazing story of Marc Jacobs' assistant that was in Thursday's NY Times Style section. The personal assistant world is not one that we are very familiar with (though we did enjoy The High Note), and it was interesting to get such a detailed view of Nick Newbold, who has worked with Marc Jacobs for eight years. He stands out for his lack of ambition, becoming extremely close to Jacobs and his husband, and seems content being Jacobs' fixer, including filming Jacobs' 70-day stay at the Mercer Hotel during the early days of COVID. We tried to find some other good personal assistant stories out there, but sadly there aren't many! We have to assume most are bound by NDA's and don't leak stories about their celebrity employers. The juiciest thing we did come up with was a 2017 job posting to be Rob Lowe's personal assistant. If Rob Lowe was going to pay his assistant $70K, how much is Marc Jacobs paying? (We were thinking triple digits.)
We haven't written about music in a few weeks, and wanted to throw out a few things we've been listening to. Shamir, the dance pop artist from Las Vegas, just released his new self titled album. He first entered our radar way back in 2014, probably recommended in The Fader, with this falsetto slapper I Know It's A Good Thing. His new album is a departure from his previous work, much more alternative rock than dance, but still worth a listen. We also have the BLACKPINK (aka BLΛƆKPIИK) Netflix documentary in the digital queue (link here). They are one of the most popular Korean pop star mega groups, and one that has begun to break through outside of East Asia. Though criticized for not examining the KPOP machine that can grind down its teenage stars, it provides four years of behind the scenes footage, including lengthy individual interviews with Jisoo, Jennie, Lisa and Rosé. Their new album just came out and features Selena Gomez and Cardi B, and has seen strong commercial success around the world. With all of the marketing spend behind the documentary and the new album, this group is poised to remain in the public eye for some time.
Towards the end of my last trip to Paris for market, I stopped by the Pyer Moss showroom at the end of the day to check out their new collection. I got to meet their founder/creative director Kerby Jean-Raymond and we chatted a bit about his brand, and he was excited to show me a prototype of a new sneaker he was working on. After seeing that prototype in person, it was satisfying to see the Pyer Moss Sculpt finally release earlier this month and sell out instantly. We've been following Jean-Raymond's career for some time now. We feel he is one of the leading American menswear designers, and are fans of Pyer Moss, a line that now encompasses menswear and womenswear aiming to build a "narrative that speaks of about heritage and activism." His SS20 show, backed by a gospel choir and set at Brooklyn's Kings Theatre, was a standout performance, announcing that a black designer was now one of the top American designers in the industry. Pyer Moss has long worked with Reebok, and his Trail Fury sneakers have performed quite well, but it was exciting to see him release his own $595 sneaker without any Reebok co-branding. Shoes and accessories are what typically sell best at Pyer Moss' designer price point, and given the success of the Sculpt we hope Jean-Raymond and team are able to roll out more footwear styles soon.
Before getting into the fashion industry, I studied environmental sustainability for two years in grad school. I haven't had much of an opportunity to use this while working as a buyer, but with so many companies starting to roll out new initiatives in this area, we are going to try to highlight these stories in Tourist Trapp more often. UGG, the biggest jewel in the Decker's empire, may not be as trendy as Hoka, but they have been working on some interesting projects. They recently launched Feel Good, their platform to publicize the sustainability initiatives they are working on. One new initiative is to replace plastic outsoles with a "SugarSole," made from renewable sugarcane (fast growing and requiring no irrigation). Ugg has also been using repurposed wool to cut down on virgin fibers and reduce carbon emissions and water use.
Links.
We launched some fun prints that Raquel designed - check them out here! She's also into our new red sweatshirt.
Aesop is launching candles // Miryam Nassir Zadeh is launching menswear // Apple is launching new iPhones // Rimowa is launching new matte black luggage.
Timothée Chalamet for GQ ("His own hoodie, by Juicy Couture / Ring, $6,300, by Cartier") // Steven Meisel for Zara // Adwoa Aboah's Chanel tooth charm // Givenchy's new campaign is out.
Fashion buyers react to a fully digital SS21 market, and make predictions for FW21.
The Getty Museum has a great interactive exhibit of Ed Ruscha's images he would capture driving back and forth along Sunset Boulevard over the past 50 years, showing how the iconic street has changed.
Work From Home Footwear: I had placed a huge order of Crocs for Need Supply last season that we had to cancel (sorry Anthony!), and am starting to feel vindicated.
McKinsey on the path forward for retail companies.
Great Photos Here: Puerto Rican reggaetonero Bad Bunny gets profiled in the New York Times; the Spanish speaking author brought along a translator to understand his dialect.
The $9 billion check that may have saved Morgan Stanley from bankruptcy in 2008.
It used to be that sports were the one thing people would still watch live on TV, but not anymore.
The street styling of Nobu Malibu, with an epic list of celebrities eating there during quarantine.
<3
Chris & Raquel