Discover more from Tourist Trapp
Weekly dispatches on fashion design and buying.
TT Vol. 25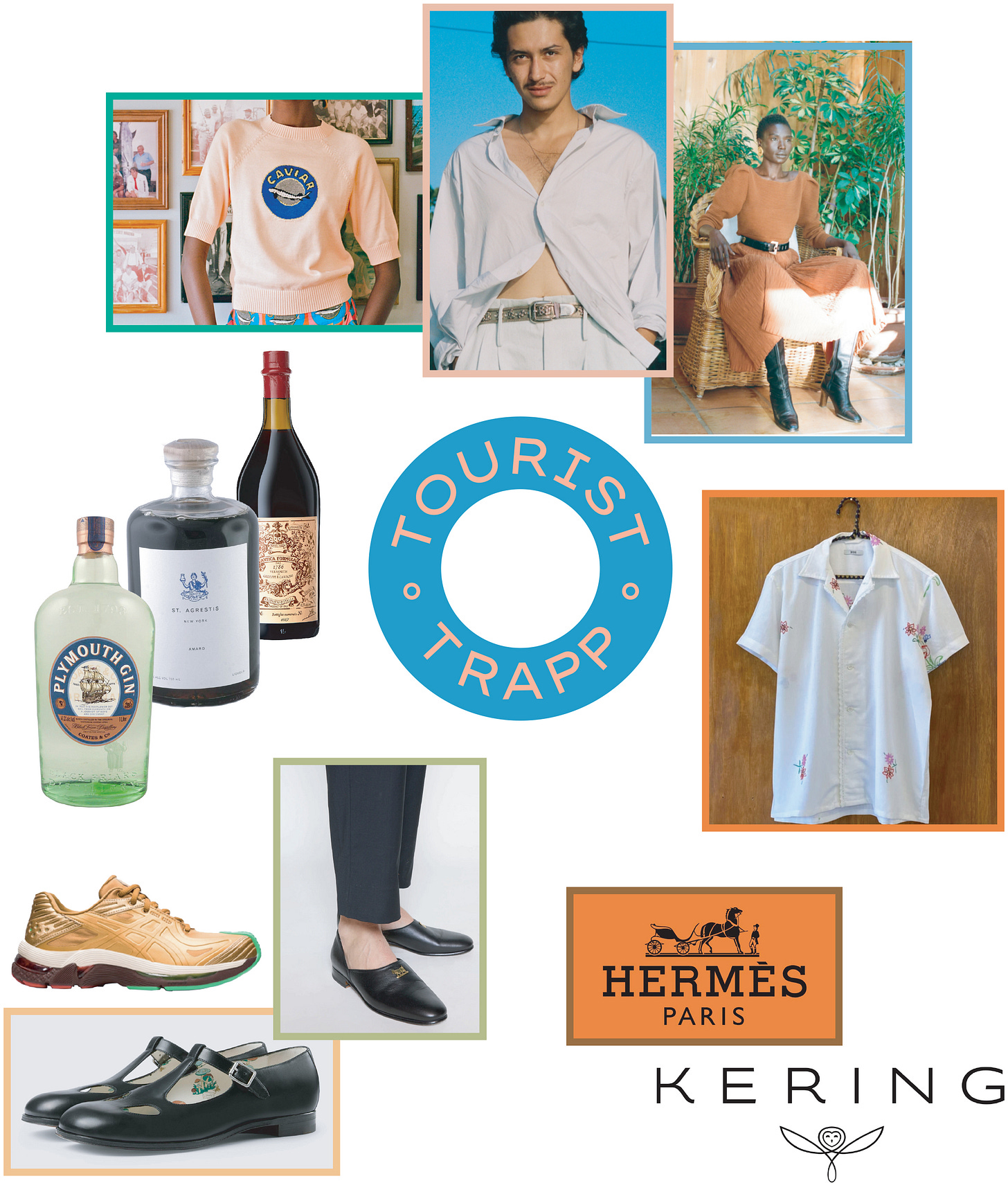 Clockwise from Top.
The SS21 shows are beginning to wrap up, though there were still a few presentations we noted. Rachel Antonoff shot hers in Long Beach, New Jersey, a place we've never been before, but one we want to check out next summer for Dom's Drive In and Holiday Snack Bar, everything styled with Crocs because climate change = forever summer (plus this intarsia caviar sweater!). All of the images for the Rachel Antonoff presentation are incredibly optimistic, with lots of vintage inspired prints, and it is worth a look through the whole Vogue Runway slideshow. Meanwhile, I was into the men's belts in Miryam Nassir Zadeh (this one and this one!), reminding me that I should own more than just one solitary belt. Raquel favored the Mara Hoffman show and thought the presentation and styling looked really strong, and was especially into this look and this one.
The first time I visited Burma, I transited through Singapore and spent a few days getting over jet lag while eating chili crab and chicken rice. Ever since then, I've always flown through Bangkok, and schedule flights to make sure I could make it out to Chatuchak Weekend Market, one of the world's largest outdoor markets. It's only open on Saturdays and Sundays, so timing visits to the outskirts of Bangkok with flight schedules can be a little tricky. Once, my brother and I were running low on time and we had to take a motorcycle taxi directly to Suvarnabhumi Airport. Let's just say it did not feel safe for three grown men to share one motorcycle, weaving in and out of traffic on the highway! One of the best things about Chatuchak is its selection of vintage clothes. Much like Tokyo, it has lots of vintage Americana (and is much cheaper than Japan), and it had plenty of DIY, upcycled styles. Think this Needles shirt, but even more funky. More recently, upcycling has really moved out of the flea market and into the luxury space. Bode has been the darling of the NYC fashion scene for a few years now. Two weeks ago, we highlighted Gucci's partnership with The RealReal. And this week, Vanessa Friedman had a nice piece highlighting this trend, singling out the new magazine Display Copy that only styles with vintage pieces, as well as Upcycled by Miu Miu, a new program that re-releases upcycled dresses from the 1940's to the 1970's. (We're planning on picking up the first issue of Display Copy next time we're in Soho). With Gen Z continuing to gravitate towards vintage platforms like Depop, and greater awareness of sustainable fashion, we think this upcycling trend will continue to gain a foothold in the luxury market.
After LVMH reported last week, its competitors Kering and Hermès also reported strong third quarter results. Continuing our theory that luxury will be quick to rebound, Hermès saw a huge improvement in sales versus last quarter, as did the luxury conglomerate Kering. For Kering, Bottega Veneta saw huge growth of 17% vs last year, while Gucci saw sales drop (Saint Laurent sales were slightly up). For Hermès, the luxury house is seeing strong growth in Asia outpacing North America and Europe, as well as big increases in e-commerce sales (though buying a Birkin remains an in-store only option). The strength in Asia mirrors LVMH's results, and with Chinese consumers traveling less, it shows how the state of the pandemic can affect performance. With sales continuing to build going into key fourth quarter, the luxury tier is feeling optimistic about holiday sales. With the big luxury players seeing growth return to normal, we have to wonder how Chanel is doing. As a private company, they aren't required to report sales (though they have done so in the past), so we may not get an update until January 2021. But without a true e-commerce platform (they continue to refuse to sell ready-to-wear, bags or shoes on chanel.com), their sales may be lagging their competitors. It's an unorthodox strategy for 2020, but the Chanel brand has traditionally taken a different path than its competitors, and perhaps the lack of e-commerce helps to build desirability and exclusivity. And maybe, like noted e-commerce holdout Comme des Garçons, everything behind the scenes is done on paper and not digitally, preventing Chanel from being truly omnichannel.
As a footwear buyer, it's always been a little tricky following Comme des Garçons. They frequently work with outside footwear vendors (Nike, Asics, Melissa, New Balance) and often will debut new styles in their women's shows. The CDG women's shows typically present at different times than CDG men's, which would mean I would then have to scramble to write an order for something based on a tiny photo on Vogue Runway or someone's blurry iPhone photo from the showroom on Place Vendôme. This week, Comme des Garçons debuted a women's collaboration with Salomon. They will be producing a Snow Moc version of a mary jane shoe, and we predict that this neoprene slipper will be very popular with men as well. This connects with a larger trend of men wearing feminine silhouettes that are marketed towards women. ASICS is releasing the GEL-TESERAKT, one of the final Kiko Kostadinov collaborations. The GEL-TESERAKT is technically a women's style, but is one we predict that the fashion conscious guys are going to snap up too. The Men's Margiela Tabi exploded in popularity over the past few years, and the FW20 Bode house shoe feels more delicate than a typical men's shoe. Gucci released their own mary jane this season that Harry Styles debuted. It's been well documented that clogs and mules have been having a moment, and it may be men's mary janes are up next.
Winter Is Coming. Bring On The Cocktails.
Summer and spring have traditionally been wine seasons for Raquel and I, and now that the holidays are approaching, we are breaking out our hard alcohol again in anticipation of a long winter. Since my bartending days in grad school (at Gryphon's Pub, which really consisted of popping $2 bottles of PBR), I've always kept some basic liquor bottles around. I am proud to say I have been able to perfect a home Negroni: Plymouth Gin, Vermouth (we like Carpano Antica), and Campari. I have some cachaca that I brought back from Brazil a few years ago, and will be combining with some Barritt's Ginger Beer to make Dark 'N' Stormy's. My next cocktail to master will be a bone dry, gin Martini with a twist. I just need to get a proper glass if I am drinking it at home: so far the best we've seen is this Nick & Nora glass.
Links.
An outfit combo Raquel is loving for Fall: Studio Amelia Satin Wide-Leg Palazzo Jumpsuit // Aeyde Ankle Boots // Alex Mill Binky Cardigan // Clyde Aura Hat in Camel Angora.
Lady Gaga's surrealistic "911" music video (video here) // Indya Moore, the transgender/gender non binary model, in Vogue Espana.
Normal People's Paul Mescal, whose next project is Elena Ferrante's The Lost Daughter with Dakota Johnson and Olivia Colman, gets his profile.
The NYC subway now has a modern, digital map that shows trains moving around the system.
More Balthazar stories from Keith McNally, this one on the restaurants most expensive bottle of wine that ended up at the wrong table.
Shonda Rimes decided it was time to jump ship from Disney/ABC to Netflix when a Disney executive refused to give her Rimes' daughter a free day pass to Disneyland.
How COVID will end up benefiting Tier 1 brick and mortar retailers.
Are influencers replacing retailers?
The Erewhon trend piece you've been waiting for, and whether or not it will expand to NYC to replace Dean & Deluca.
Cancel those private squash lessons: The pandemic has significantly curtailed the ability of wealthy families to use prep school sports as a means to get their children into leading universities.
More tributes to The Odeon as it celebrates its 40th.
An examination of the nude photo spreads of Europe's creative directors, dating back to Yves Saint Laurent in the 1970's.
Being a woman and single in your 30's.
The tyranny of millennial aesthetic.
<3
Raquel & Chris