Discover more from Tourist Trapp
Weekly dispatches on fashion design and buying.
TT Vol. 26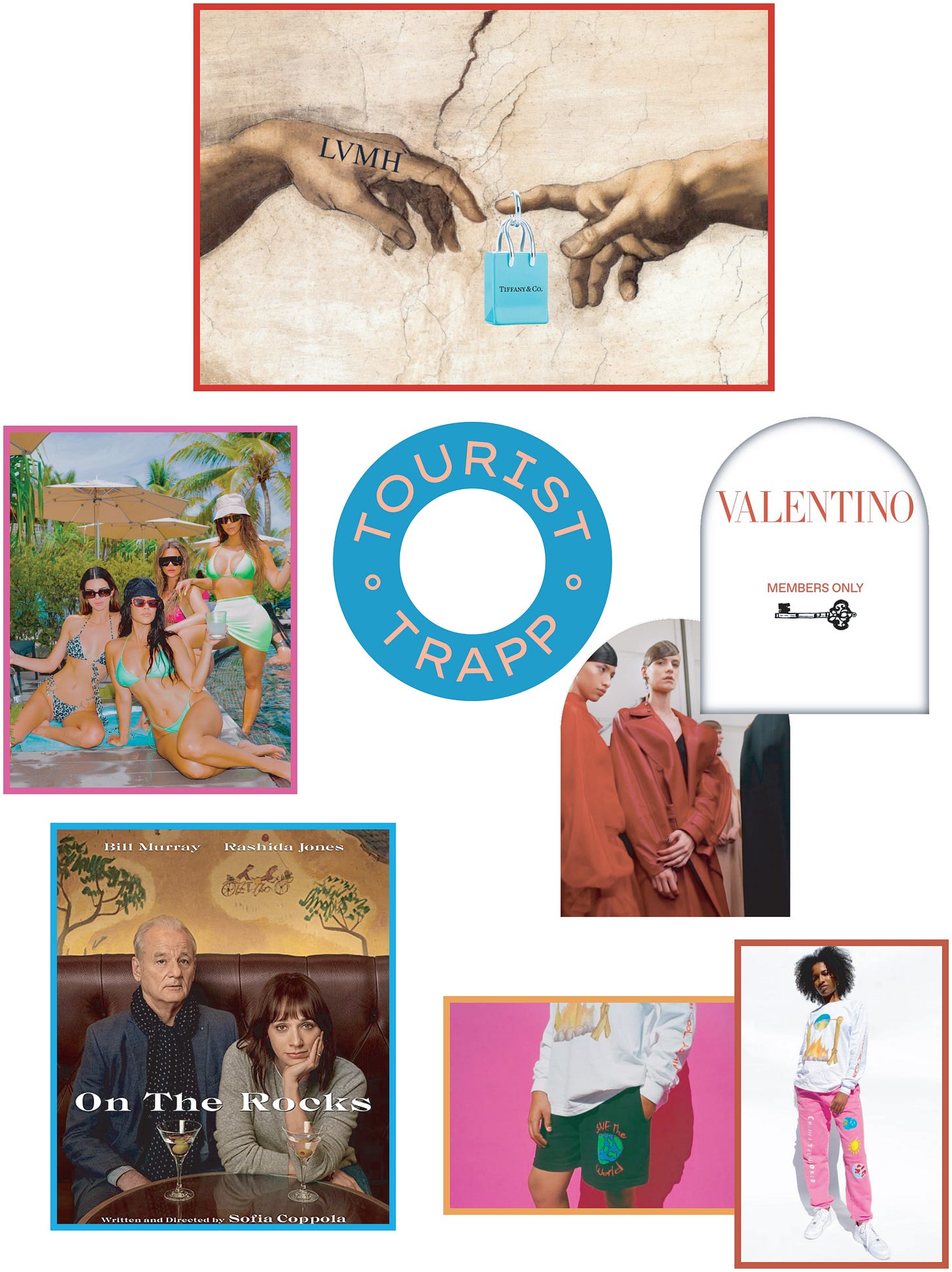 Clockwise from Top.
After a lot of back and forth, including some court appearances in the Delaware Court of Chancery (always fun to write that one), LVMH and Tiffany have set aside their differences, and it seems the acquisition will close sometime early next year. LVMH is getting a $400M discount off the original purchase price that was negotiated pre-COVID, and as we've suspected, all of the contretemps that emerged over the summer were a way to drive down the price and save Bernard Arnault some cash at the expense of Tiffany's shareholders (like he needs it!). Barring any additional negotiation, it seems that $131.50/share is the final price (down from $135/share). Tiffany was not in a great bargaining position, with its business hurting and in need of cash during the pandemic. As LVMH pointed out earlier this year, its business was down more so than the hard luxury competitors in Europe. Once the acquisition closes, it should help solidify LVMH's position in the luxury jewelry market, one in which it trails its rival Richemont (owner of Cartier). Arnault's rise in the luxury industry is detailed here, and includes some background on his failed acquisitions of Gucci and Hermès.
Valentino FW20 Launch on SSENSE.
A not-so-small secret in the fashion world is that many marketing campaigns that retailers organize are often paid for by the brands spotlighted. For example, a concept store might have a splashy editorial campaign highlighting one of their key brands for the season, and that brand may contribute budget to pay for the editorial shoot. This is called "co-op", and retailers will often pitch brands on a "menu" of marketing options at different price points to help offset the creative cost of organizing a campaign. We thought of this when looking at the very sophisticated digital marketing campaign that Valentino just launched with the online retailer SSENSE. They teamed up to create a virtual maison where customers can digitally navigate from a lobby through different levels of the house. It also includes a digital members only "speakeasy" that requires a "private access key" to enter. We think that SSENSE likely provided keys to its top Valentino clients to enter to browse Valentino product exclusive to the speakeasy. It's not uncommon for sites to require a password to enter (the vintage site unsound rags comes to mind), but this is a pretty unique and highly technical execution. We are guessing that Valentino helped defray the cost of the development work that went into creating such a unique experience, and feel that this another example of how SSENSE is much more than just a retailer, and in some ways is more like a tech company.
We're always researching new brands out there, which often means finding brands on Instagram or an e-commerce site and then trying to track down whatever little information we can find on them. Kids Worldwide is a new brand that works with The River Fund, a NYC non-profit that, among other things, organizes children's art workshops, to develop artwork that is then re-worked into graphics for tees, shorts, pants and hoodies. It sounds deceivingly exploitative, but in fact its not! Proceeds are then invested back into The River Fund. This is interesting to us as it feels circular in nature; the kids in The River Fund's program are encouraged to explore their artistic range, and profits go back into The River Fund's expanding art program. Should this prove to be successful, it could be more self sustaining than some fashion projects that simply earmark profits for designated charities, and often lose steam after some time. The products are sold on Kids Worldwide's own e-commerce shop. If you're looking for holiday gifts with a charitable component, the Kids Worldwide merchandise has some adorable graphics. And if you're looking for some further inspiration, check out Raquel's friend of a friend's Instagram account of her classroom's children's art (Raquel is especially a fan of this leopard, no surprise there).
We've been a fans of Sofia Coppola's work for some time now. Lost in Translation is one of our favorites, and pre-pandemic, when we used to work late, and take a taxi home on the company dime, we would always think of this scene and the moody My Bloody Valentine. In early quarantine, I somehow convinced Raquel to watch Virgin Suicides, a film about the life and death of a family of young girls sealed off from the world by their over protective parents. It probably wasn't the smartest move on my part. But Coppola transitioned her work away from the truly despair-inducing to something more melancholic. I find her brand of rich person ennui very relaxing and pleasing to watch, and her recent film On The Rocks was no exception. It stars Bill Murray and Rashida Jones as a father and daughter team reunited by marital insecurities and possible infidelities that Jones and her husband are navigating. The film is a witty portrayal of the midlife of a wealthy Soho mom that also delves into the complicated relationship between husband and wife, and father and daughter. It has a very strong sense of place, having been shot in Tribeca, Soho and Midtown, and transported Raquel and I back to a time when we could could go out for Martini's. There's a scene where Murray surprises Jones with Russ & Daughter's caviar and a bottle of Krug champagne, followed by a hilarious car chase scene. Check out the film on Apple TV.
Raquel and I have kept to ourselves over the past few months, occasionally seeing some friends outdoors and sticking to Zoom calls in place of in person hangs. We're both generally okay staying home, so while it has certainly been tough, sheltering in place is not completely disagreeable for our personalities. The same can't be said of attention starved celebrities. Last week, both the Kardashian clan and Drake hosted maskless birthday bubble parties. Kim Kardashian's 40th birthday party, which she hosted on a private island with a group of friends and family, received the most attention. This disclaimer in particular felt tone deaf, given the crescendo in COVID cases around the country in the past few weeks. Drake also celebrated his birthday party last week, and hosted friends at Harriet's Rooftop at the 1 Hotel West Hollywood. The blowback Drake got was surprisingly less about his COVID hygiene practices (Drizzy wore a mask! At least for part of the time), and more about the leaked menu that had raisins in seemingly every dish (okay, just two dishes: the grilled cauliflower and mac and cheese, but both very strange dishes to include raisins in). Clearly there are more important things in the world to focus on, but we'll be scolds and say that celebrities should be setting a good example and celebrating their birthdays on Zoom like the rest of us.
Links.
Raquel is into: Marc Jacobs Veruca Salt dress // Alex Mill Sweater Jumpsuit (she is always on the hunt for pajamas she can go outside in).
Launches: Kiko Kostadinov x Asics GEL KIRIL 2 // Uniqlo x Jil Sander +J // jam.earth // Drake Certified Lover Boy merch.
Beyoncé on the cover of British Vogue // AOC on the cover of Vanity Fair.
Nike stopped selling on Amazon, and things have worked out fine for the sportswear leader due to the strength of its own e-commerce operations.
Adobe is building in AI to its star Photoshop product that will allow for photorealistic editing of facial expressions and image backgrounds.
An apt story idea: the 70 best AirBnBs within 3 hours of NYC.
My third week in a row linking to an article on The Odeon.
In the late 1970's group of leading photographers took up residence at the French Riviera's famous Hotel Du Cap-Eden-Roc; with a great photo of a young Annie Leibovitz.
Envisioning How Aerosols Spread: some great COVID visuals in here; masks, ventilation and no talking all help to significantly reduce risk of infection when indoors.
Richard Neutra's Palm Springs masterpiece, the Kaufmann Desert House, is on sale for $25M.
A conversation between Gucci's Alessandro Michele and i-D's Alastair McKimm.
Behind the scenes of the shut down of Man Repeller, an influential fashion media site founded in 2010 (more here).
Emily Ratajkowski writes about her pregnancy, and baby gender revealing.
Tyrell Hampton, the fly-on-the-wall candid photographer, documenting underground clubs, afterparties, and the Met Gala (his good IG is here).
Harry Styles "Golden" 80's-esque music video (wearing S.S. Daley, Gucci and Bode).
While going out to dinner has become near impossible, the long weekday lunch has made a triumphant return to Soho.
You can now rent suites at LA's Sunset Tower by the month, starting at $8.5K.
How retailers are preparing for traditionally in person holiday activities like tree lighting and visiting Santa Claus.
<3
Chris & Raquel