Discover more from Tourist Trapp
Weekly dispatches on fashion design and buying.
TT Vol. 3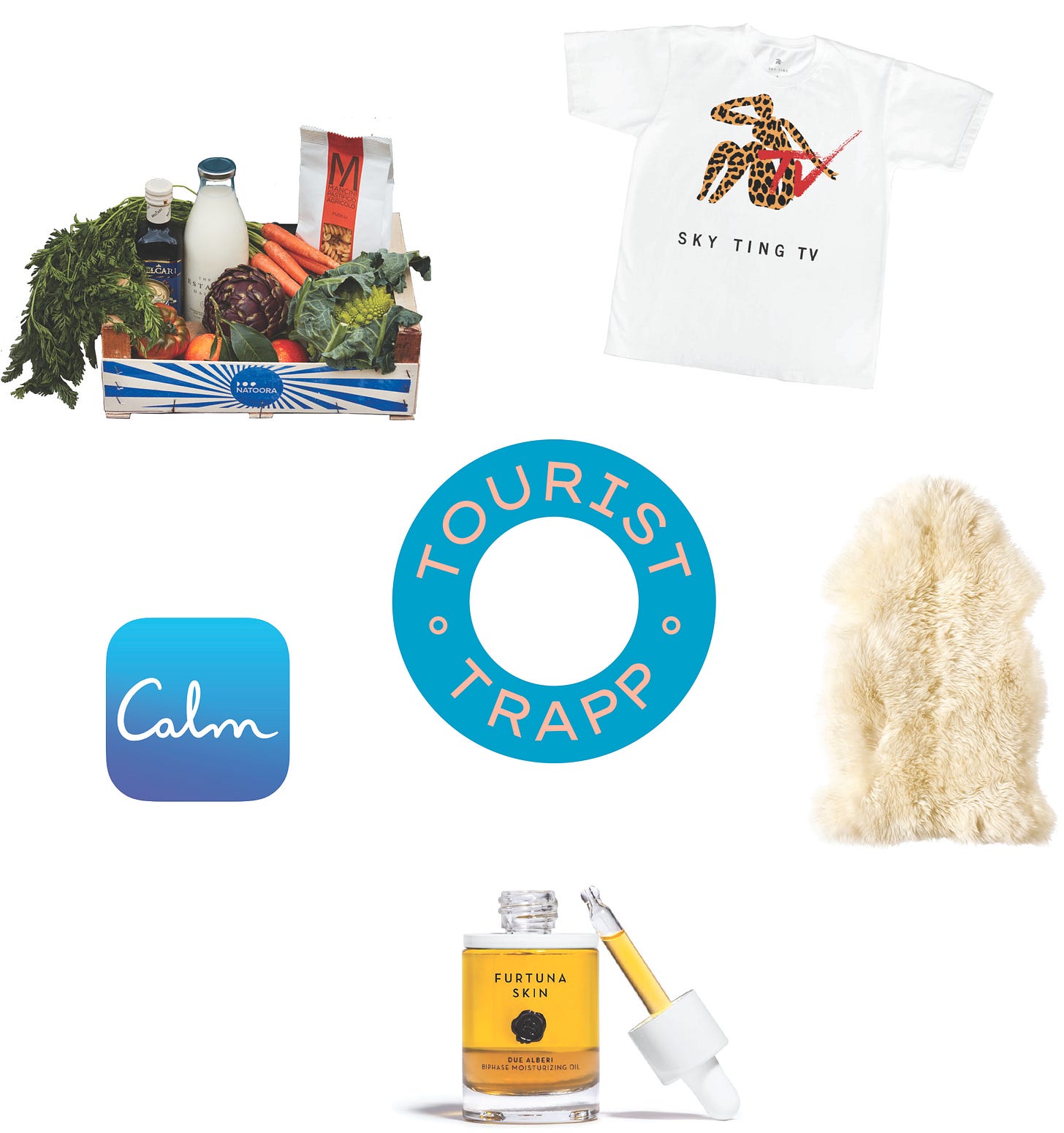 Clockwise from top.
Fitness classes may be a thing of the past, but you can still support your local studios. Sky Ting is offering live classes on Instagram Live. These are free with the option to donate via Venmo. They also offer some great merch, and we are really loving the MTV inspired logo tee. 
We're big fans of peppering our apartment with small Ikea pieces that blend right in. Remember that blanket you had when you were a baby? This sherpa throw is your new COVID-19 security blanket. Great hand feel and helps increase the hygge levels in our apartment.
We're always looking for new beauty products to try out. Furtuna Skin is a new line sourced from Sicily with foraged ingredients. The bottles are gorgeous.
Calm.
Raquel has been using the Calm app to help go to sleep at night. There is a free tier where you can still get a nightly bedtime story read to you by someone with a lovely British accent. The stories don't really make any sense but have been successful in getting Raquel to relax at night. 
Grocery delivery has been difficult lately.  Most of our usual services are fully booked these days. Natoora is a new option that previously linked restaurants with local purveyors. With the restaurant industry shut down, they are now making their platform available to homebound customers. They have everything from Japanese cucumbers to a 5 gallon bucket of tahini for $175.   
Links:
Sofia Coppola interviewed at the 92nd Street Y.
Derek Thompson on the American retail landscape post-COVID 19.
Emily Bode in Architectural Digest.
<3
Raquel & Chris