Discover more from Tourist Trapp
Weekly dispatches on fashion design and buying.
TT Vol. 4
Special Beach Edition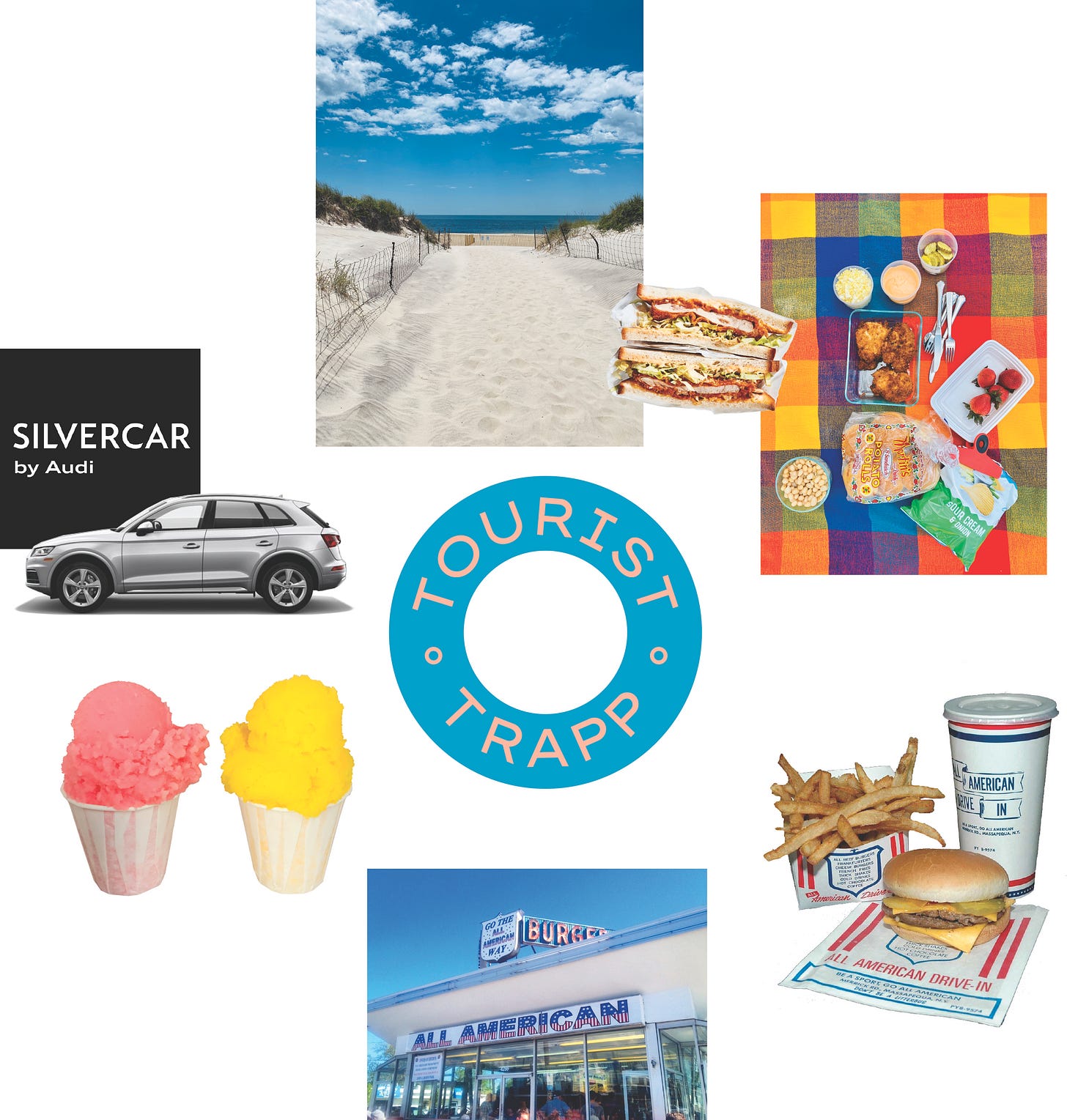 Last week we rented a car and made a much-needed day trip to the beach. We drove out to Robert Moses State Park where there was plenty of parking, clear skies, and an almost completely empty beach.
Last summer, we were heavy users of Car2Go. Their tiny Smart cars were easy to find nearby, so we could usually hop in one at the last minute to head out to Rockaway if the weather was nice. Sadly, they no longer operate in NYC so I started looking for alternatives.
In looking for local rental options, I found Silvercar. It is an app based service that lets you rent Audi cars by the hour. They have a location in Fort Greene, only a 15 minute bike ride from our apartment.
While pricier than some traditional car rental services, their location is near our neighborhood and I was able to avoid taking the subway to an airport just to pick up a car. (And get 20% off using code FIRST20!)
I booked an Audi Q5 for a 24 hour period through their app. I biked to their Fort Greene parking garage in the morning, and after a short interaction with their team I was driving home to pick up Raquel and our beach chairs.
We were able to get out to Robert Moses State Park in about an hour. Rather than take the highway the entire way, we took Ocean Parkway from Jones Beach Island to Fire Island. Driving the thin barrier islands on the South Shore of Long Island is incredibly picturesque: you have the ocean to the South and a beautiful bay to the North, separated only by a half a mile of sand.
Once we got to Fire Island, we parked at Field 4 for Robert Moses State Park. The park does have some capacity limits in place, with every other parking space blocked off. Early June isn't a real peak season yet, and we didn't have any issues getting in or finding plenty of space to spread out our blanket.
We stayed at the beach for a few hours getting some sun, catching up on reading, and eating the Chicken Katsu Sandwiches I made for us the day before. After eating her two fried chicken sandwiches, Raquel had the best beach nap of her life. I finished my New Yorker and almost felt like things were normal again.
On the way home, we had to stop for some dinner. First up was All American Hamburger Drive In in Massapequa. Everything is pretty good here, but Raquel and I both got fried shrimp, french fries and root beer. Their website is here, though please be aware the food is significantly better than it appears on line! We watched as an older woman dressed in an all white Chanel-like pant suit ordered a burger and fries to go, making us feel both underdressed and inspired for retirement.
Last stop was L&B Spumoni Gardens in Bensonhurst. Their pizza is great, but we really wanted to buy a few quarts of their italian ices. They were out of watermelon but we did pick up some cherry italian ice that should last us a few weeks.
<3
Chris & Raquel