Discover more from Tourist Trapp
Weekly dispatches on fashion design and buying.
TT Vol. 5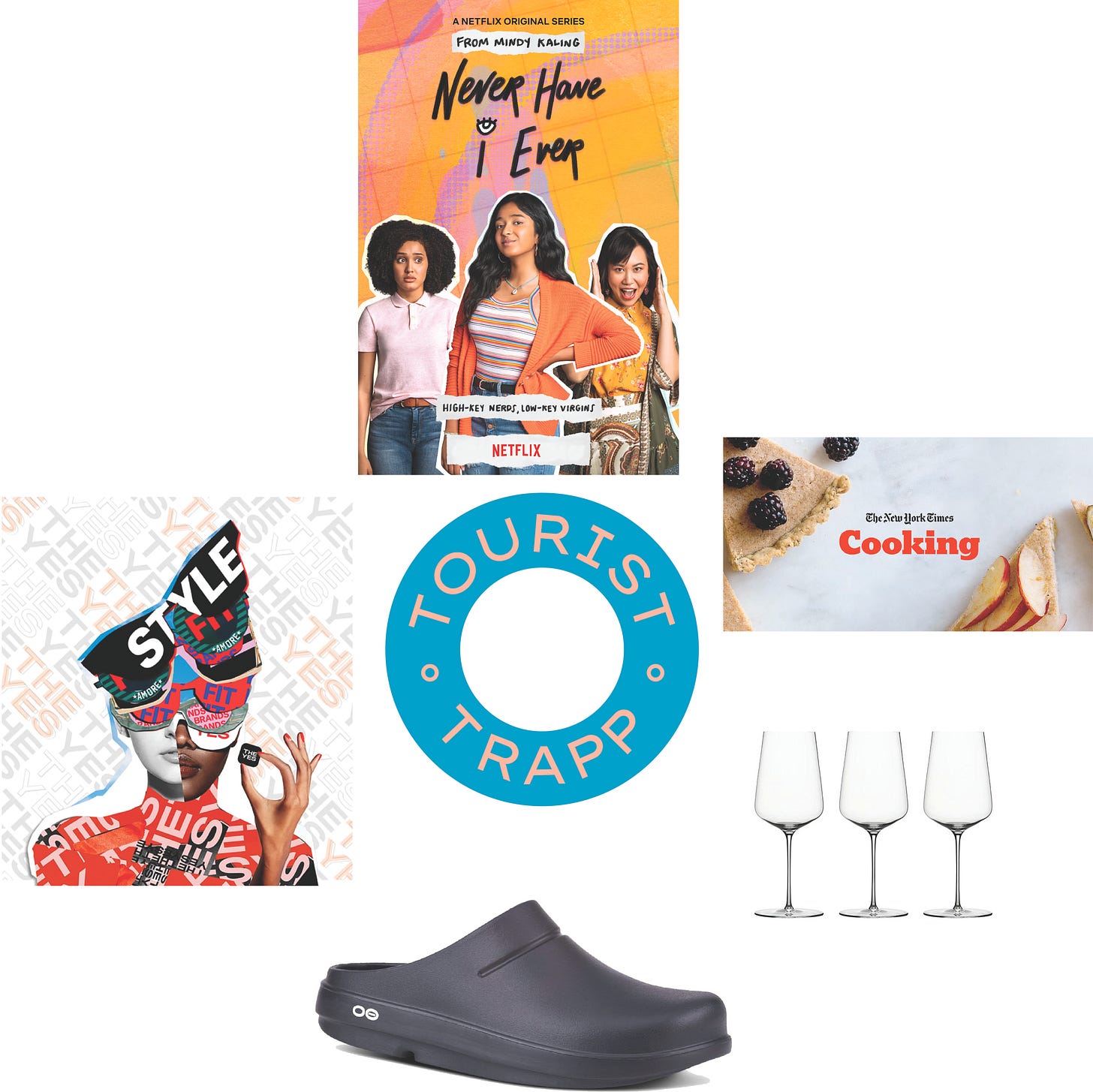 Clockwise from Top.
We absolutely loved Mindy Kaling's new series that released in April on Netflix. Set in the Sherman Oaks neighborhood of LA, it follows the life of Devi Vishwakumar as she navigates her sophomore year of high school with her two best friends, tries to find a boyfriend, and feuds with her family. Almost the entire cast are people of color and the show does a great job incorporating this into the story line in a very natural way. And their Tiktok video is amazing.
Like everyone else, we've been eating dinner at home every night. I've been using The New York Times Cooking app to help figure out what to make. They have a huge library of receipts, and you can search by ingredient if you're looking in the fridge and wondering what to do with that eggplant that might go bad soon.
Since meeting Raquel, I've changed my drink of choice from saisons and IPA's to California white wines. After using a Zalto glass at a restaurant, I couldn't go back to using our older, thick stemmed glasses. They are on the expensive side so be careful when you hand wash them!
Our EVA Birkenstocks we bought last summer are starting to get pretty beat up, and with warm weather here we've been looking into new sandal options for this summer. Raquel picked up a few pairs of Gap sandals, and I have my heart set on this Oofos clog.
The Yes is a new e-commerce concept from the former COO of Stitch Fix. When you start, The Yes shows you a number of items and you either "swipe right" or "swipe left" on each. By choosing Yes or No for each item, The Yes builds an algorithm that will predict what your preferences are so that it only shows you relevant products. The e-commerce field is in need of some new ideas, and The Yes has launched with an impressive roster of brands including Prada, Bottega Veneta, Khaite, Acne Studios, Ganni, Madewell and Everlane.
Links
Stanley Tucci gives an hour by hour run down (including recipes!) of his daily routine as he shelters in London with his large family.
Porter Magazine recommends ways to improve your home environment to increase your happiness and health.
The Cut talks to a leading plastic surgeon about the requests he is getting from his high net worth clients.
The Alison Roman interview in The New Consumer that caused an uproar and eventually led to her being suspended from The NY Times.
Ginia Bellafante on wealthy home owners competing to build pools as summer gets going.
<3
Raquel & Chris