Discover more from Tourist Trapp
Weekly dispatches on fashion design and buying.
TT Vol. 6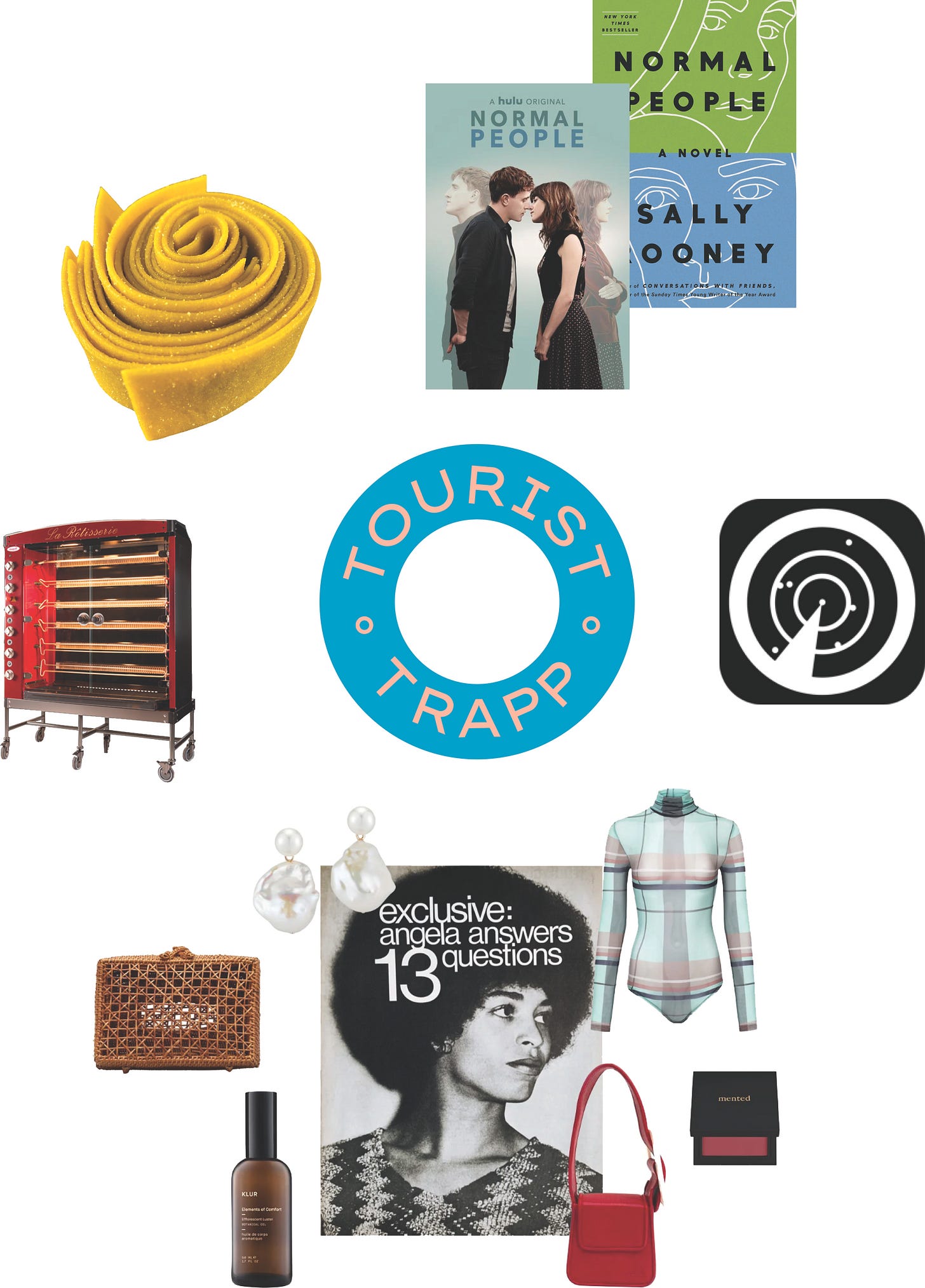 Clockwise from Top.
We signed up for a free Hulu trial to watch Normal People. It's a 12 episode series based on the Sally Rooney novel that was released in 2018. Set in Ireland, it follows the relationship between Marianne and Connell as they graduate from high school in a small town and move to Dublin for college. Raquel has dubbed it THE summer romance of 2020.
The NYPD has been out in force over the past few weeks. Not only have they been on the streets, but they have been in the air. Police helicopters have been buzzing back and forth between lower Manhattan and downtown Brooklyn all day long everyday. I've been using Flight Radar to keep track of all the activity over the sky in our neighborhood. On the app, you can see a dynamic map of large jetliners making transoceanic flights all the way down to tiny prop plans flying in and out of local airports.
Black-Owned Fashion and Beauty Brands.
There's growing momentum in the fashion industry to change the status quo. Aurora James of Brother Vellies organized the 15% Pledge to spur fashion retailers to increase their representation of Black-owned businesses. Sephora has already signed on to the pledge. Vogue has also put together a list of 68 Black-owned fashion and beauty brands to support. It runs from more familiar luxury brands like Martine Rose and Wales Bonner to much smaller brands that need support during this time.
The first time Raquel and I went to Paris together, we went to a farmer's market on Boulevard Richard-Lenoir and had the most delicious rotisserie chicken of our lives. The "poulet rôti" are rotated in large metal cases on spits, with chunks of potatoes waiting to catch the drippings below. We still talk about that meal to this day, and this week I somehow came across the vendor that sells the cases. If you have a need to roast 16 to 30 chickens per hour, and you have room in your garage, you should buy one of these Doregrill ovens.
Mariolino's is a vegan Italian kitchen that makes deliveries every Sunday in NYC. It's run by Mario Buccellati, an Italian chef that works with plant-based ingredients only. We placed an order by sending him a DM, and after sending him some funds via Venmo the food arrived the next day. The vegan tortellini and ravioli we got were outstanding, and we also ordered a huge chunk of vegan parmesan that we sprinkle on pretty much everything.
Links
Vanessa Friedman's rousing defense of the battered fashion industry for the New York Times Style.
Vanity Fair on the ghost town that Hollywood has become.
SSENSE interviewed Nike's Senior Director of Special Projects who handles all of their sneaker collaborations (old story but came across this week).
GQ talks with Noah's Brendon Babenzien about running a small fashion business right now.
Michelle Alexander on the recent police brutality protests.
As a loyal Bon Appetit subscriber, the toxic culture Business Insider describes is pretty shocking.
The Cut gives some local postal workers the look book treatment.
<3
Chris & Raquel