Discover more from Tourist Trapp
Weekly dispatches on fashion design and buying.
TT Vol. 7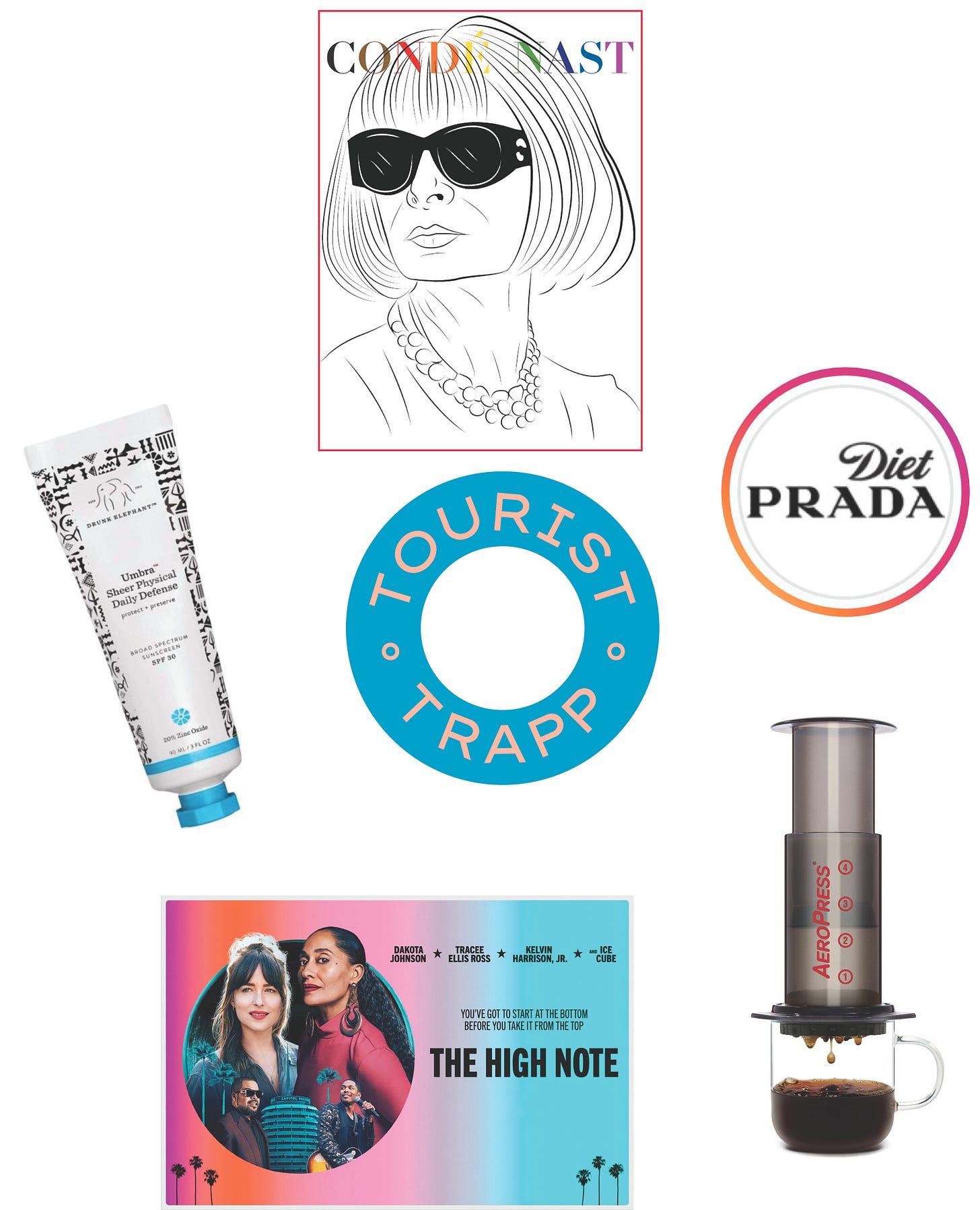 Clockwise from Top.
Last week, someone at Condé Nast started a public Google spreadsheet where Condé employees could anonymously enter in their salary along with other relevant information like race, gender, sexual orientation, years of experience, etc. During the course of the week it was taken down but someone managed to save many of the entries here. Raquel and I have talked about how companies could be more transparent in how they pay their employees, and how that could help to eliminate some pay inequality that exists between different groups. There is research showing that workers are more motivated when they know what their peers make and that wage gaps are reduced in places that have banned pay secrecy laws.
Lindsey Schuyler and Tony Liu launched Diet Prada on Instagram in 2014 to chronicle the many instances of designers copying each other. They have since expanded their coverage to include the diversity issues plaguing the fashion industry, recently breaking news on the troubling practices at places such as Anthropologie, Condé Nast, Reformation and Zimmermann. They have become a real outlet for whistle blowers in the fashion world, and are turning into a powerful media organization with a point of view that is well-respected in the industry.
We have been drinking a lot of coffee in quarantine. About a year ago, we switched over from a daily french press to using an AeroPress. With the AeroPress, you are able to make individual cups of coffee rather than one large batch that then gets cold. Our favorite part is that the coffee is significantly less acidic than a french press which means Raquel can drink more coffee in the mornings. The only downside is that she doesn't really enjoy coffeeshop coffee any more. She's a true AP convert.
Last week, we watched The High Note starring Tracee Ellis Ross and Dakota Johnson. It follows Maggie (Dakota Johnson) as she balances working as the personal assistant to R&B diva superstar Grace Davis (Tracee Ellis Ross) and her own budding career as a producer. I was skeptical at first because it didn't get great reviews, and I tend to rely on what the critics say when deciding what to watch. But I have to say (and I don't say this often) the critics are wrong about the The High Note: it's set in beautiful LA, Tracee Ellis Ross has an amazing wardrobe, and the music is phenomenal. Raquel also enjoyed the interracial dating that was a natural part of the plot; all too often in Hollywood interracial dating is never part of the story line, and if it is, the scripts makes a big deal of it.
We are now regularly wearing sunscreen when we leave the apartment. I hope everyone is being careful in the sun! Raquel is using a Josh Rosebrook tinted cream for her face, and I'm using an Aesop cream. Raquel says it makes me smell like an old lady, but it works for me. And I use this spray for my legs and arms when I go biking. We are now trying to only use mineral-based reef-safe sunscreen when we go in the ocean; the Wirecutter did a nice survey and recommends Drunk Elephant for the face, and Thinksport for the body.
Links
Media executives summering in the Hamptons: the art of hiding the pool, nanny and ocean view from their Zoom backgrounds.
Thoughts on how Apple is building a comprehensive health tracking system using data from third party devices and apps from the likes of Peloton, Whoop, Eight Sleep, One Medical and Forward.
An oral history of the 90's skating scene in downtown NYC and its overlap with the Supreme store on Lafayette St.
Air Mail talks to Alain Ducasse about the ventilation systems needed to re-open Paris restaurants.
Nylon's Maura Brannigan on 90's era cars with some quotes from Ruba Abu-Nimah.
The Strategist rounds up Father's Day food gifts, including some standouts from Prince Street Pizza and Junior's Cheesecakes.
Sloane Crosley recounts the dinner at Morandi when she met Amy Poehler.
Clive Thompson on the future of remote work in light of COVID-19.
<3
Raquel & Chris