Discover more from Tourist Trapp
Weekly dispatches on fashion design and buying.
TT Vol. 8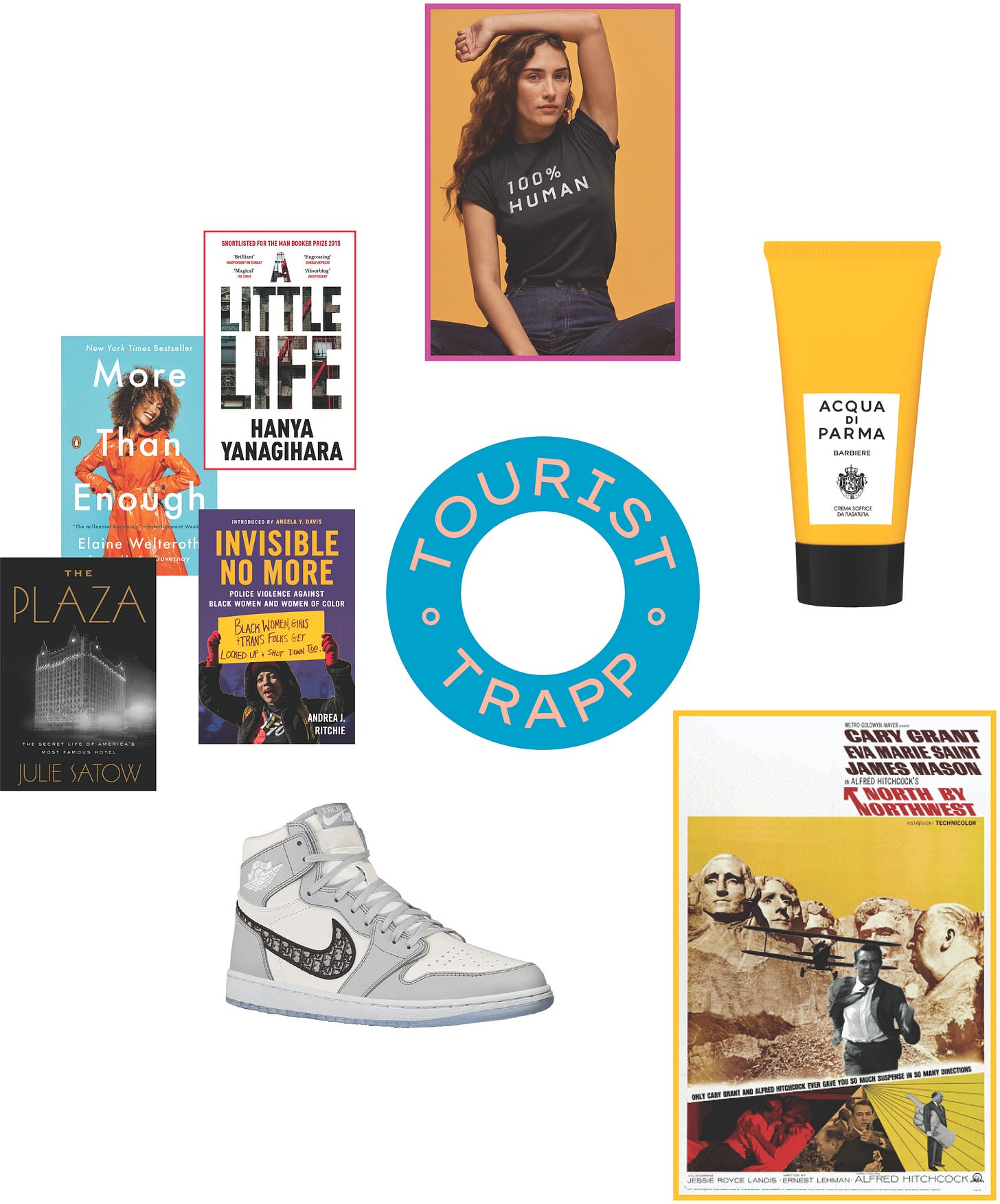 Clockwise from Top.
The SF-based Everlane has long touted its Radical Transparency. It claims to partner only with ethical factories and breaks down for its customers the true cost of its garments into labor costs, materials costs, transport costs, duties, etc. The press hailed its "modern basics" wardrobe as the successor to J.Crew and Gap. Recently, some former employees have been making allegations ranging from absence of diversity in its editorial shoots to its lack of external validation of Everlane's use of the terms "sustainable" and "ethical" in its marketing materials. Employees have been trying to unionize but have met resistance from management. Grievances have been catalogued in a public Google doc with only a meek response from Everlane's management on the company's Instagram stories. There were a lot of specific complaints regarding CEO Michael Preysman and Chief Creative Officer Alexandra Spunt. While many fashion companies are reckoning with the ways they have failed BIPOC communities, it is particularly galling to read these accusations against a company that claims to be "100% Human" and to practice "Radical Transparency." If indeed Everlane employees do succeed in unionizing, it will be interesting to see how this may affect other companies in the industry in the long run.
My quarantine look (or lewk as Raquel would say) was a little out of control this week. I still haven't had a haircut in three months, and this week when I ran out of shaving cream I wasn't able to clean up my facial hair at all. I probably spent too much time looking for a new brand of shaving cream to use, but I like exercises like these. I don't have to shave very often, so it takes a very long time to go through a bottle, which makes the decision all the more important. The last shaving cream I used was from Ernest Supplies, which I didn't really like at all but kept using because I got it for free. I've been bulking up on Aesop products recently, but Raquel talked me out of buying their shaving cream because she doesn't like the way Aesop smells on me. So I decided to try out Acqua di Parma. It's definitely better than some other shaving creams I've used in the past, and has a nice citrus scent to it. And I love the mustard colored bottle it comes in.
At this point, we don't really need any new streaming services. We have Netflix, Prime Video, Hulu (one month free!) and a few others thanks to some shared passwords. Raquel and I asked ourselves, do we really need another? Answering yes, enter HBO Max. It launched at the end of May with the entire Friends back catalog as its main attraction along with some great old movies. This was enticing as one of our favorites is North by Northwest by Alfred Hitchcock. We saw it at IFC for its 60th anniversary, and have been watching it periodically ever since. We both love the classic train travel scenes that remind us of traveling through Europe together. Many other films have been inspired by scenes from this Hitchcock classic including last year's Star Wars finale. There are a few other old Hitchcock's available on HBO Max (though not, sadly, To Catch A Thief, my personal favorite) and some other classics like Citizen Kane, Breathless and Casablanca. It's not the Criterion Collection but better than most streaming services out there.
Christian Dior released a microsite last week where customers could enter a raffle to buy a Dior x Air Jordan sneaker for $2000. (The raffle has since closed FYI.) There is a big community of sneaker enthusiasts who buy and re-sell sneakers on platforms like StockX, which bills itself to be the "Stock Market of Things." The Dior Jordan's have a retail price of $2K but are selling for $10-$20K on StockX right now. Similar resale values were seen when Louis Vuitton released a small capsule collection in collaboration with Supreme a few seasons ago. With the success of Dior x Jordan and LV x Supreme, and recent appointments of Virgil Abloh and Matthew M. Williams to lead established couture houses, I think we will be seeing more collaborations between luxury fashion houses and streetwear or sneaker brands in the future.
R&C Book Club (currently looking for additional members ;-)).
We're reading a lot of books in our household right now. Maybe the most ever. Without trying to review all of them, we've really been enjoying having some time to read more. We've both been reading fiction and non-fiction simultaneously and discussing the books we're reading together. Raquel recently finished "Euphoria" by Lily King and "More Than Enough" by former Teen Vogue editor Elaine Welteroth. Elaine is one of the few non-white voices in fashion who has cut through the noise and made herself heard. Her journey is both disheartening and inspiring, and her Instagram account has become a place of guidance for those trying to make changes in the industry. We are both reading Hanya Yanagihara's epic "A Little Life," a book about friendship, sorrow and the bonds that hold us together. Raquel is also moving through Andrea J. Ritchie's book "Invisible No More" that examines the intersection of police brutality and women of color. Because Invisible No More requires frequent mental breaks, she's also reading "Younger Skin Starts in the Gut" by Dr. Nigma Talib to try to better understand the relationship between diet and skin health. I'm reading "More Than Enough," and listening to "The Plaza" on audiobook, Julie Satow's history of the famous Plaza Hotel in NYC. Next up for us: André Leon Talley's Vogue memoir "Chiffon Trenches," Kevin Kwan's follow up to his Crazy Rich Asian trilogy "Sex and Vanity," and "The Story of a New Name," the second book of Elena Ferrante's Neapolitan series.
Links.
Wirecutter ranks the best instant ramens.
Nominating the Hoka Hopara for the on-trend water shoe of Summer 2020.
Fast Company previews what the redesigned Yeezy Supply e-commerce site will look like.
i-D Magazine on what it means to be an influencer.
Yara Shahidi on turning 20 in 2020.
<3
Chris & Raquel