Discover more from Tourist Trapp
Weekly dispatches on fashion design and buying.
TT Vol. 13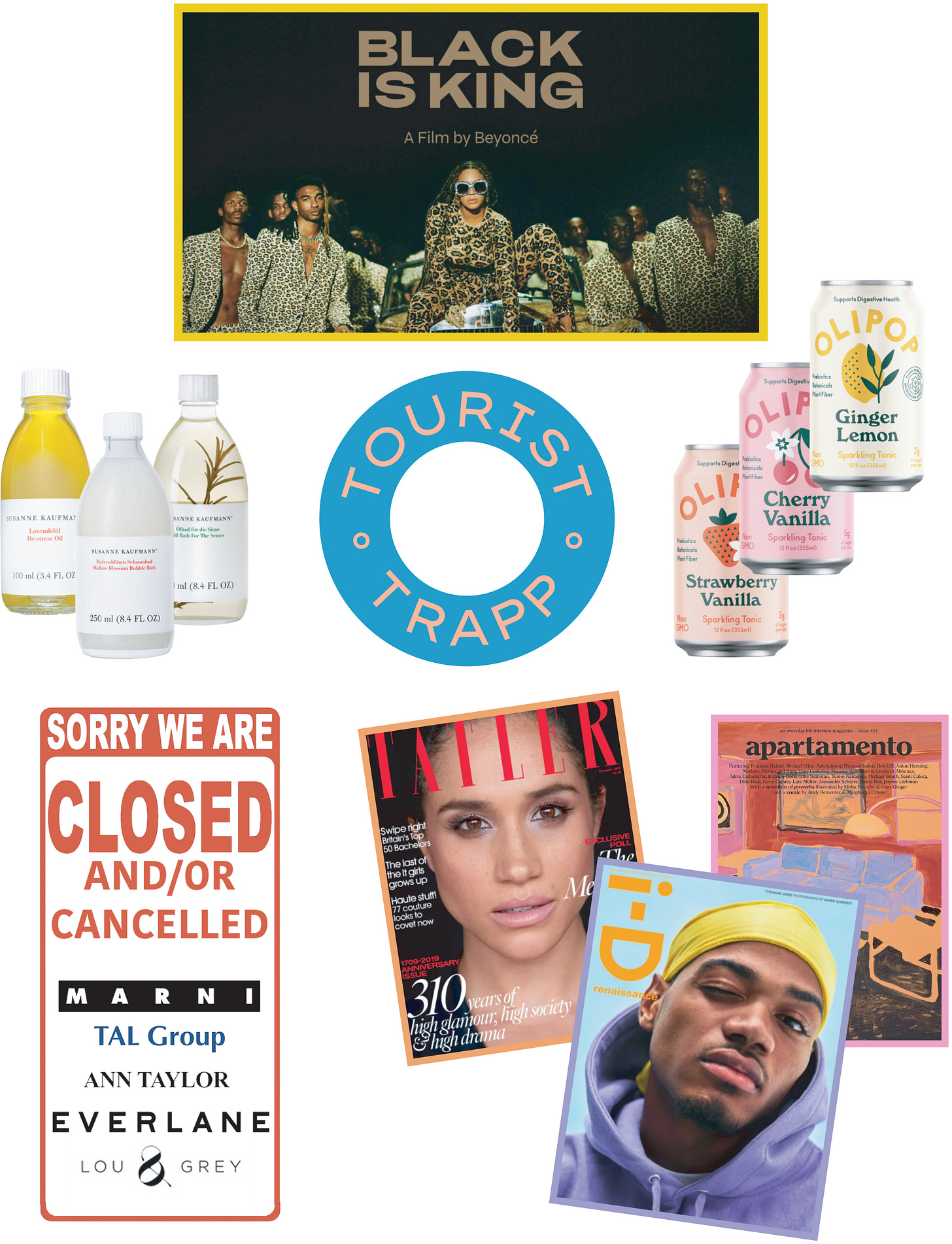 Clockwise from Top.
Black Is King is Beyoncé's visual and musical companion to Disney's 2019 remake of the Lion King. The film follows a young African king as he is exiled from his family and his journey to reclaim his family throne. It was largely filmed in West Africa, and features many African artists and actors. It serves as a vehicle for Beyoncé to break down Black and African stereotypes, and elevate a shared heritage. She uplifts brown and black skin tones and reinforces her thesis of empowerment throughout the film. We were especially taken by this quote by poet Warsan Shire: "We were beauty before we knew what beauty was." Another interesting prop/element that was present in the film was the game of chess. Chess, traditionally associated with elite white intelligentsia, is reclaimed by the Knowles-Carters whose estate has a life size board with human chess pieces. The outfits in this scene were stunning and looked like a beautiful couture show. (Fittingly, Beyoncé played the queen chess piece.) Another favorite of ours was the desert scene. This were particularly eye-catching being that Beyoncé was dressed so extravagantly in such a stark climate. Raquel was particularly drawn to the cat eye sunglasses that were dripping in rhinestones (yes, even the lenses were covered), and plans to get a pair before our next trip to the Sahara.
The mantra this summer has been to hydrate. That means, a green smoothie every morning and then lots of sparkling water throughout the day. There was a period when we couldn't refill out SodaStream canister, so we ended up having to sample a number of different sparkling water options. We started with our standby of San Pelligrino and rotated through Topo Chico (who is coming out with a hard seltzer product this year), FreshDirect's brand, and the brightly branded Recess. Our latest find was Olipop. (Surprise, surprise, we are drawn to brightly colored products with good branding and marketing.) What makes Olipop different from other flavored sparkling water on the market are the exciting additives - prebiotics, natural juices, and no added cane or corn syrup (though they do have stevia). The prebiotics come in the form of fiber, which should aid in the development of digestive gut bacteria, which in recent years has been appearing in more products as discussed here in the New York Times Style section. The flavors are Cola, Strawberry Vanilla, Cherry Vanilla, Ginger Lemon and Root Beer. We are both root beer fans in general, which made us realize that the Olipop version is not quite up to standard. However, if you're not a root beer arch traditionalist, it's a good substitute. Our favorite flavors are Ginger Lemon (me) and Strawberry Vanilla (Raquel). And of course they come in millennial friendly packaging. It's like White Claw for the 35+ demographic.
Although Condé Nast has been under fire as of late, the majority of our subscriptions are from the Conde Castle (as coined by Elaine Welteroth). We get Architectural Digest, Bon Appétit, Vogue, Vanity Fair, and The New Yorker. Outside of the Conde family, we subscribe to Air Mail, The Atlantic, Harper's BAZAAR and Us Weekly. Some free publications we read from within the fashion world are The Fashion Law, and WWD via the Instagram stories of Kristy Hurt Consulting (she posts screenshots every morning). I also highly recommend signing up for The Hollywood Reporter's free daily newsletter, equivalent to the BOF of Hollywood. We pick up an Apartmento from a magazine stand twice a year, and aren't sure if we will ever get a W Magazine again as it's on hiatus (we did like new Editor-In-Chief Sara Moonves' first issue). Once things improve, we're looking to increase our subscriptions: iD, Tatler, New York Magazine, Financial Times, and Domino. In the meantime, we satiate ourselves with their free online content. (By the way, Raquel especially loves Tatler for all of the Royals gossip (*cough* Megan Markle) for any true fanatics out there.)
Fashion Meltdown Part II (see TT Vol. 10 for Part I).
Things continue to move swiftly in the fashion world. There were more bankruptcies this week - Ascena, the parent company of Ann Taylor, Lou & Grey and Lane Bryant, filed for bankruptcy protection. Layoffs continued, with Walmart and L Brands (the parent company of Victoria's Secret and Bath & Body Works) both cutting their corporate headcount. This adds to the already large number of middle market companies (e.g., J.Crew, Brooks Brothers, JCPenney) that are struggling to compete. On the luxury side, LVMH and Kering, the two leading luxury conglomerates, both reported huge drops in Q2 sales (down 28% and 30%, respectively), with Kering's Gucci falling by 34%. Hermès, with "only" a 24% drop in sales, came out looking the better by comparison. The upper end of the market is not immune to the current downturn, but we feel companies in this tier are better positioned to succeed once the pandemic is under control. One luxury company that may have a harder time repositioning themselves is Marni, who came under fire for their most recent campaign that glamorized slavery (their most controversial image here has since been taken down). Although Marni has apologized (see here), they still have much work to do and it seems they desperately need to hire more people of color for their creative teams as a starting point to begin nurturing a healthier corporate culture. The New York Times picked up on the controversy swirling around Everlane (reported in TT Vol. 8). We are glad that large media outlets are finally picking up on this (see NYT article here). Another story of interest was a deep dive into TAL Group (unbeknownst to us, one of the largest apparel manufacturing companies in the world). The New York Times article alleges forced labor, and shines a light on the fashion industry's supply chain problem. Companies that work with TAL Group include Levi's, LL Bean and Brooks Brothers. Although big brands tend to make headlines, we think it's important that the industry is looked at holistically as production and factory work (done by the likes of TAL Group) are essential to the health of the industry. In other news, one of out favorite stores in LA, Mohawk General, is closing its Venice location (but Silver Lake seems to be safe). This is one of the few retailers that supports small luxury designers while maintaining a strong point of view (a dying breed), and we would be sad to see them go as so many third party retailers have already (Totokaelo, Barneys, and, perhaps soon, Neiman Marcus). Finally, Issey Miyake, a personal favorite, is discontinuing its men's line (though, thank god, it is keeping its high performing Homme Plisse line). Many of you have seen me wearing Homme Plisse religiously throughout quarantine. I own these in neon yellow and black.
Susanne Kaufmann Bath & Skincare Products.
Susanne Kaufmann's family has been in the hotel and spa business for decades. Susanne used this background to launch a natural bath & skincare line in 2003 that focuses on ingredients found around her home in the Austrian Alps. At one point, Raquel was in the market for bubble bath, so for her birthday (in my researched style) I bought her what seemed to be the best Bubble Bath option I could find for sensitive skin types. It's been a huge success and we are repeat buyers. It's proved to be a nice addition to our bath and body products. She also really likes the De-stress Oil (which has gotten frequent use as of late). She likes to dab on her wrist and feet before going to bed, and for her home yoga corpse pose. That Kaufmann operates the Hotel Post Bezau was a recent discovery. It looks amazing and we have officially added to our post pandemic travel list.
Links.
The Ghislaine Maxwell saga continues.
Allegations of Ellen Degeneres Show's toxic workplace.
The constant sanitizing taking place in public areas does not provides negligible protection against COVID-19 and the efforts should really be directed towards social distancing, HEPA air filters, and simple hand washing.
In the cycling world, "Everesting" has taken off in popularity with professional racers unable to compete during the Pandemic.
Chateau Marmont is turning itself into a private members only club.
Streaming services dominated the 2020 Emmy nominations, with Disney+ and Apple TV+ recognized for The Mandalorian and The Morning Show, respectively.
What ails J.Crew, and what it needs to do to make a comeback.
Oprah Winfrey is focusing her third Apple TV+ interview series on race.
A profile of skateboarder Alexis Sablone, a future olympian, MIT and Barnard graduate, and Converse sponsored athlete.
People collectively flipped out over the interior design choices of Gigi Hadid (and not in a good way).
Apple's next big product will be its augmented reality glasses, predicted to launch in 2022.
Tempo is aiming to be the Peloton for free weights.
Aerie's new athleisure line Offline launched this week.
Agnes Chu, the Disney veteran who helped launch Disney+, is leaving to head up Condé Nast Entertainment and its efforts to monetize its valuable intellectual property.
<3
Raquel & Chris