Discover more from Tourist Trapp
Weekly dispatches on fashion design and buying.
TT Vol. 43
DG vs Diet Prada, Fake Famous, Gabriela Hearst's Chloé Debut, Dover Street Paris
Clockwise from Top.
We covered Diet Prada two weeks ago, and they are back in the news this week. The Diet Prada team revealed they are being sued in Italian court by Dolce & Gabbana, who Diet Prada called out for an offensive media campaign that showed models struggling to eat Italian food with chopsticks.
On the legal side, the forum choice is clearly intentional. Italian law is much more lenient in defamation cases than US law. In the US, truth and opinion are iron clad defenses to defamation cases, and is the bedrock law that allows publications like the New York Times to publish newsworthy stories about the wealthy, as long as they are accurate. According to The Fashion Law, which is advising Diet Prada on a pro bono basis, Italian law allows for some compensation in the event that opinions are delivered in an uncivilized manner without restraint.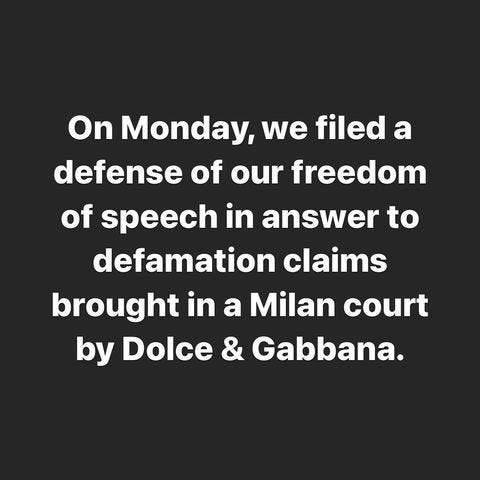 While no huge fans of Diet Prada, we feel strongly that companies should not be able to bully or bankrupt media operations for exercising their opinion. Dolce & Gabbana's suing the Diet Prada team seems like attempt to silence their critics, which is frankly scary. It reminds us of billionaire VC Peter Thiel's unfortunately successful campaign to bankrupt Gawker for outing him on its website. While it was despicable for Gawker to do so, we don't think the wealthy should be able to use the courts to sue their media critics into bankruptcy. A free press is an invaluable part of any liberal democracy; just imagine if the US government, Donald Trump or Facebook used their enormous resources to sue the New York Times out of existence.
We got around to watching Nick Bilton's documentary Fake Famous that follows three nobodies who attempt to become professional influencers by buying followers, likes, and comments on their IG posts.
Following the influencer beat pretty closely, we were curious to see what the documentary revealed. Dominique was by far the most successful, and by the end of the film, she is being showered with free products, job offers and branding opportunities, all built on a fake IG following that was purchased rather than organically acquired.
Because Dominique had an acting background, she was extremely comfortable performing for the camera, and she followed a "conventional" route to popularity by posting, for example, bathing suit and spa photos.
On the other hand, despite a sizable fake following, Wylie and Chris were not really able to capitalize on the purchased engagement and break through into a real influencer role. They were never as comfortable as Dominique in building a large IG following, and ultimately were not successful.
While at times Nick Bilton was a bit of an awkward narrator, the content was an interesting snapshot of society's obsession with fame and influencer culture. We didn't know, for instance, that it's common for budding influencers to geotag their photos from different locations. In Fake Famous, Wylie and Dominique take photos at a rental property but tag the photos at Sequoia National Park and the Viceroy hotel. They also used a toilet seat to recreate the look of an airplane window. It really made us re-evaluate our IG explore tabs.
Gabriela Hearst debuted her first Chloé collection, with the models filmed exiting Brasserie Lipp. It was heavy on ponchos (given both her Uruguayan roots and Chloé's history) and sustainability themes. There was much talk of the circular economy in her video preview, and claims that the environmental impact of this collection was a 400% decrease compared to FW20.
Dries Van Noten filmed a dance troupe in his FW21 collection, evoking the darkness that has fallen on the world over the past year. And as GQ notes, he's been cutting back on his use of prints. Maybe, like the rest of us, he's been a little depressed the past year.
Two more quick hits: Vaquera's inventive prop styling and this Marine Serre running look.
Kering, the owner of luxury brands like Gucci and Saint Laurent, has taken a small stake in Vestiaire Collective, Europe's leading luxury resale e-commerce site. Smart observers don't see resellers like Vestiaire as direct competitors to luxury brands, but as an affordable way to introduce brands like Gucci to younger consumers who don't want to pay full price:
far from cannibalising full-priced sales, many argue they attract new customers to luxury, who go on to buy full-price items.
With this investment, Kering will now get an inside look at Vestiaire's business model. With the recent Gucci deal with TheRealReal, which we covered here, can Kering be looking into creating its own resale platform for its luxury brands?
Dover Street Market, Comme des Garçon's multi brand retail concept, is continuing to expand its Paris footprint. After opening Dover Street Parfums Market last year, it recently opened the Dover Street Little Market, which will house emerging brands like Vaquera and ERL. It's located next to Honor, the sister outpost to Neighbours, one of our favorite cafes in Paris. (Raquel talks about their crumpets about once a week. If you're in Paris, please go there.)
BOF recently reported that Dover Street has signed a lease for a true Dover Street Market Paris location. It will be 3500 square meters, and located in the Marais (our fave neighborhood in Paris).
Given Comme des Garçon's big presence in Paris, it's surprising it took this long for Dover Street to come to town. DSM now has stores in New York, LA, London, Paris, Beijing, Tokyo and Singapore. Is Milan next?
The past two weeks, our weekend editions of the New York Times have arrived with inserts from Bottega Veneta and Loewe.
With print advertising revenues falling, Condé Nast looking to open an office in New Jersey, and Vanity Fair getting thinner and thinner each month, we continue to hear that print is dead. But maybe that is premature? Clearly luxury fashion brands want to speak to print subscribers to the New York Times. Brands may be looking to diversify away from monthly Condé Nast ad buys, and reach for more special advertising campaigns like these. We personally love print ads, and already subscribe to way too many magazines and newspapers.
Links.
Another great article on NYC merch dubbed Zizmorcore. You probably aren't a real New Yorker if you don't know who Dr. Zizmor is.
A wild story about the Nike VP who had to leave the company due to her son's sneaker resale business.
A fun journey to buy fake Tom Sachs Mars Yard sneakers on DHGate.
The founds of the Drunken Canal.
A really deep dive into the Row, and the Olsen Twins.
Noah is launching a recycling program for its garments, with returned products to be washed, repaired and resold.
Six months after launch, Amazon Luxury Stores remains stagnant.
Ralph Lauren is launching a Rent The Runway competitor called The Lauren Look.
A little background on NFT's, a new emerging asset class.
<3
Raquel & Chris
To receive Tourist Trapp's thoughts in your inbox once a week—become a subscriber today:
If you would like to post a comment, click "Leave a comment" below:
If you'd like to share this piece as a web page, click the button below: