Discover more from Tourist Trapp
Weekly dispatches on fashion design and buying.
TT Vol. 9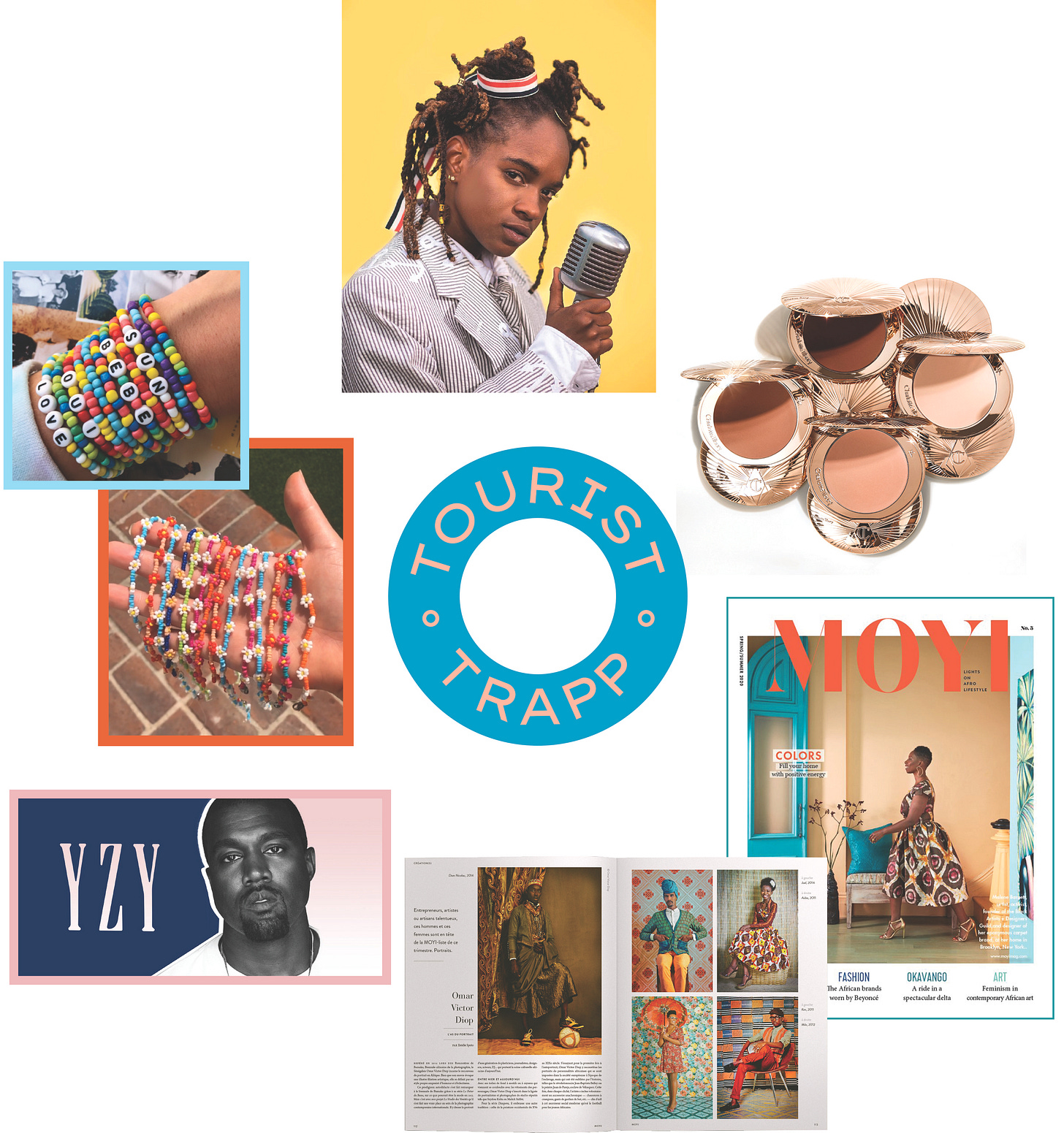 Clockwise from Top.
Normally at this point, we'd be on vacation in Europe after going to Paris for the Spring/Summer 2021 shows. This year of course, everything was cancelled. Brands are still showing new collections to buyers remotely via PDFs and Zoom, or trying out virtual showroom sales systems. On the marketing side, labels and editors have had to be creative. Highsnob organized "Not In Paris" where brands could still contribute something to a non-existent fashion week. My favorite was Koffee (a rising Reggae star) who performed in Thom Browne (be sure to click on this link to hear the song and see the collab). It remains to be seen what the fashion calendar will look like after the pandemic abates. The women's shows in September are still on, but that could change if there is a new outbreak in Europe this Fall. Luxury brands are beginning to move to a new cadence that would see less collections per year and runway shows that don't necessarily align with any preset "fashion week" calendar. Meanwhile, retailers have less budget to spend while the biggest labels look to expand their own direct-to-consumer channels and bypass wholesale as much as possible. Come January, when stores are looking to place orders for Fall/Winter 2021, I would expect to see luxury brands showing on their own schedule with little need to cater to any wholesale clients. And for smaller brands that aren't owned by LVMH or Kering, I can imagine most of the buying and marketing to move into the digital realm to save money. These smaller brands will have taken a huge sales hit due to the pandemic while also seeing less success in their wholesale channels.
Spanish fashion conglomerate Puig acquired the beauty company Charlotte Tilbury for $1.5 billion, a 5X multiple of its $300 million annual revenue. I'm always impressed/surprised when I hear of large acquisitions like this closing during times like these. The beauty industry is receiving considerable attention, with luxury conglomerates like Puig on the hunt for attractive acquisitions. Charlotte Tilbury's story is one that is of particular interest being that she is so dedicated to her craft. No one has seen her without makeup (including her husband) since she was 14!
For Your Consideration: Moyi & Airmail.
Moyi is a new-ish print magazine that publishes twice a year that covers African and African diaspora fashion, culture and design industries at large. It's on the pricier side (60 Euros to get the latest issue here in the US) but is of beautiful quality and is the first fashion/design magazine that we are aware of focusing on Africa. If you're not in the market for an expensive print magazine their Instagram account and website are both great and are free. Airmail is a new digital-only newsletter that launched last year and arrives in your inbox every Saturday morning. Graydon Carter, the former editor in chief of Vanity Fair, is running the new publication from his house in Provence. It's currently offering a great promotion: a year's subscription for $25 (rather than $50) - less than 50 cents per week! We signed up yesterday. The coverage is less focused on breaking news or politics, and reads like a tabloid of elite (the last issue was sponsored by a private jet company), with a heavy emphasis on Europe, and some longer form true crime thrown in for good measure. The art direction is very whimsical and reminiscent of the old Vanity Fair.
Last week, Kanye West and Gap announced a partnership where West's Yeezy team will design seasonal women's, men's, and kid's collections for Gap that will be released in Gap stores and on the Gap e-commerce site. It's a risky collaboration for both parties. Gap has struggled with sales over the past few years, and is now committing to finance a brand new Yeezy line. Gap will need to find room in its budgets for these new collections, in spite being over inventoried due to COVID-19 store closures. Kanye, meanwhile, doesn't seem to be getting any money up front, only a percentage of sales and potentially equity if sales targets are met. While these could be lucrative (West reportedly gets royalties of 5% of sales of his Yeezy x adidas sneakers, estimated to be $1.3 billion last year), it is by no means guaranteed. Kanye has proven he can design and sell sneakers, but his apparel has never performed well for either his own Yeezy line or through his adidas collaborations. I'm most interested to see the what the collection ultimately looks like. Mowalola Ogunlesi, the Nigerian-British CSM graduate, will be leading the Yeezy x Gap design team from Cody, Wyoming. We know Kanye plans to do basics, but maybe it will look like this instead?
Every summer, Raquel and I are on the lookout for matching summer jewelry (I know, we are cute, right?). Last year, we bought matching friendship bracelets from Front Street General Store. This year, we noticed that a few friends with extra time on their hands are working on homemade jewelry projects. A friend of Raquel's from Gap is making bracelets (we ordered some faux pearl versions with our wedding date) and a friend of mine from Steven Alan is making beaded daisy necklaces (we ordered a pink/red version and a green/white version). They are affordable and they will make you a custom version so reach out to them to order for Summer 2020 before it's too late!
Links.
Manrepeller's readers weigh in on whether parents can truly be ready for kids.
How a JW Anderson cardigan when viral on TikTok.
Tyler Haney is back at Outdoor Voices, and Mickey Drexler is out .
A new instagram account dedicated to boardroom and corporate executive diversity.
The Met Breuer is not coming back; it will temporarily house the Frick, and it's unclear what will happen to the landmarked space (or Flora Bar!) after that.
Bloomberg details in graphic novel form the perfect art heist: thieves were able to sell a valuable painting despite never even seeing it in person.
Bloomberg profiles a college student influencing monetary policy; see also his thread on why being white, cis & male were sufficient credentials to make headway in the world of economics.
I don't support Ariana Grande holding a birthday party right now, but do support the Midsommar theme and accompanying photos.
Donna Tartt remembers Charles Portis and his masterpiece True Grit.
NY Mag brings to light the man who has run the NYC lifeguard corps with an iron fist for the past 40 years.
<3
Raquel & Chris